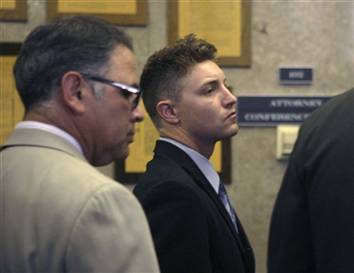 Prison Break star Lane Garrison has been sentenced to 90 days in state prison for evaluation by state officials and experts to see if he can be put on probation rather than face extended jail time for a DUI crash last December, in which a 17 year-old boy he had just met died after Garrison's car hit a tree. Garrison's blood alcohol level was .20 that night and he tested positive for cocaine. Garrison was doing 40 in a 25 mph zone before the accident.
In May, Garrison entered a guilty plea for DUI and vehicular manslaughter. The judge has delayed official sentencing, and says he must have 90 days of "diagnostic" evaluation.
Depending on the outcome of the evaluation, Garrison could get up to six years and eight months in jail.
While Garrison says the teens approached him at a grocery store to buy them alcohol, two of the surviving witnesses in the car, 15 year-old Michelle Ohana and Chen Sagi, testified he was the one who offered to buy them booze first.
The teens then took Garrison to a party, where he was said to reveal a bottle of Grey Goose vodka "with a flourish." According to witnesses, Garrison did several shots at the party, and went out with the two girls he met at the grocery store to get more alcohol. They are said to have been concerned that he was too drunk to drive, and to have asked their friend, 17 year-old Vahagn Setian, to accompany them. It was during that drive that Garrison lost control of his 2001 Range Rover, killing Setian and seriously injuring the two other passengers.
At the trial, Garrison made a public apology to the family of the young man he killed, looking right at them and saying "No family should have to sit where you are sitting…. I just want to apologize to you guys and the court, and to every young person that's here." [Most details from LA Times.]
Garrison also recorded a tearful Public Service announcement, in which he appeared truly sorry and upset over the death he caused.
The family of the man whose life was so carelessly cut short were understandably unimpressed. Setian's father said "There can be no doubt … he is reckless, he is careless, and above all, he is selfish." He also said that Garrison could have apologized right away, but he took his time about it and did not do it in person.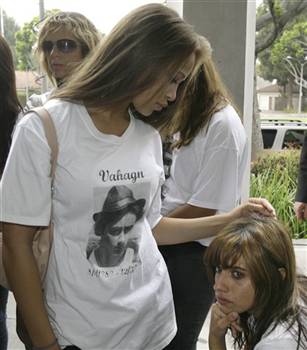 A friend of Vahagn Setian wears a t-shirt in memorial of the slain 17 year-old outside the Beverly Hills courthouse. Picture and description from MSNBC.
Setian also said that Garrison is an actor, and that the public service announcement pissed him off. "He is an actor. He is acting. He killed a human being and he killed our son." [Details from TMZ]
There were about 12 friends and relatives of slain 17 year-old Vahagn Setian at Garrison's court hearing yesterday wearing T-shirts with Vahagn's picture on them. The shirts had a James Dean quote on the back "Dream as if you'll live forever, live as if you'll die today"
It is possible that the judge was persuaded to take his time in sentencing by the impassioned letters written to him by Garrison and his younger sister, Amelia. Amelia described a horrific childhood with Lane, in which their father was either drunk and abusive or absent, and their mother was usually in the hospital. Both of their parents are now deceased, and Garrison's sister says she would not be where she is today were it not for her caring brother. She now works for a producer at Walt Disney studios.
Amelia begged the judge not to send him away for a long time and said that Garrison was "despondent" and "near suicidal" after the accident.
Garrison's letter to the judge is similarly moving. He said that he takes full responsibility for the accident and that he is "ashamed" and "enternally sorry." He said "My heart breaks for the suffering they [the Setians] are forced to endure because of my atrocious actions."
In his concluding paragraph he says he prays all the time and hopes that somehow he can ease the Setian's pain. He also prays that the judge "can see my true character, heart and who I really am, not the character I portrayed on tv or who the media has deemed I am." He says he is "extremely remorseful and grieving" and that he realizes "what horrible, inexcusable mistakes he made that night." [Details from PDF files available on TMZ]
The guy really does sound devastated by what happened, but he killed someone while driving drunk with young passengers in his car. Jail time seems necessary and warranted in this case. It's a sad story all around and a real lesson that there's never a reason to drive after you've been drinking.