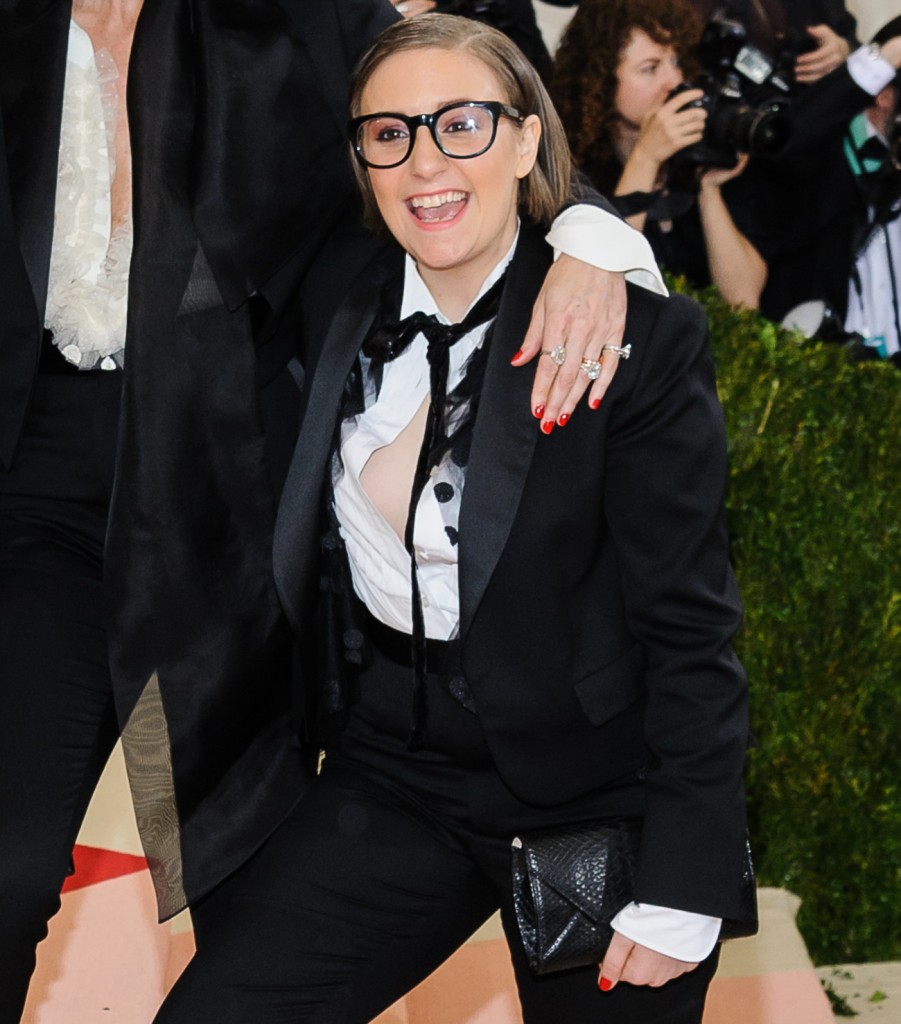 Years ago, I figured out my issue with Lena Dunham. I diagnosed her with a condition of "Special Snowflake Syndrome." I defined this syndrome as someone (Lena) who has been told repeatedly that her every thought, word and action was and is brilliant, groundbreaking and important. Special Snowflakes don't do well when they are not constantly being praised and told they are special. Special Snowflakes hate it when their motives are questioned, when they are told that they made some kind of error, or when they are told that their "cute" personal stories are not all that cute, but rather creepy, inappropriate and borderline abusive. Keep this in mind.
On Friday, Lena's latest Lenny newsletter came out. I saw the headline before I skipped out of work ahead of a holiday weekend – the headline was "Lena Dunham interviews Amy Schumer." My thought? "Pass." I didn't even look at it at first. Dunham and Schumer are cut from the same cloth, and over the past year, Schumer has come to occupy the same oblivious-white-feminist space that Lena used to occupy for a time. I already knew that the interview was going to annoy me, so I put off reading it. You can read the full piece here – I sincerely do not care enough to excerpt all of the controversial and/or stupid stuff from their conversation. But we can talk about the biggest "highlight," which is the part where Schumer and Dunham discuss how much they hated this year's Met Gala, which they both attended willingly.
Dunham: You and I were literally sitting across from each other at the Met Ball… it was like a crazy countdown to when we could escape. You were like, "We're honored to be here. We're honored to be here."

Schumer: I left so early. When did you leave?

LD: I attempted to grind my ass on Michael B. Jordan for an additional twenty minutes and then left right after you. I was sitting next to Odell Beckham Jr., and it was so amazing because it was like he looked at me and he determined I was not the shape of a woman by his standards. He was like, "That's a marshmallow. That's a child. That's a dog." It wasn't mean — he just seemed confused. The vibe was very much like, "Do I want to f–k it? Is it wearing a … yep, it's wearing a tuxedo. I'm going to go back to my cell phone." It was like we were forced to be together, and he literally was scrolling Instagram rather than have to look at a woman in a bow tie. I was like, "This should be called the Metropolitan Museum of Getting Rejected by Athletes."

AS: You were dressed like a boy, and you looked sexy, and I really appreciated you showing me your t-ts several times.
As Jezebel pointed out, some of this section – the Met Gala section – has undergone a rewrite from email to blog post, with the Michael B. Jordan stuff taken out of the blog post. As Jezebel also points out (along with everybody else), Lena is SO g—damn problematic, it's difficult to even find a decent start point. Let's start with the obvious: she decided to ascribe some pretty sleazy, misogynistic motives to Odell Beckham Jr. just because he didn't want to talk to her, or didn't pay any attention to Our Lady of Special Snowflakes. Many believe there's a racial element too, mostly because of Lena's long history of non-intersectional white feminism.
So, Lena got dragged on Twitter throughout Friday and Saturday. Some of her racist tweets from four years ago re-entered the public sphere. Since Lena loves nothing more than attention, she tried to double-down and not apologize, tweeting: "My story about him was clearly (to me) about my own insecurities as an average-bodied woman at a table of supermodels & athletes. It's not an assumption about who he is or an expectation of sexual attention. It's my sense of humor, which has kept me alive for 30 years." She still got dragged. So finally she apologized:
https://t.co/P3XMywtlGa pic.twitter.com/ye2WFyVOYd

— Lena Dunham (@lenadunham) September 3, 2016
"I have no idea the kind of day he's having or what his truth is…" And if she had known about his day or his truth, then it would have been totally cool for her to ascribe those sleazy, misogynistic motives to his actions, actions that were basically "I don't know her, whatever." She still seems to believe she has a right to some explanation for why he didn't pay attention to The Most Special Snowflake In The Entire World, doesn't it seem that way? Oh well. At least she gave some small acknowledgement that she was wrong. And incidentally, THIS became the controversy rather than the part of the interview where Lena and Amy are defending Amy's continued employment of a male comedian/comedy writer who has some particularly nasty thoughts about rape victims.
Photos courtesy of Fame/Flynet, WENN, Getty.