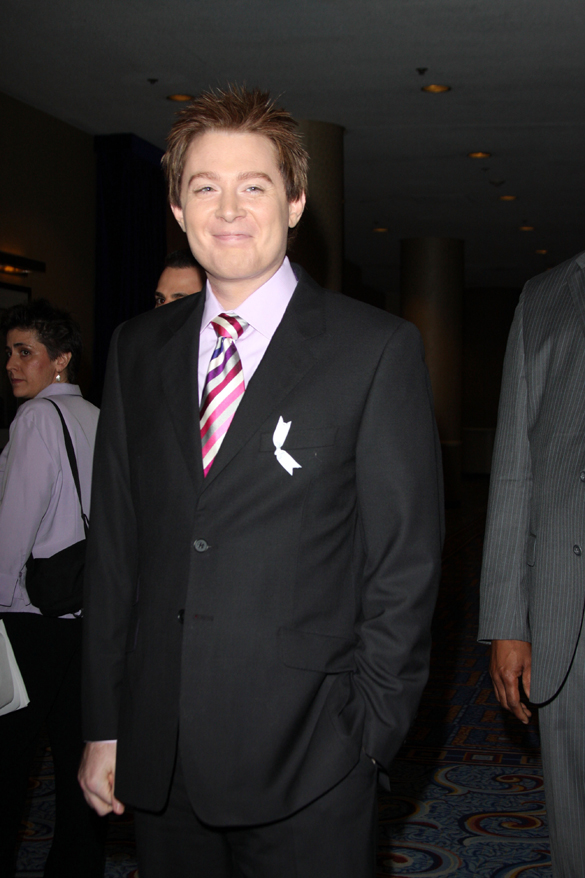 Clay Aiken recently popped by the set of "American Idol" without being invited – or giving any warning. Nonetheless, he expected the red carpet to be rolled out for him – and got the shaft instead. Producers ran him through the backstage really quickly, refusing to let him speak to the contestants. Apparently he was hoping to mentor them, especially Adam Lambert, who was said to be Clay's favorite. But no one from the show was interested, to say the least.
"He was given the nickel tour, allowed limited access to the backstage area and sent packing," said the insider. "he was upset."

Producers and reps from "American Idol" have had a long-simmering feud with Clay because he was one of the first contestant to bolt from 19 Entertainment, the management company that oversees the recording deals, merchandising, touring, sponsorship, and movie deals for "Idol" stars.

Network execs believe that Clay encouraged Kelly Clarkson to cut her ties with the show as well.

"They've always held a grudge against Clay for that," revealed the insider. "So when he showed up at the 'Idol' studios and asked if he could give a little pep talk to the remaining finalists, they told Clay thanks… but no thanks.

"It was made clear to him that he was not welcome."

The rejection was just the most recent blow to the 30-year-old's ego. Late last year, he was dumped by his record company, RCA.

Added the insider: "'Idol'" execs feel he's trying to use the show to resuscitate his career."
[From the Enquirer, May 18th, 2009, print ed.]
Burn. I can't really blame Clay, Kelly, and whoever else joined them in leaving their management company. All of the music the American Idols put out sounds the exact same, until they get their own management and control. You know how you always want to vomit whenever you hear the two finalists perform their last song? It's always specially written just for them, and includes a lot of creative lyrics about hope and destiny set to the backtrack of me vomiting. And you're always sitting there thinking, "Didn't they sing this exact same song during the last four finales?" Yeah, because there's one gibbon with a typewriter pounding out the lyrics behind the stage. It's crap. So I say good for whoever moves on to something bigger and better, because a lot of them do have talent, but "Idol" squashes their uniqueness. Anyhoo… I had a point here.
Yes! I don't blame Clay for leaving, but unfortunately his sound is an exception to that whole diatribing paragraph above. His voice was made for Muzak. He's not going to do well anywhere, CD-wise. Broadway – that was where he shined. Maybe he was trying to ingratiate himself to AI producers. If that was the case, I'd tell him not to bother, and stick to the stage anyway.
Here's Clay with Tyra Banks at the GLAAD Media Awards in New York City on March 28th. Images thanks to Fame Pictures .