Brie Larson shared the above photo to Instagram and Twitter Friday with the hashtag #fbf which means "Flashback Friday." She's touching a dolphin's stomach and the caption indicates that the photo was taken in 2004. Then the comments started pouring in, as they do on social media. Other sites are reporting that people were condemning her for posting a photo of captive dolphins, but most of the comments which I have found were more about urging her to learn more about the plight of dolphins in captivity, and the cruel way in which they're captured. Here are some of the negative comments.
Dont support dolphins in captivity please, it's just like #Roomthemovie but for dolphins. You better than that guuuuurl

Poor dolphin slaves! Please don't support animal cruelty!

sad to see you support animals in captivity @brielarson

Brie I know you care about people already and try to stay informed about the issues they face, but can you also learn more about the exploitation of animals? Cause I don't think you'd support it if you knew

No! Please learn about the #Tiji slaughter @dolphin_project and never buy a ticket to a dolphin show. These animals deserve better and you can help.

Please don't support animal cruelty!

I totally get how Dolphins are amazing but NEVER in captivity please…
[From Instagram via NY Daily News and The Celebrity Talk]
After that Brie posted an apology message to Instagram which started with a sentiment similar to "you don't know me" but it ended strong and she said that she's concerned about the plight of animals and wants to learn more. I don't know how I feel about the giant close up photo of her face, but she's trying to learn.
Brie also retweeted a message about the rake marks on that dolphin's stomach and said she wanted to learn more about it. Apparently this is caused when "teeth of dominant whales and dolphins scrape the skin of the less aggressive animals. These attacks can result in painful and serious injuries." This happens in captivity because dolphins and other sea animals get stressed out in such small enclosures and fight each other for dominance.
Tell me more! I remember the trainers telling me it was from the Dolphins playing?! Is that not true? https://t.co/ZBgjxIMP35

— Brie Larson (@brielarson) September 2, 2016
Personally I have not yet seen The Cove, a 2009 documentary about the cruel practice of dolphin hunting in Taiji, Japan. Many dolphins are slaughtered for their meat but the real money is in selling the dolphins into captivity, where they are worth up to $100,000 each. I haven't seen The Cove because just reading about how these dolphins are herded and slaughtered hurts my heart. I have seen Blackfish though, about the plight of captive orcas in Sea World, and how Sea World officials covered up how dangerous it is for both the animals and trainers. As a result I will never go to a Sea World again. (I've only been as a child.)
That brings us back to Brie. Our future Captain Marvel is 26, meaning she was just 15 when this photo was taken. She seems to have learned about what captive dolphins go through and to be open to learning more, and isn't that what we want our celebrities to do? She did sound a little snotty at the beginning of that message, but with all the nasty comments she was receiving I get it. It's got to be overwhelming at times for celebrities on social media. Daisy Ridley noped out of Instagram recently when she tried to write about gun violence and got crap for it. Brie is sticking around and trying to understand. I know I learned some things about captive dolphins today too.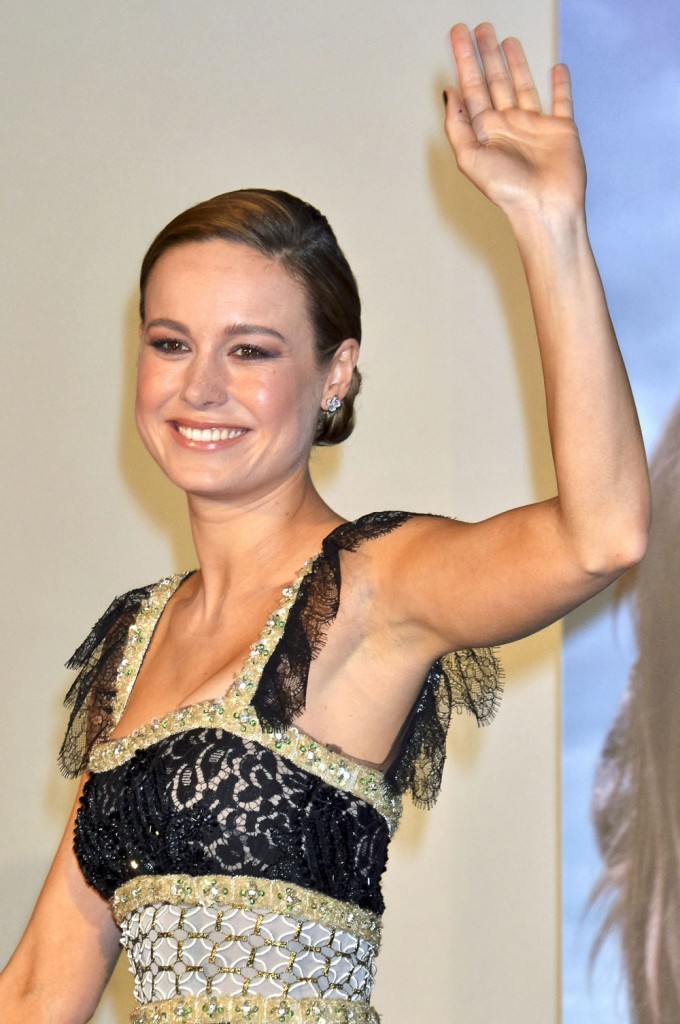 photos credit: WENN, Getty and Instagram