Eva Mendes has a fashion line with New York and Company, which is of course how many celebrities earn revenue and seems smart on her part. She's been with them since 2013 and last year they extended their agreement up until 2019 so it's obviously a mutually beneficial partnership. Eva has a new interview with ET Online discussing her fashion line, which had a show at NYFW. ET had a brief video of the show and they had models of all sizes, which was nice to see. She talked about her love of dresses because they're easy to get on and off and joked that her fashion sense involves finding clothing without vomit on it. Eva and her partner, Ryan Gosling, have daughters Amada, four months, and Esmeralda, who turns two next week. She also said that she's not in talks to do Fast 8, as has been rumored. (She was in the second and fifth one and IMDB has her listed for Fast 8, but she says that's not happening.)
ET caught up with the always fashionable actress at her New York & Company Spring Summer 2017 runway show at Academy Mansion in New York City on Tuesday, where she dished on how her fashion has changed thanks to her two daughters –1-year-old Esmeralda and 4-month-old Amada — with longtime love Ryan Gosling.

"I'll just wear anything clean at this point," Mendes joked. "If it doesn't have baby vomit on it, I'll wear it!"

The 42-year-old actress is similarly down-to-earth when it comes to her personal style. Mendes — who admits to using baby powder as a dry shampoo alternative — prefers nothing too constricting.

"I really love dresses and anything that's really comfortable — not, like, jeans that are hard to get on and off," she explains.

Indeed, Mendes looked chic in a lace burgundy dress at the event — a piece from her own New York & Company collection that retails for $80 — which she added sleeves to.

As for her acting career, the mother of two debunked rumors that she'll be reprising her role as agent Monica Fuentes in the upcoming Fast 8, the latest installment in the Fast and Furious franchise.

"It's not even in discussion," Mendes said.
Eva made that joke about checking for vomit on her clothing a couple of months ago too, when she was promoting her beauty line with Circa Beauty. It's probably true that she has to make sure she doesn't have baby puke on her before she goes out. (I don't miss that time!) As for what she said about dresses, I feel exactly the same. In fact Jessica at Go Fug Yourself wrote something strikingly similar that last month, and I remember it because I tweeted about it. She wrote "I personally love a dress. They are so easy! You can just throw one on and it's your whole outfit!" And, like Jessica when she wrote that, I'm wearing a dress now too. Wrap dresses and jersey dresses are my favorite, especially in the summer because they're light and you feel like you're both casual and dressy enough to go anywhere.
As for Mendes' style backstage at Fashion Week, I like the lace burgundy dress and would definitely wear that, but the stockings don't seem like they go with it. It's kind of overkill with the stockings because the patterns compete somewhat. Also the turban is back! Eva is wearing a turban again and I love that. She's going to bring turbans back. Nick Cannon already got the memo. (Update: and Alicia Keys!)
This is the coat she wore with it, which – yeah, overkill.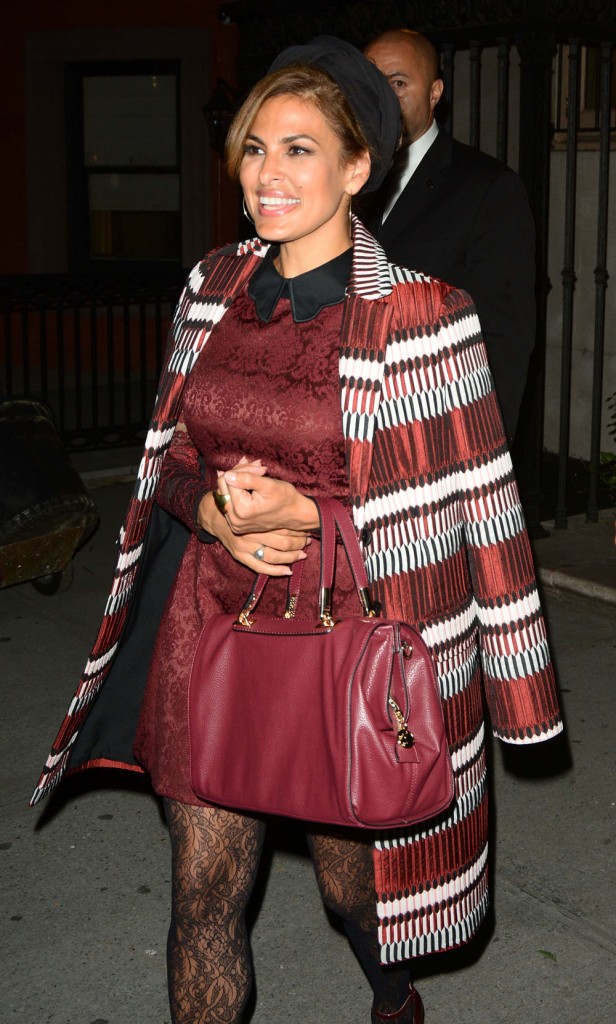 photos credit: WENN and Getty