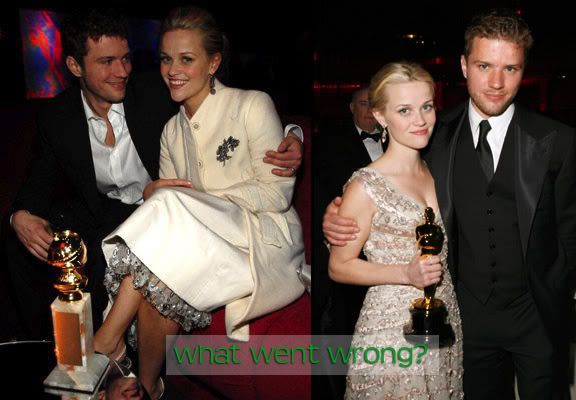 Reese Witherspoon and Ryan Phillipe's marriage was one that I said to my husband I'd like ours to be like. This is because the kids seemed to come first, and the woman had more power in the relationship, and really nice clothes and shoes. I didn't say this is the reality behind the scenes, it might be, but I just wanted our marriage to have all the good traits theirs appeared to have. For a while we wanted to be like Brad Pitt Jennifer Aniston, but that seemed like a bad idea around the time they got divorced.
Anyway, I was shocked when they got divorced. SHOCKED! But this week it seemed they might be getting back together.
Hollywood hunk RYAN PHILLIPPE has denied reports he is giving his marriage with REESE WITHERSPOON another try after the couple were spotted lunching together. The couple split last October (06) after six years of marriage and two children together. They are currently in the middle of divorce proceedings. Recent reports claimed the ex-couple had been seen jogging, shopping and lunching together in Brentwood, California, with an unnamed friend saying, "Reese and Ryan are trying to work it out. They are still close." However, the Gosford Park actor's representative tells the New York Post, "It's not true."
The same week the marriage reconciliation rumours came about, Rumours about her relationship with Jake Gyllenhaal also came out.
The pair, who are rumoured to have secretly dated after meeting on the set of their upcoming movie Rendition, are now said by friends to be back together again after splitting earlier this summer due to Witherspoon's reported desire to spend more time with her children.

The Legally Blonde actress has two children, seven-year-old Ava and three-year-old Deacon, with estranged husband Ryan Phillippe.

Commenting on her reported romance with Gyllenhaal, an unnamed pal of the star told US Weekly magazine: "Reese came to terms with the fact that she can have a relationship and spend time with her kids."
Reese and Jake have a movie coming out together in the next few months, so hopefully they'll confirm or deny the romance when they do publicity for Rendition.