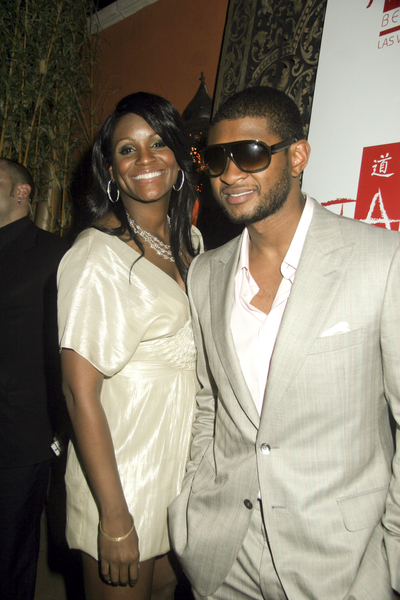 Well it appears Usher was being led down the aisle after all. Although he had previously canceled his nuptials to former stylist Tameka Foster at the last possible minute, the pair wed this past Friday, in an ultra-romantic setting: his lawyer's office. Why get married at a beautiful estate in the Hamptons when you can do it next to a rolodex? The Chicago Sun Times reports:
"Despite canceling their nuptials scheduled to occur earlier this week, the on-again, off-again wedding of Usher and his pregnant fiancée was finally on — and held quietly Friday, sources told Stella's Column late Friday night.

"The multiplatinum singer married his longtime girlfriend, Tameka Foster, who is several years older than he, during a private ceremony in his lawyer's office in Atlanta on Friday, sources said.

"Among those present was Usher's mother, Jonetta Patton, who, it has been widely reported, staunchly disapproved of the marriage. Foster was reportedly largely responsible for Usher firing his mom as his manager last May.

"The pair, who are expecting their first child together this fall, had been scheduled to marry last weekend before Usher publicist Patti Webster announced the wedding was called off.

"The couple reportedly disagreed over an elaborate prenuptial agreement supported by Usher's mother".
[From the Chicago Sun Times]
Awww. Romance truly is in the air. In keeping with the tone of the wedding, I'm guessing the pair honeymooned at the Sams Club down the street. If I were one of the hundred or so guests who flew in for the canceled wedding just a week earlier, I'd be asking for my present back right about now. The first affair would have taken place at music producer L.A. Reid's 10,000-square-foot mansion in Sagaponack, and was to have included "70 to 100 guests, including Janet Jackson, Jermaine Dupri, Beyoncé and Jay-Z." It seemed that Usher was talked back into the wedding within a few days, and despite initially saying they would give no further comment on the cancellation of their wedding, both he and Tameka reported to the press that she'd actually had pregnancy complications. Right.
"Before news broke of the pregnancy scare, it was believed that Usher's mother and former manager, Jonnetta Patton, did not approve of Foster and had not been invited to the wedding.

"'The reason he called off the ceremony is that he couldn't go through with it without Jonnetta,' an insider told the Post. 'He had an eleventh-hour epiphany.'

"Patton attended the wedding on Friday, the Sun-Times reported.

"The Grammy-award-winning artist also reportedly had a falling out with his godfather, actor Ben Vereen, over the relationship and had cut him from the guest list."
[From Fox News]
I don't really remember Ben Vereen, but I'm pretty sure he was the punch line to a lot of jokes in the eighties. As I'm sure Usher will be for quite a while too. Good luck to their baby; drama seems to follow these two at every turn.
Images thanks to PRPhotos.