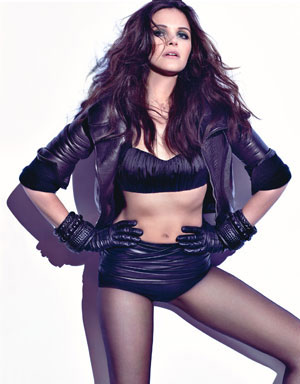 Ginnifer Goodwin is the June cover girl for W Magazine. I think she might have pissed someone off, because the cover photo, above, is not cute. Her image is of a bubbly, positive-thinking (yet slightly neurotic) young actress, and it's like they're trying to make her into some kind of dark, sultry sexpot – which she isn't. It's not a bad thing, it's just that when I hear "Ginnifer Goodwin", I would never think to describe her as "sultry" or "intense".
In the interview (story via OK! Magazine), Ginnifer is promoting Big Love (her show about a Mormon polygamist family, with Bill Paxton and Jeanne Tripplehorn). Ginnifer is also promoting her love life, it seems. She's fresh off some kind of break-up/screwy situation with Justin Long, who may or may not have dated Ginnifer in between his on-off relationship with Drew Barrymore. When Drew and Justin got back together the last time, Ginnifer was rumored to have rebounded with some hottie in Vegas, but in this W interview, she sounds very single. She actually doesn't talk about the vague Justin Long situation, but she does mention that toolbox she dated for two years, Chris Klein, as well as men in general:
Ginnifer Goodwin may play (one of three) housewives on Big Love, but this star shows that she definitely has a sultry side in the new issue of W Magazine with a sexy photo shoot. In fact, she even admits to a bit of trickery when it comes to the dating scene in Hollywood.

"I perpetuate rumors that I've dated people that I've never actually dated," she tells the mag.

As for her bubbly TV personality, Margene, Ginnifer does admit they have a few things in common.

"We both have a lot of energy," she says. "We're both optimistic and we're both romantics. But I am far more judgmental than she is. I read too much between the lines, whereas she reads none." Goodwin forces a dry chuckle. "I'm exhausted by her after six months. By the end of a season, I need to shake her off."

Ginnifer also opens up about her love life now that she and her boyfriend of two years, Chris Klein, have ended their relationship.

"I know now that there are men out there who are, for me, the whole package, who are supportive of my successes because they know I will be just as supportive of theirs," she reveals. "I'm less tolerant of foolishness now; I know that it's important I not tie myself up with the wrong person, because then I will miss the right person coming along."

And for the sake of her career, Ginnifer admits being part of a twosome is important to her.

"I'm a better person in a relationship, and I'm a happier person," she admits. "I need to come home at the end of the day and have it not be about me and my freaking hair and makeup and character motivations anymore. And I think my work is more inspired when home is safe and sound and solid, because what I do for a living is so bananas and so insecure."
[From OK! Magazine]
I like Ginnifer because she doesn't seem to mind coming across as neurotic and a little insecure. She doesn't hide it behind New Age fortune cookie wisdom, she just lets it all hang out. I respect that, because she's one of the few of the young woman in Hollywood who seems utterly normal. Maybe I'm just giving her more credit because I like her. But I think she's a talented young actress who often gets the shaft in Hollywood because she's not one of those cookie-cutter, wafer-thin blonde starlets. I really hope she continues to get challenging work, and I hope she finds some nice guy who respects her.
Photos are from W Magazine shot by Steven Klein, where they have many more photos from this series.