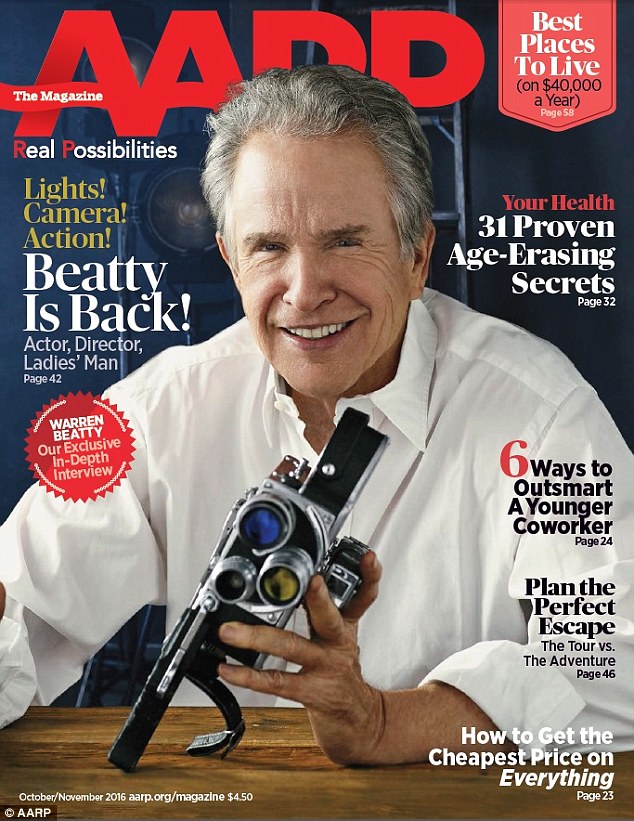 Watching this election has me going back through elections from my voting past. I remember when Warren Beatty toyed with running for president for the 2000 election as a possible Reform Party candidate. He ultimately said no, that he would "stick with his day job." One of the things plaguing Beatty's run back then was that even though he'd married Annette Bening, people were hung up on his Lothario ways prior to marriage. It was once rumored that Beatty had bedded 12,775 women before Annette. Among those were Natalie Wood, Cher, Diane Keaton, Julie Christie and Madonna. With the exception of his possibly being the subject of Carly Simon's song You're So Vain, the women from his past just don't have bad things to say about him. Beatty is starting early promotion his first film in 18 years, Rules Don't Apply, about Howard Hughes. He sat down for AARP Magazine, who do a really good interview, by the way, and spoke to his philandering past, his 24-year marriage and how much he loves being father to his four kids Stephen, 24, Benjamin, 22, Isabel, 19 and Ella, 16.
On Howard Hughes: "It amused me, the idea of a man being so public yet so private. I was fascinated by my fascination with this person."

On making movies: "I have often compared making a movie to vomiting. I don't like to vomit. But there are times I think, Maybe I'll just feel better if I go ahead and throw up. So then I make the movie."

On the rumor that he had 12,775 conquests: "Think about it, sleeping with 12,775 people. That would mean not just that there were multiple people a day, but that there was no repetition."

On why no one is mad at him: "Look, I never misled anyone. And … and I'm a nice guy."

On being asked why Bening was different: "To answer that would be reductive, and she means too much to be reductive."

Bening on Beatty: "There's always a part of what he's doing that's private but we talk a lot about everything. Some people pay lip service to listening to others and they're really not listening. He does. He loves actors, and while he's shooting he's always interested in what people are saying. He's a terrific audience."

Bening on getting Beatty back to work: "Are you kidding? I was like, 'I am ready to kill you. Just make the movie, please, please, please.' But like other people at his level of talent, he does it when he's ready. And no one's saying anything made a difference, including me."

On his children: "… by far the best thing that happened to me. I always knew I wanted to have children. I wanted to do it well, and I wanted to do it with someone who felt the same way. I'm an attentive father, I have to struggle somewhat not to be overly attentive."

On traveling: "I want to see the world through the eyes of my children. They're so different; they all want to go to different places. The big question is, will they want me there with them?"

On a Dick Tracey Sequel: "I liked the original very much, and it was very profitable. Jeffrey Katzenberg once asked me to do a sequel. At the time, I thought sequels were beneath me. Now I realize how far below sequels I am."

On his next potential role: "I would be very interested in playing Warren Beatty as a young man."
Side-note: the interview took place at the Sunset Tower Hotel in LA. One of the biggest movies of Beatty's career (and where he met Annette) was Bugsy. The Tower Bar restaurant at the Sunset Tower was Bugsy Siegel's former apartment (not the one in which he was shot, though). They don't mention that in the interview but I thought that was cool enough to mention.
The whole article is a really good read. Beatty is such a rake. I thought his quote about Annette being too important to be reductive spoke volumes about his admiration of her. I share his desire to see the world through his children's eyes. I loved traveling before kids but it's like you get to rediscover all these wonderful things – travel, art, literature, films – in a whole new way. But my favorite is his unapologetic stance that he was not wrong for being a playboy. I agree with him too – if he was exactly as advertised, then who's getting hurt? If you ever had a thing for Beatty, which I have ever since I saw Heaven Can Wait, you probably read all these quotes in his raspy voice and pictured every wink and half-cocked smile he added. Lord, this man was gorgeous. He still is. Perhaps with some help? He looks awful "smoothed" in the article's photos. So either he had some work done or that 18-year rest did him a world of good. Whichever it is, it's working for him.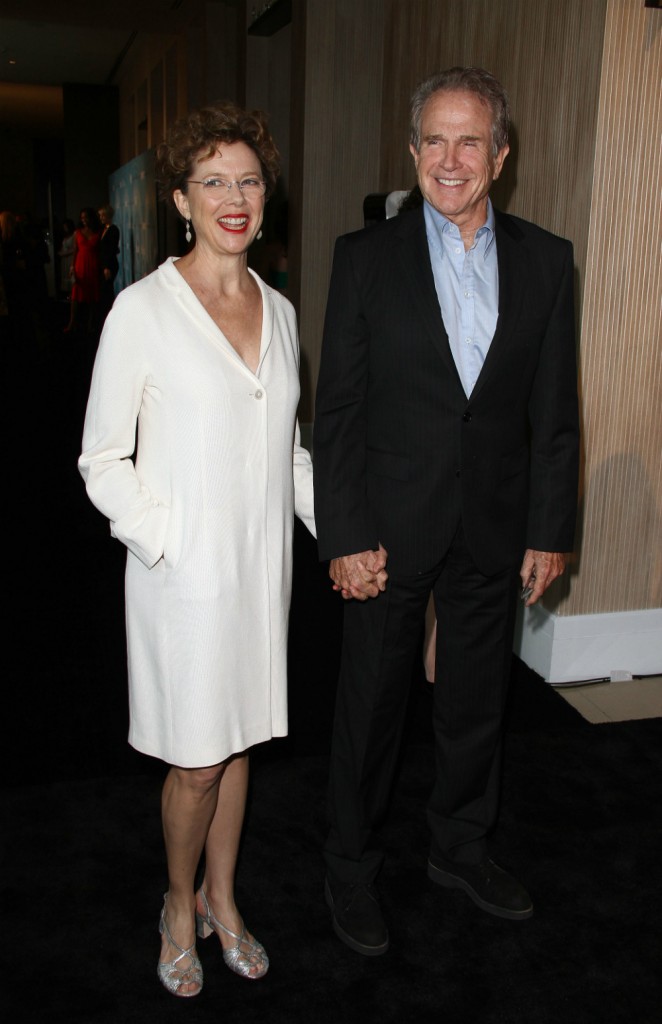 Photo credit: Fame/Flynet Photos and Getty Images