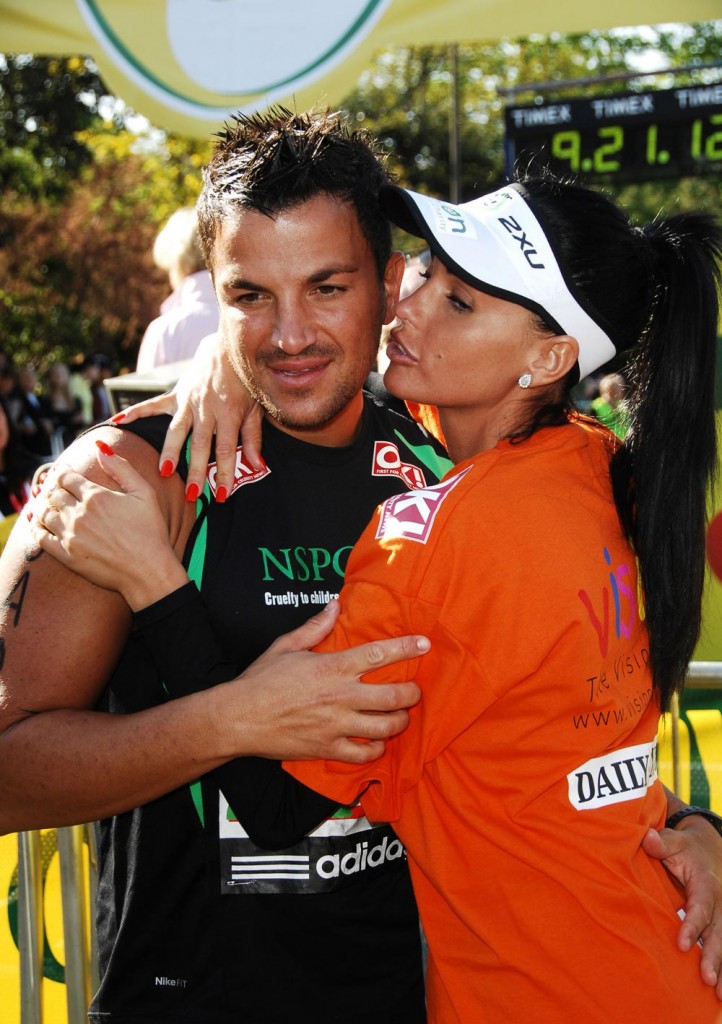 Trashy British reality couple Katie Price and Peter Andre announced yesterday that they were separating after four years of marriage. Their statement made it sound like a mutual decision and one that could have been in the works for some time. The two were seen out holding hands at a restaurant on Saturday and JayBird even speculated that the two reality stars may have been faking their relationship these past few days and weeks for the media.
It turns out the split may have been much more volatile and sudden than anticipated. Outlets are reporting that Pete became enraged by photos published Monday of a drunk Jordan out at a club on Friday flirting with guys, and that's when he decided to call it off. Katie has released a statement that makes it sound as if it was all a shock to her and that she wants nothing but to stay with Pete.
Katie and Pete met in 2004 on the reality show "I'm a Celebrity Get Me Out of Here." The couple has two children together, Junior, nearly four, and Princess Tiaamii, nearly two. Price also has a special needs son, Harvey, nearly seven. (All of Prices' children have birthdays coming up in the months of May and June, which makes it even sadder that their parents are splitting up now.)
Katie Price has described her devastation at her split from Peter Andre, insisting it was his decision to divorce.

The glamour model, 30, fled Britain with her children shortly after it emerged that the pair's three-and-a-half year marriage had come to an abrupt end.

In an emotional statement, she claimed she would always love 'my Pete' – and that he had dumped her.

But their split appeared to take a bitter turn as Andre, 36, said he could no longer cope with his 'out of control' wife.

'I'm not jealous of anybody until Katie's drunk,' he told The Sun. 'There's nobody I feel threatened by when she's sober.

'But if she's been drinking, I know she's capable of anything. The devil gets inside her and she's a nightmare.'

The couple, who met on reality television show I'm A Celebrity… Get Me Out Of Here!, split just hours after pictures of Katie emerged in a national newspaper.

She appeared to be drunk and was flirting with another man in Bristol's Sycamore Club on Friday night.

A witness said Price acted like a single girl rather than a married woman.

At one point, she picked up a microphone and sang a disastrous rendition of Pete's hit Mysterious Girl.

The witness said: 'It was obvious she'd been drinking pretty heavily. She looked out of it.'

It appeared to be the last straw of an increasingly fragile relationship that was fraying at the edges when the pair had a screaming match during filming for their reality TV show – which they allowed to be shown on ITV2 at the weekend.

Last night, the mother-of-three left her marital home in Surrey with children Junior and Princess for an undisclosed location abroad.

Her eldest child Harvey, from a previous relationship with footballer Dwight Yorke, is being looked after by a nanny at home.

In a statement, she spoke of her devastation at the demise of their four-year marriage.

'Pete is the love of my life and my life.

'We have children together and I am devastated and disappointed by his decision to separate and divorce me, as I married him for life,' she said, before adding: 'I will always love my Pete.'

Her estranged husband arrived back at the mansion they share later last night.

News that the couple, said to be worth £30million, are going their separate ways follows months of speculation about the state of their marriage.
[From The Daily Mail]
Katie and Pete have a prenup so if they do go forward with the divorce their squabbles over money and assets will be limited. It sounds like money was a huge stressor in their relationship. They got in a big fight that was aired on their show last week, with Katie telling Pete "I'm the one making the money Pete, so of course I can have it how I want… Hurts, doesn't it?" It looks like Katie is the one hurting now that she got dumped. It's not surprising that this couple crashed and burned, although I bet there will be at least one reconciliation before the end. Their courtship, marriage and now their divorce is all going to play out in front of the media.
Katie and Peter are shown at the London Marathon on 4/26/09. Credit: WENN.com