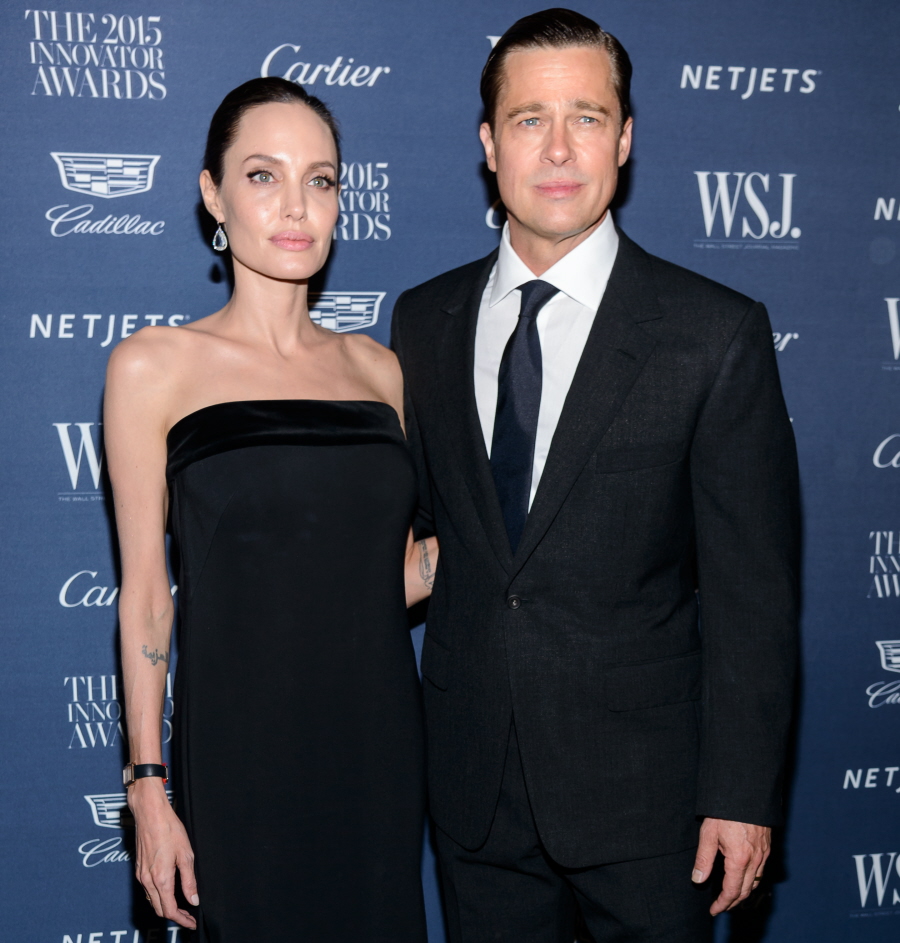 Update by Celebitchy: TMZ is reporting that Brad and Angelina have reached a temporary three week custody arrangement in cooperation with the LA County Department of Child and Family Services. These recommendations were reportedly made by DCFS and agreed to by Brad and Angelina. Angelina will get temporary sole physical custody of their six children until October 20th. Brad has visitation rights, but his first visit will be monitored by a therapist. After the first visit the therapist will determine if subsequent visits will continue to be monitored. Brad is subject to random drug and alcohol testing and is said to have passed his first test. Both Brad and Angelina must attend individual counseling and the family, including Brad, Angelina and all of their kids, must attend family counseling together.
---
While the tabloids would have you believe that The Villainess Jolie is
plotting the destruction
of America's Golden Boy in her (rented!) Malibu Lair, the truth is probably quite different. Many rushed to claim that the fact that Angelina hired (re-hired) Laura Wasser as her divorce attorney was a sign that Jolie would play dirty, but in interview after interview, Wasser has always said that her biggest advice to her clients is: sit down and talk and see if you can work things out privately, even if
"working things out"
is simply coming to an equitable divorce settlement. Wasser doesn't want drama, but sometimes her clients do. Is Jolie the kind of client who wants to go to war with the father of her children? Or is Jolie just trying to figure out what's best for her kids after they witnessed their father go crazy on a plane? You know what I think. Well, People Magazine says that Brad and Angelina – or their people – are in "private negotiations."
Ten days after Angelina Jolie filed for divorce from Brad Pitt, the two are now deep in private negotiations, PEOPLE has confirmed. As the two sides try to reach an agreement behind closed doors and find a way to move forward, it's clear one of the biggest issues – and likely the most difficult to resolve – is the custody of their six children.

When Jolie, 41, filed for divorce from Pitt, 52, she requested joint legal custody but primary physical custody, with visitation for Pitt. Meanwhile, Pitt sources have said he will push for shared physical custody of their kids: 15-year-old Maddox (with whom Pitt had an alleged physical altercation), Pax, 12, Zahara, 11, Shiloh, 10, and 8-year-old twins Knox and Vivienne.

Any custody agreement they reach will have to be signed off on by a judge to make sure it's in the best interests of the children. "If Angelina and Brad reach an agreement on custody, the judge assigned to the case will be delighted that these parents were able to work out something that they can live with and that makes sense for the family," says certified family law specialist Stephanie Blum, of Reuben Raucher & Blum, who's not involved with the case.

In private negotiations or in court, Jolie could have a difficult time gaining sole physical custody, legal experts say.

"It is extremely difficult to be granted sole custody in a California court, absent some egregious behavior that directly impacts the best interest of the minor children," says L.A. family law attorney Atousa Saei. "In my experience, courts [and judges] lean more towards joint physical custody over sole physical custody. They want to see both parents involved in the children's lives and want both parents to have frequent and continuing contact with the children."

If a case winds up in front of a judge, a parent wanting sole physical custody would need to show considerable evidence that the other parent has problems caring for the children.

"If Angelina can prove to the court that she is the parent that has historically been the caretaker of the children and that allowing Brad to share the children with Angelina on an equal basis would actually not be in the best interest of the children, she will have a good shot at being awarded physical custody of the children," Saei says. "Her allegations must not only be substantiated by evidence, but they also need to be linked to the best interest of the children. By way of example, if Brad got angry in front of the children, that is very different than if he only got angry with Angelina behind closed doors."

A source has acknowledged Pitt was drunk during the argument on the couple's private plane that is now being investigated by L.A.'s Department of Children and Family Services, but has said Pitt did not hit or physically abuse Maddox. As for the drinking allegation, in any bid for sole physical custody, Jolie would have to show that any substance use "has an impact on Brad's ability to care for the children," says Saei. "Judges are much more lenient these days on the use of alcohol, as long as a parent is not under the influence while children are not in their care. Courts want both parents in the lives of children, so long as it is in the best interest of the children."
I get that People Mag is trying to soften the case against Brad, but if you really read between the lines of these quotes, it does sound like Angelina has a pretty good case for sole legal custody of the kids? Brad's behavior on the plane was so egregious that A) Angelina bolted with the kids and filed for divorce just a few days later and B) someone called child protective services on him, and there's an ongoing investigation. Brad's people even admit that he was drunk and behaving badly in front of his kids. The kids not only witnessed all of this, but they also saw that Maddox was so upset by how Brad was treating Angelina that he (Maddox) physically got in between them. While I don't doubt that Angelina and Brad – or their people, it's not clear – are in private negotiations as we speak, I definitely think Angelina is holding all the cards.
Oh, and Jolie's legal team hired Judy Smith, the DC fixer who inspired the character Olivia Pope on Scandal. The Villainess isn't playing.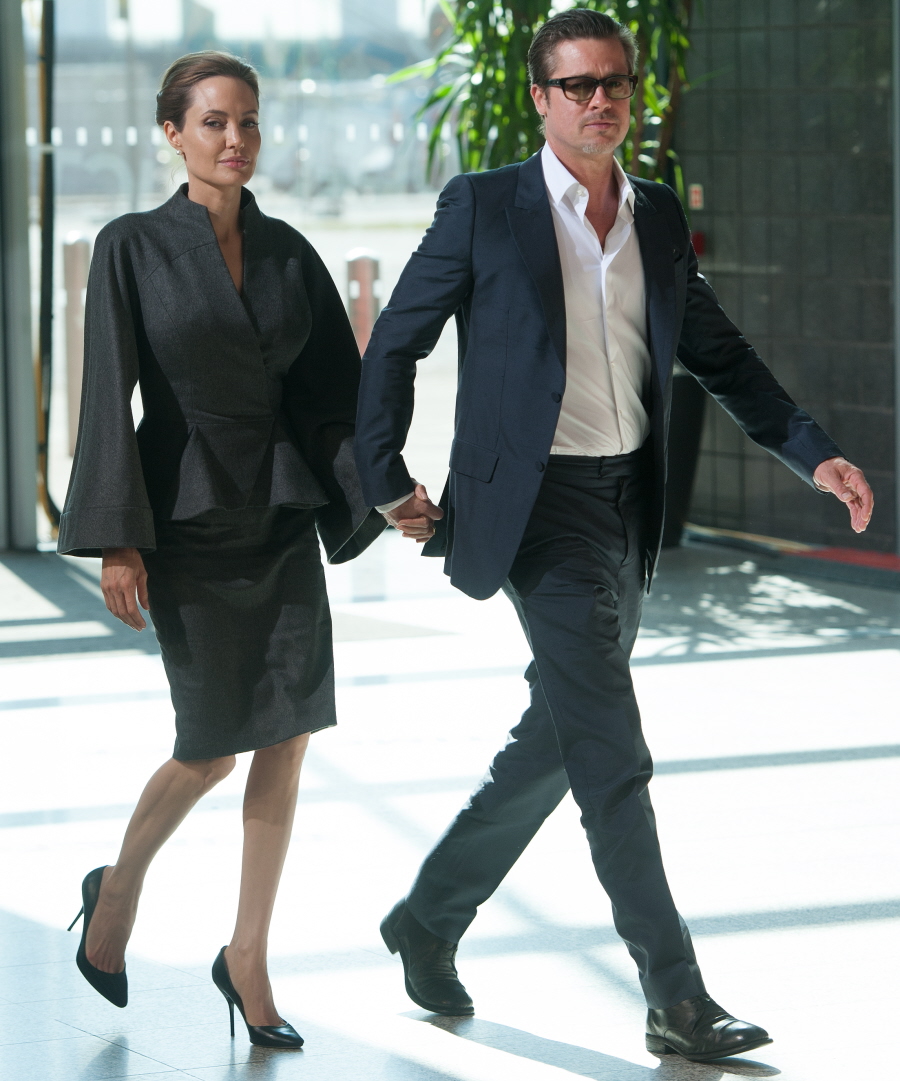 Photos courtesy of WENN.