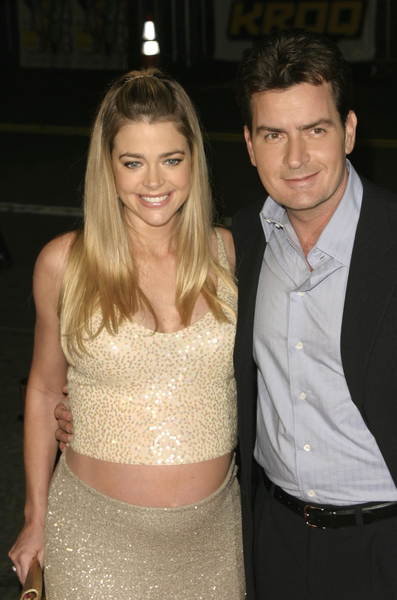 Though at last report they were getting along and sharing meals with their significant others, Charlie Sheen and Denise Richards have fallen back into their old routine. They really try to one-up each other on the crazy. Sheen has just filed a lawsuit against Richards, regarding his visitation with their daughters Sam, 3, and Lola, 2. Their original custody agreement stipulates that Charlie's visitations must be supervised. Charlie is suing so that he can provide his own nanny to supervise the visits during those times. As it stands now, Denise sends her own nanny, who Charlie believes Denise is using to spy on him and report back to her.
"Friends of Sheen made a number of claims to Page Six about the situation, all of which Richards vehemently denies.

"'She's doing everything she can to keep his visits supervised by her nanny, because her nanny spies for her,' one Sheen pal said."
[From Page Six]
Sheen was kind enough to have a heart-to-heart with Entertainment tonight, and told them:
"'What I am doing is pursuing a relationship with my daughters that is unpolluted,' he told Entertainment Tonight about the suit, which seeks to prevent Richards from specifying which nanny accompanies the children on visits.

"The legal papers claim: 'It is not necessary, appropriate, or in the best interest of the children that [Richards] selects child care providers for my custodial periods.'

"Sheen also claims that he and his 29-year-old fiancé have 'have a strong relationship with the children … and provide them with a structured and safe environment'.

"The actor is also seeking to halt the 'unnecessary phone calls to me and my home' by Richards."
[From iafrica.com]
Sheen also claims that Denise wants a child, and asked him to be the father.
"'There was a request for a donation,' he claimed during the interview with Entertainment Tonight.

"'Without getting into it here… there is a specific document relating to this that I am going to reserve for a court.'

"But he wouldn't ever comply with the request, he claimed.

""I would sooner, in exactly what I'm wearing, walk on the surface of the moon,' he said. 'Does that answer it?'

"Although Richards has denied his claim, Sheen said: 'She can make every claim in the world. But what she stated in something she wrote would completely and totally defy that.'"

Sheen related the claim to his legal battle over the supervised visitations.

"'The baffling thing about this is that if I'm good enough to, as it were, provide my DNA, I should surely be good enough to hire my own child care provider,' he said.
[From iafrica.com]
If that's true, not only does Charlie Sheen have a good point (something I never thought I'd write) but it's also a really weird request to make, considering the acrimony between these two. Denise did respond to his allegations, essentially denying everything Sheen said.
"But Richards contradicted the friends' claims. 'This is disgusting,' she told us. 'He is doing this now because he's not happy with me and the custody arrangement.'

"She rebutted Sheen's pals' charges one by one: 'My mom is going through chemotherapy and I asked Charlie if my mom could see the kids before she got really sick. That's a valid request. He doesn't stick to the schedule he has with the kids – that's not my fault.

"'I did ask both Charlie and Brooke to lunch to see the kids – he hadn't seen them in two weeks – but only Brooke took me up on it. The paparazzi were already following me, as they do every day, and took a picture – and I have the bill for the flowers I sent from Mark's Garden. Brooke even showed my nanny the flowers.'

"Richards added, 'I don't want another child right now. I have my hands full and am focusing on my children, my mother and my career. I thought I was past all this stuff.'"
[From Page Six]
Squabbling couples are the worst. I feel so sorry for their kids, because you can tell that these two are going to badmouth each other to anyone who will listen, kids probably included. They just seem to have the maturity of a zygote. They're having hissy fits and using lawyers to get even with each other. I don't know why, but my gut instinct is that Charlie Sheen is flattering himself with his "request for a donation" thing. Just a hunch. These two are going to have to be co-parents for another sixteen years, minimum. It'd be great if they could get their acts together, move on with their lives, and stop being so vindictive towards each other.
Picture note by JayBird: Here are Denise Richards and daughter Sam at the "Ratatouille" premiere, and Charlie Sheen with his fiancee Brooke Mueller at the Chrysalis' 5th Annual Butterfly Ball in June 2006. Back when Brooke was still known as Brook Wolofsky. Header image is of Charlie Sheen and Denise Richards when they were (obviously) still together at the "Big Bounce" Premiere in January 2004. Images thanks to PR Photos.