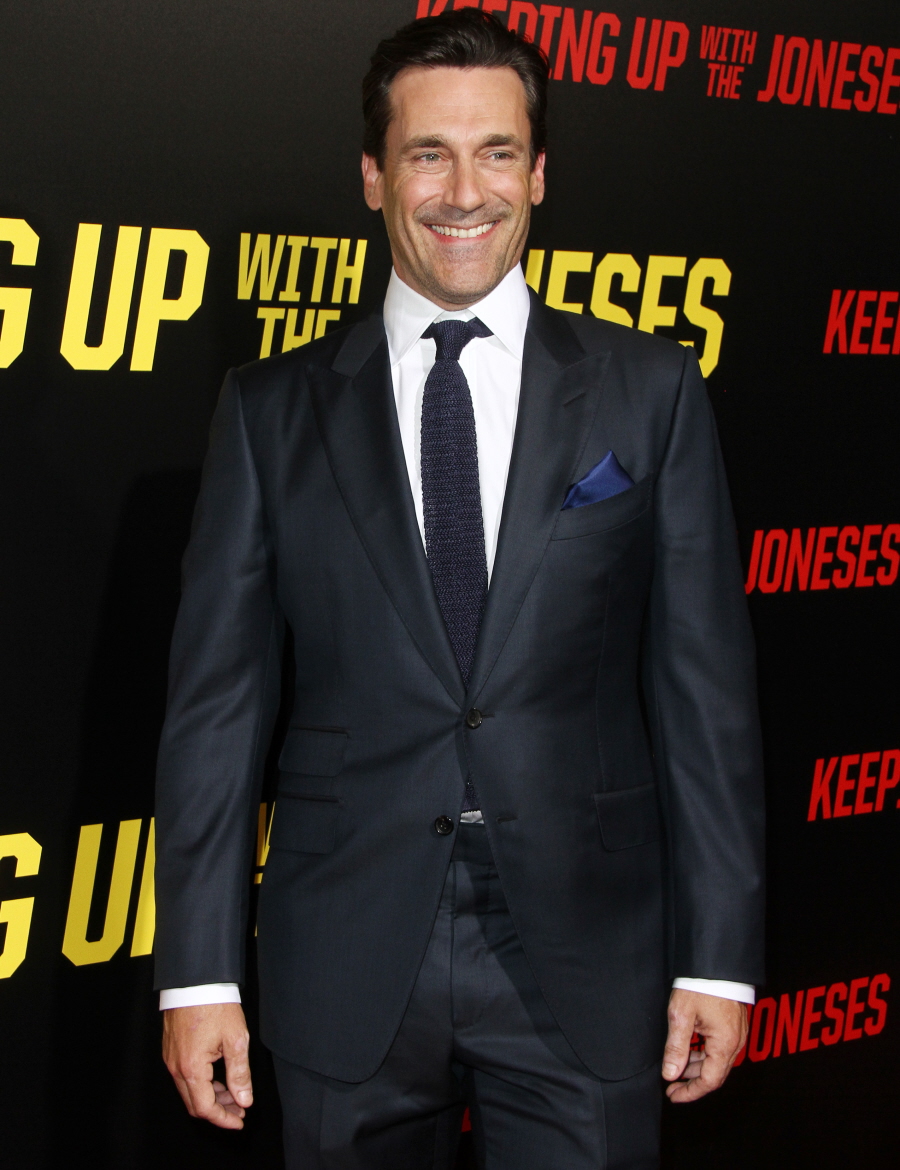 Despite my qualms about Jon Hamm's frat-boy-hazing past, I have to admit that the guy knows how to give a good interview. Hamm is currently promoting Keeping Up with the Joneses and his interviews have been really good. Hamm spoke to Elle Magazine and I came away from this piece really liking him again. He's in his 40s, he's single for the first time in more than a decade, and you can just feel that he's feeling sort of vulnerable. You can read the full piece here. Some highlights:
What he would do differently about losing his virginity: "I don't know. Everything? [Laughs] There's no version of it that's not awkward. Let's put it this way: As much as I had practiced, I was still not quite ready for game time.

Whether he was young when he lost his V: "I wasn't. I was in college. I was 19. I don't know why that would surprise you. Maybe it's easy for some people. It certainly wasn't for me."

What his dad taught him about women: "He was twice widowed. He was divorced from my mom when she died, but even so, there's a deep sense of tragedy in that. I never had the opportunity to, as an adult, sit down and talk to him about that. It's a real loss. I was quasi-adopted by my friends' families. And even today I get e-mails or cards from these women who, for lack of a better word, were my mom. We talk about what it means to be a family. Mostly it's about showing up. And being aware enough to check in and say, "How are you doing?" I've been incredibly lucky to have these people in my life.

What he would tell his 20-year-old self: "I do think about that. The best thing you could say is: Appreciate it. Struggle is part of the journey. That's what I've learned in my forties: This too shall pass.

Whether he talks to his dude friends about ageing: "I mean…yeah. Sort of. The conversation is not dissimilar to what it's always been—a lot of bullsh-t, a lot of jokes, a lot of ridiculousness. But it's leavened now with discussions about career, family, kids. Getting old sucks. I had an interesting conversation with an older actor whom I've looked up to for many years. He said, "When I wake up in the morning, I still think I'm 35. It's not until I see myself in the mirror where I'm like, Oh, right…" I have that, too. That horrible realization that you're not what you used to be….Listen, I'll say this, too. The great thing about getting older is living life.

Why people loved Don Draper so much: "I think there was a fascination there. But women realized that he's bad news. I think Don's appeal is more to old white dudes than it is to ladies. Because he represents this mythical era of masculinity. We're going through it in the political arena now. Old white dudes saying, "Remember when we ran sh-t?" You still do. It's still a thing.

He's pro-Hillary: "She's definitely preferable to the alternative. It's insane how much of her life she's lived in the public eye—and how much she's devoted to making this a better place. We need someone like that now. In this ridiculously polarized, obstructionist world, the operating principle should be, Let's get something done. Not, Let's freeze everything. We really need to fix the roads. We really, really should get on those bridges. At the end of the day, Hillary gets things done.
My favorite part is absolutely "We're going through it in the political arena now. Old white dudes saying, "Remember when we ran sh-t?" You still do. It's still a thing." Like, that's what's so crazy. America gets our first African-American president and all of these old white dudes are like "WE WANT OUR COUNTRY BACK" and it's like… guys, you still run 99% of the country. Make America Great Again is basically that plea writ large, it's old white men complaining that they don't have all the power instead of just the overwhelming majority of the power. Anyway… I could use some Hamm right now.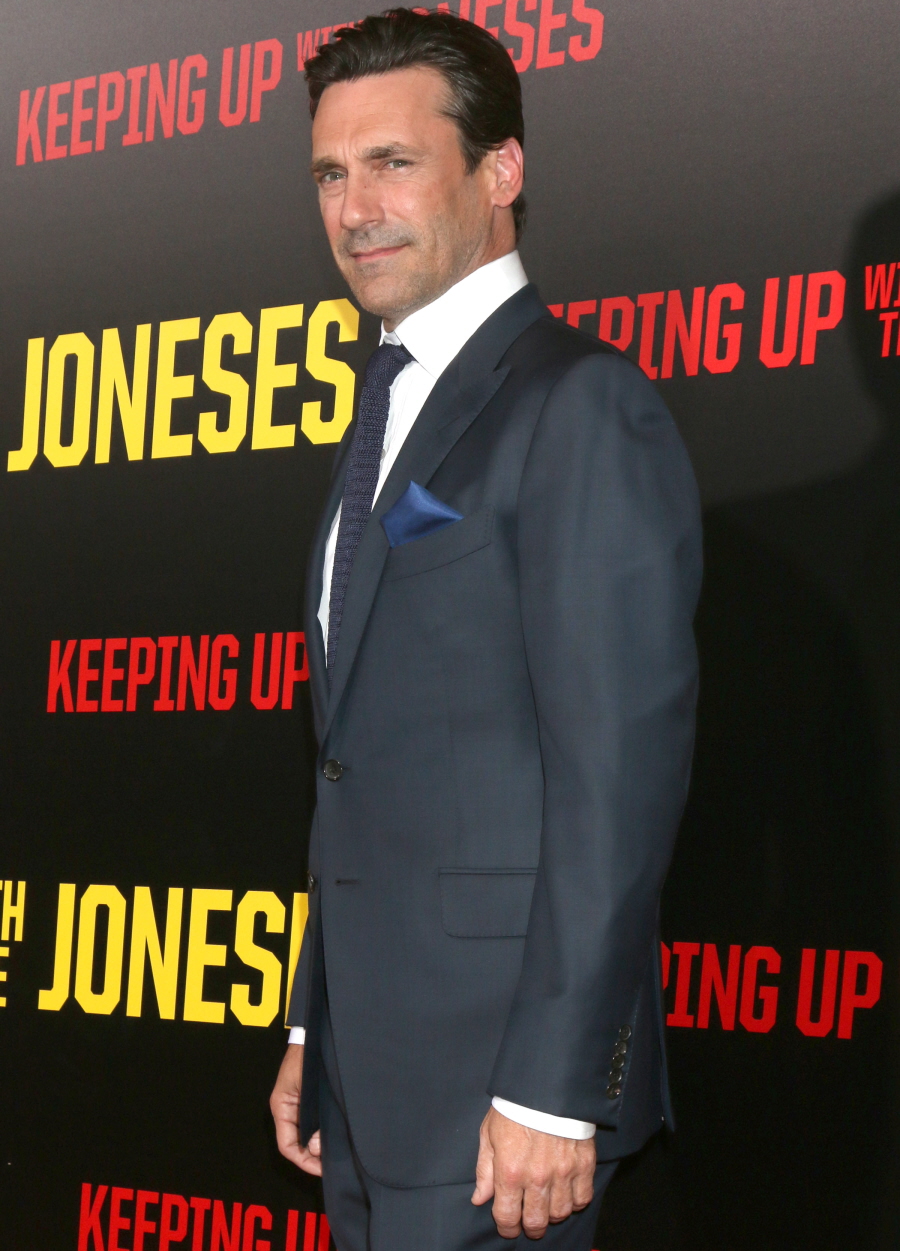 Photos courtesy of WENN.