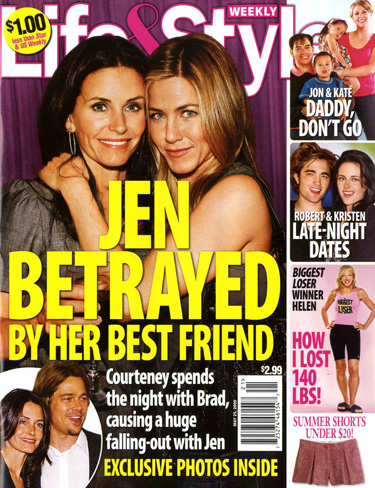 Remember last week, when we reported that Brad Pitt and Courteney Cox ran into each other at a concert, and instead of ignoring each other like high-schoolers, they acted like the somewhat-mature 40-somethings that they are? Well, that story, with some added girl drama, is Life & Style's cover story this week. I should point out, Life & Style is the only tabloid not running Kate and Jon Gosselin as their cover story. So I'll give them points for originality, at least.
The headline is huge, which proves the little theory I have going that the bigger the fake drama, the bigger the headline. Life & Style screams, "Jen Betrayed… By Her Best Friend". I suppose exclamation points would be crass. Sub-headline: "Courteney spends the night with Brad, causing a huge falling-out with Jennifer". Uh… if Brad spent the night with Courteney, I think it's Angelina who should be pissed. Cover Awards has the run down of the article:
Life & Style Weekly follows up last week's cover featuring Trista & Ryan's baby with yet another untimely cover topic.

This week it's about Jen being betrayed by Courteney Cox. By now, many of you who follow celebrity news know that Courteney bumped into Brad Pitt at a concert recently.

They appeared to have a nice time catching up.

Well, guess what?

That turned into Life & Style's cover story for some inexplicable reason.

I simply don't get it.

While there continues to be heat on Jen – the friendship between Courteney Cox and Jennifer Aniston is not a full cover story.

It might have been five years ago – but certainly not today.
[From Cover Awards]
Not much new information, but it is interesting. Now Magazine (story via Showbiz Spy) is running the same kinds of story, basically saying that because Brad is hanging out with both Courteney and Jennifer, Brad is persona non grata in the Jolie-Pitt household. According to their sources, "Angelina Jolie is said to be furious at rumors partner Brad Pitt is back in contact with ex-wife Jennifer Aniston. The Changeling actress went mad when she heard Pitt had spoken to Aniston's best pal Courteney Cox at a recent Chris Cornell gig in Los Angeles." Angelina then told Brad: "[He'd] humiliated her for the last time and that if he wanted to go back to his boring shallow life with Jen, that was fine by her."
His "boring shallow life with Jennifer" is something I've always wondered about. It's no secret that Brad was a much more "boring" person with Jennifer. The only trips they really took were to Mexico, and they just seemed to spend their time together getting matching highlights and (allegedly) getting high. Though there's no doubt in my mind that Brad loves his kids and loves the chaos of the big family that he chose, I wonder if he really does miss that "boring shallow life with Jennifer" at times.
Here's Jen on the film set of 'The Baster' in New York on May 8th. Images thanks to WENN.com .