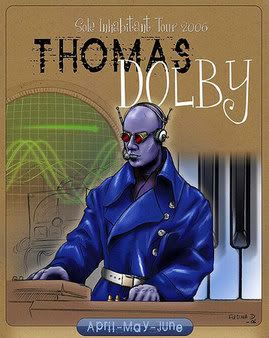 Kevin Federline, who amazed everyone by getting a paid job last week, is under fire from 80s pop star Thomas Dolby for using the signature music from "She Blinded me with Science" on his latest "rap" song accessible from his 1997-era MySpace. (link launches automatic "music")
Dolby blogs about Federline's theft of the sample:
Next item: Britney Spears' husband Kevin Federline, whom I'd never heard of until a few days ago, appears to have illegally sampled one of my compositions. On his MySpace site you can download an MP3 which uses a looped sample from Mobb Deep's 'Get It Twisted', which in turn copped the string line from my own song 'She Blinded Me With Science.'
Now, Mobb Deep did it the right way and had his label BMG come and ask for a license. They paid me a fee and a royalty on the sales of Mobb Deep's record. However K-Fed, as his fans affectionately refer to him, did NOT ask permission, he just went ahead and did it. He is therefore blatantly violating the copyright law. And laws aside, he owed it to me as an artist to ask if I minded that he recorded a vitriolic rap over the top of my music. It starts off 'This is for the HATERS…' and goes on to blast the media, paparrazzi and all his other critics, sparing no expletives along the way.
BMG Records have also had their copyright violated, as they own the master to Mobb Deep's record. But BMG don't want to rock the Britney boat so they are turning a blind eye. It's pathetic! Turns out K-Fed has no management, label or lawyer, so it's going to be hard getting hold of him. So K-Fed, if you're reading this, I'm asking you nicely to take the track down ASAP. Or maybe you'd prefer me to come after some of your wife's ill-gotten gains?
[via]
Dolby is touring again as a single act after 15 years, and finds it amusing that press outlets are more interested in his feud with Federline than the fact that he's revitalizing his music career.
Here is Federline's wife, Britney Spears, rotting her child's teeth and accompanying her husband to a promotion gig for his album at Club X in Dallas.
Header image is from Thomas Dolby's upcoming tour.
Pictures [via]
Three more pictures after the jump.