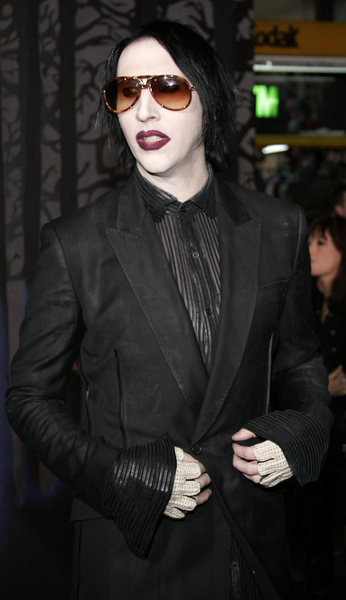 Marilyn Manson's former keyboard player is suing Manson, claiming he improperly used the band's fund to make some extravagant and bizarre purchases. Stephen Bier, who performed under the stage name Madonna Wayne Gacy, says that he wasn't paid his fair share over a nearly twenty year period with the band. According to Bier, Manson told him the band was not nearly as financially profitable as it was, and then went on a two year spending spree.
"From 2004 to 2006, he claims, the gothic rocker used band money to buy a $2 million home and collect Nazi memorabilia, including coat hangers used by Adolf Hitler.

"Manson also bought "African masks made of human skin, the full skeleton of a four-year-old Chinese girl, and the full skeleton of a 17th Century male in a wheelchair," according to the legal papers.

"Other items included $450,000 for an engagement ring and wedding to burlesque performer Dita Von Teese."
[From BBC News]
Bier claims that the band's lawyer and business managers cut off his band credit cards and salary at Manson's behest. He also suffered medical problems related to his work, which the band refused to pay for.
"'Because of Manson and others' fraudulent conduct, Bier has spent almost two decades working for one of the world's most popular rock bands that has made millions of dollars in profit and now has almost nothing to show for it,' the papers [lawsuit] conclude."
[From BBC News]
Manson responded by telling MTV News that Bier's claims were ridiculous.
"'The fact that he's claiming that I've treated him unfairly, financially, is really ridiculous. And I would never spend my money on a Chinese girl skeleton. That would be crossing the line. It's a Chinese boy, for the record.'"
[From Daily India]
Marilyn Manson is so bizarre that it's hard to put much of anything past him. Remember that thing a few months ago with Keith Richards saying he snorted his dad's ashes? Marilyn retorted by telling him that he sprinkled ashes onto his ice cream. Okay that's not true. But he's so bizarre that you could say just about anything about the guy, and people would believe it. I mean he didn't deny the Chinese skeleton… though that was a slightly funny retort. But either way, this is a guy who "was given the title of 'Reverend Manson' by Church of Satan founder, Anton LaVey." He also fancies himself an artist, and supposedly used some of the band's money to purchase a gallery to display his own work. Who knows if Stephen Bier, I mean Madonna Wayne Gacy, has a leg to stand on. If not, I'm sure Manson has a few legs he can offer.
Picture note by JayBird: Here's Marilyn Manson when he was still with Dita Von Teese at the Chanel Costume Institute Gala at The Metropolitan Museum of Art on 5/2/2005. Images thanks to PR Photos.