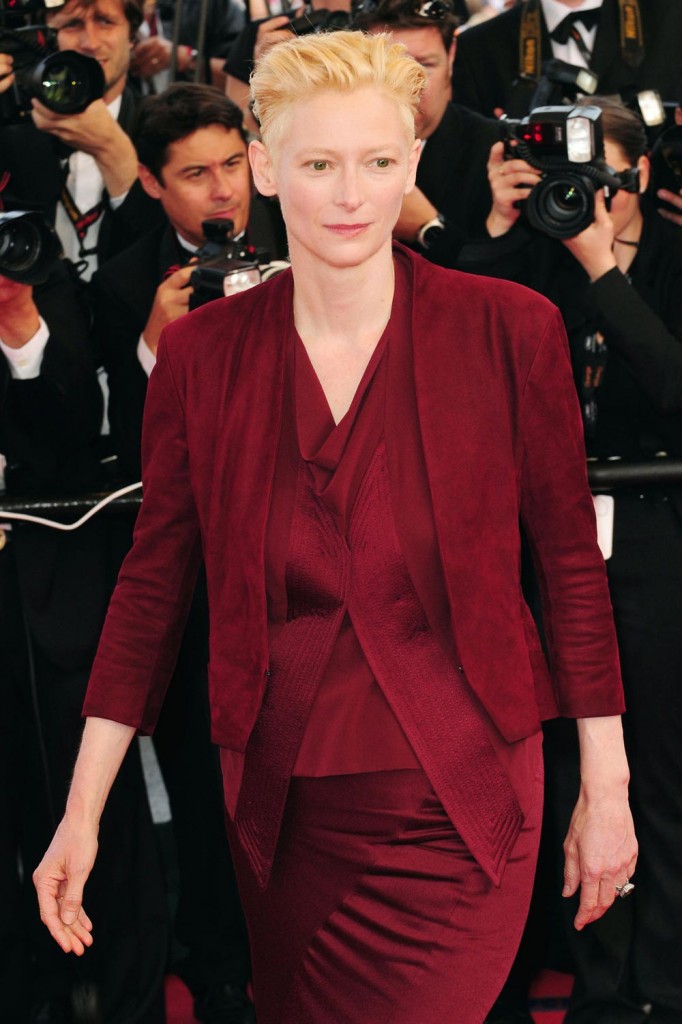 The Cannes Film Festival got off to a solid start Wednesday night with the premiere of Pixar's Up. Tilda Swinton was one of the biggest names on the red carpet, and I think we can officially say that she's now wearing make-up for her most of red carpet appearances. Hooray! Her outfit even looked amazing, some sort of layered maroon dress/cardigan thing that looked lovely. But her hair! Oh, God, that hair. Isn't that the haircut Marines are given? The shaved bottom half and kept longish at the top? Perhaps I think that's a Marine cut because I see it so often on NCIS.
From what I can tell, Bollywood goddess Aishwarya Rai just came to party, considering she's not in any of the films premiering at Cannes and she's not a judge. She's still one of the best dressed women thus far.
The evening gowns glittered, the red carpet was unfurled _ and the 3-D glasses were at hand as the 62nd Cannes Film Festival opened Wednesday with the soaring animated adventure "Up."

"Up'"s delighted filmmakers from Pixar Animation joined the crowd of stars and cineastes on the red carpet in this French Riviera resort and said being invited to Cannes was a dream come true.

"We're just a bunch of animation geeks from northern California on the red carpet at the Cannes Film Festival," said a beaming John Lasseter, Pixar's creative maestro.

Edward Asner, who voices "Up'"s main character, did not come to Cannes. But his counterpart in the French-language version, crooner Charles Aznavour, was there.

Lacking star power from the "Up" voice cast, the biggest name on the red carpet was Academy Award-winning actress Tilda Swinton.

Inside, Roxy Music singer Bryan Ferry serenaded the crowd with a version of Aznavour's "She," before Aznavour declared the festival officially open.

Organizers were hoping "Up" would provide a buoyant start before the festival plunges into 12 days of movies that take in passion, murder, Korean vampires and a band of Nazi-hunters led by Brad Pitt.

Members of the jury, led by French actress Isabelle Huppert will be wrangling over which auteurs _ from a slate that includes Pedro Almodovar, Ang Lee, Quentin Tarantino and Ken Loach _ should receive Cannes' coveted prizes. But on Wednesday, Huppert was in a gentle mood.

"I don't think we are here to judge," she said. "I think we are here to love films _ and to see what we love more than others."

Huppert is one of only a handful of women ever to head the jury at the world's most prestigious film festival. She said the numbers didn't bother her: her predecessors _ who include Sophia Loren and Liv Ullmann _ were "women who count for a lot."

Fellow juror Hanif Kureishi, the British screenwriter of "My Beautiful Laundrette" and "The Mother," was more concerned with another omission.

"I'm not aware we've ever had a black or Asian president of the jury," he said. "It will be interesting to see when that will occur."

Scores of celeb-watchers waited patiently outside Cannes' waterside film complex Wednesday, hoping for a glimpse of the stars _ any stars. Few knew who was due to arrive, but most didn't seem to mind.

"I want to see Angelina Jolie on the red carpet," said Corinne Besnier, who traveled hundreds of miles (kilometers) from Reims in northern France. "And Johnny Hallyday" _ the French rock star who plays a killer in Hong Kong's director Johnnie To's "Vengeance."

Hundreds of brightly colored helium balloons festooned the building in honor of "Up," the story of an old man and a young boy who float off to South America in an airborne house.

There's weightier fare among the 20 films in competition, including Tarantino's World War II epic "Inglourious Basterds," with Pitt as leader of a group of Jewish soldiers hunting down Nazis.

The lineup looks strong, but festival organizers and industry attendees are apprehensive about how the global recession will affect the event. Festival director Thierry Fremaux said he expects attendance to be up slightly from last year, but Vanity Fair magazine has canceled its annual Cannes party, and some soirees are rumored to have swapped champagne for sparkling wine.
[From Huffington Post]
As HuffPo mentioned, French actress Isabelle Huppert is the jury's president this year, taking over from last year's president Sean Penn. In a weird twist, Robin Wright Penn is on the jury this year too. Last year, Sean said publicly that his goal was to reward and recognize political films, but Huppert has already stated her difference in opinion. She told the media that her number one rule for recognizing a film was "the importance of the humanist ambitions and esthetic intentions of movies." So, it looks like the Nazi bloodfest of Inglourious Basterds isn't going to make the cut!
Shown are Tilda Swinton, Elizabeth Banks, Aishwarya Rai, Robin Wright Penn, Asia Argento, and Shu Qi of "UP." Credit: WENN.com