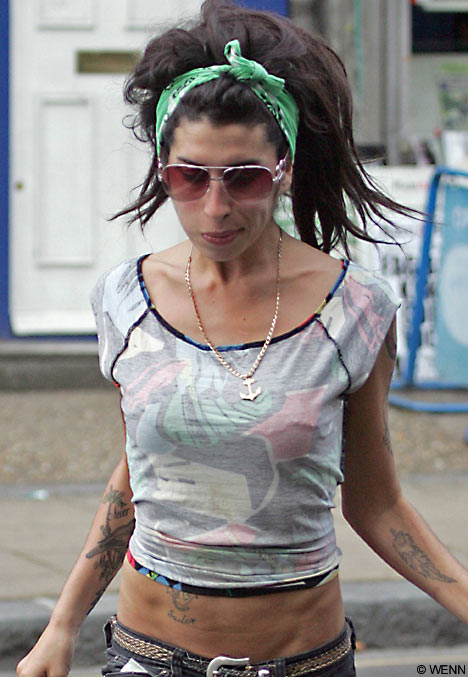 Our dear little Amy Winehouse was rushed to the hospital this morning, amid much fanfare. No one seems to know why, but her very creative PR rep searched the annals of medicine to come up with the most creative malady known to the entertainment world: Exhaustion. That's right, Amy Winehouse is suffering from one of the most extreme, debilitating, and life-altering cases of exhaustion ever known to man. Doctors really should study her and write the case up for publication in every known medical journal. Because truly, this is a case of unparalleled severity. Most shocking is that Winehouse will have to cancel the rest of her well-attended tour.
"TMZ has learned that Amy Winehouse was rushed to the hospital this morning after some sort of incident.

"Winehouse's rep confirms to TMZ that the tatted up singer was taken to a London hospital and treated for 'exhaustion.' The rep says Winehouse has since been discharged and is currently at home. She has been ordered to take 'complete rest.'

"When asked what prompted this, the rep would only say 'it came about quickly.' No other details were available.

"Winehouse's rep says that the singer's grueling world tour schedule is most likely to blame.

"For now, no no no more shows for Amy. They've all been canceled."
[From TMZ]
Ooh Ooh, look how surprised I'm not. Why won't anyone explain to Amy Winehouse that too much alcohol + too many drugs – enough food = exhaustion. It' a pretty consistent equation. I'm pretty sure that if you wanted to sit around and do some math, you could calculate the average of how many shows Amy Winehouse has actually shown up for, and it'd be around 50%, max. You might think to yourself, "Hey, 50% is half, that isn't that bad." But let me take you back to your college days and remind you that 50% is an F. So I'm giving Amy Winehouse a big F on life. Or at least on creativity.
I should give a shout out to all the commentors who bought tickets. I'm pulling for you.
Picture Note: Amy Winehouse is shown out in London yesterday. Thanks to WENN for these photos.