Gigi Hadid is currently promoting her successful capsule collection/collaboration with Tommy Hilfiger. The collab is a success, from what I've heard. What's interesting though is that Gigi wasn't really well-liked or respected as a model when she first walked for Hilfiger back in February 2015. People Magazine published this curious shade about what Hilfiger and his casting director thought about Gigi's body last year – she wasn't tall enough (she's like 5'11") nor was she thin enough. Ugh.
Gigi Hadid seems to have it all: more magazine covers than any other model this year, every major catwalk under her belt, a standing invitation to walk the Victoria's Secret runway and pose for the Sports Illustrated Swimsuit Issue, a killer squad of fellow models, a cute boyfriend who lets her wear his shoes … we could go on. She's even moved into the role of muse for Tommy Hilfilger, collaborating with him on a clothing line and serving as the face of his fragrance. But things weren't always so golden for the model and the designer.

For Hadid's first turn down the runway for Hilfiger in February 2015, Hilfiger recalls a casting dilemma. "Our casting director said, 'She doesn't really fit because you know she's not quite as tall as the other girls, she's not quite as thin. So they put a red, white and blue poncho on her, it covered a lot of her body unfortunately, but it received millions of hits," he told Yahoo Style's Joe Zee. "So I said, you know, why don't we ask her to design a line with us. So I said, Gigi come design this with me, we'll do a Gigi x Tommy couture line."

It's worth noting that, though Hadid was deemed "not quite thin" enough for any non-poncho apparel in February, by September, Hilfiger had her in a crochet bikini leading a cabal of models down a beach-inspired runway. And a few months after that, their clothing collaboration was announced. And though it may serve as small comfort for being publicly poncho-shamed by your design partner, Hilfiger did deliver her a compliment, saying she's an "All-American girl next door with an exotic twist to her look."
I'm including the poncho photos in this post. Gigi has always been billed at the "curvy/athletic" model, which just shows you how stupid those labels are. While she is probably more athletic than the average model, she is probably only a few pounds (and I mean that, just a few pounds) heavier than the average model. And to be poncho-shamed? To be told that you're too heavy to be seen in "normal clothes" and you have to wear the Poncho of Shame because you're too short and chubby? Shut your mouth.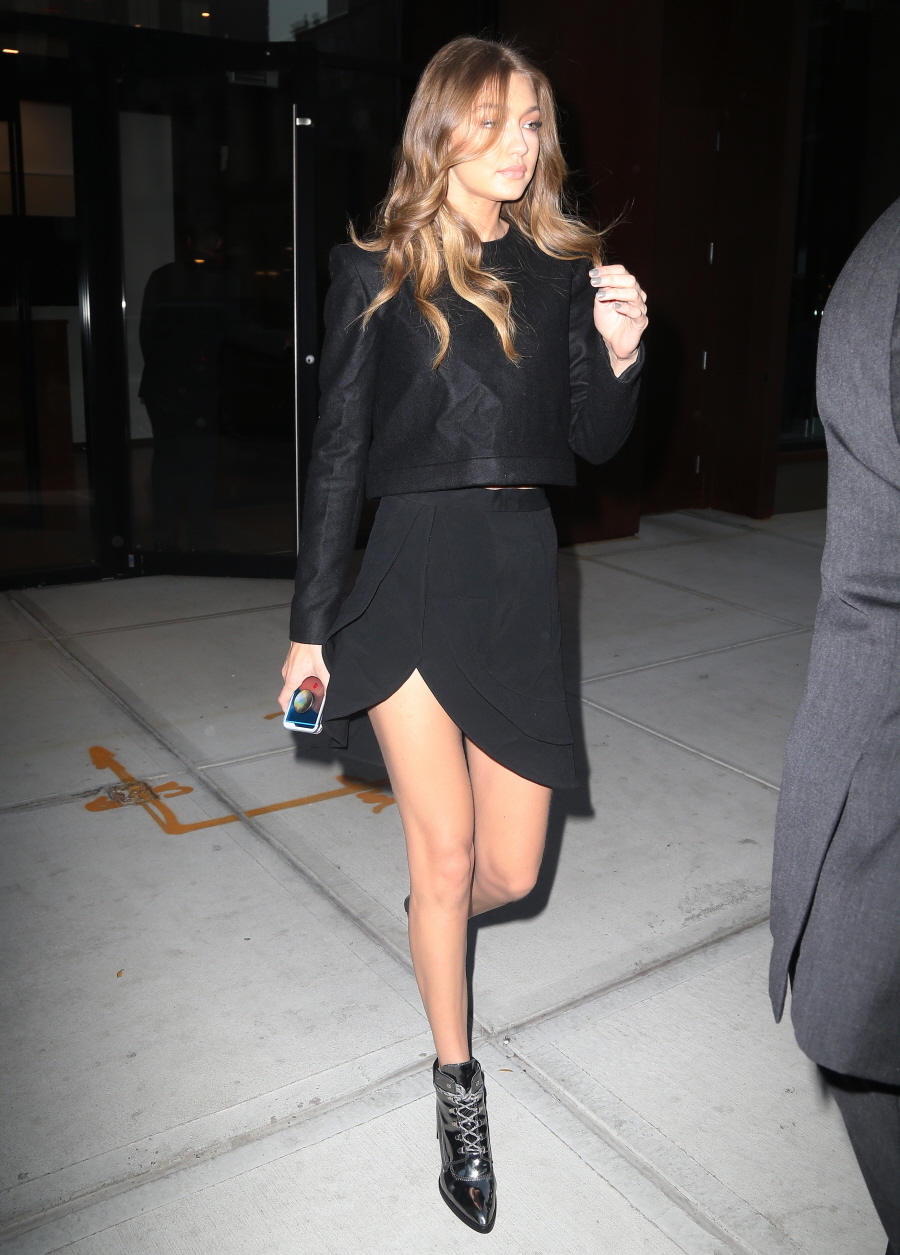 Photos courtesy of Getty, Fame/Flynet.