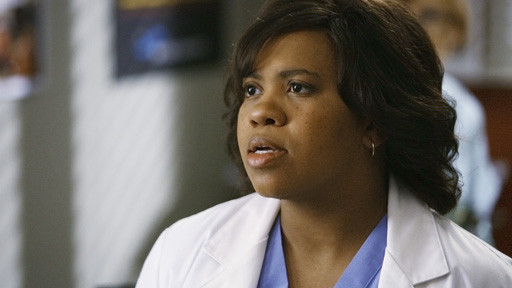 Warning: Spoilers for season finale of Grey's, which aired last night, below
Grey's Anatomy creator Shondra Rimes spoke with EW's Michael Ausiello about the fate of characters Izzie and George, whose lives seemed to hang in the balance in a cliffhanger episode, the last of the season. It's known that both Katherine Heigl and T.R. Knight want off the show, although Heigl has since tried to say that she's happy to stay on, probably because of the bad economy and lack of job prospects. Rimes wouldn't say whether Heigl and Knight are aware if their characters return next season, and she also wouldn't say if they both suffer the same fate, whatever that may be. It all sounded a bit tense, which is consistent with pretty much everything we've been hearing about Grey's for years.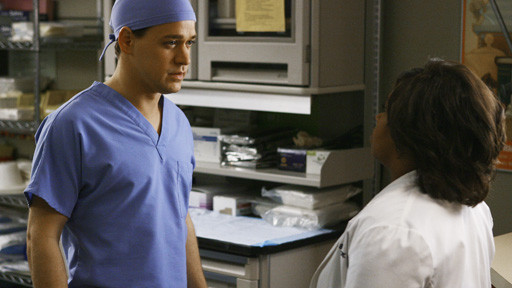 Rumors have been swirling all year that Katherine and TR wanted off the show. The season ends with both their characters' lives hanging in the balance. Purely coincidental?
SHONDA RHIMES: I don't think there are any coincidences. I think Katherine's stated publicly that she's happy to stay. I think that there have been lots of rumors about TR, but TR's never said anything. Take from it what you will.

This kind of cliffhanger almost seems tailor-made to capitalize on some of those headlines and generate buzz.
RHIMES: You have to remember, I have two shows. It's not as if I spend a lot of time reading the press. We talk about stuff in the writers' room that other people have read, but, mostly, we were really moving on character. Every year at the beginning of the season I pitch what the end of the season is going to be. And I literally sat down and pitched the last 10 minutes of this season at the beginning of the season, so we were headed towards the place that we knew we were going to go.

Do you know which one of them lives and which one of them dies?
RHIMES: Yes. And I don't know that you should be saying "which one of them lives and which one of them dies." I know what happens to the characters.

Have you shared this information with Katherine and TR?
RHIMES: [Crickets, then...] I don't want to answer that. I don't want to talk about my private conversations with the actors.

Katherine said in a recent interview that she was as much in the dark about Izzie's fate as anyone. Do you keep this stuff close to the vest in order to prevent leaks?
RHIMES: There was a joke for a while there that if I got hit by a bus [no one would] know how to end the season. I do feel like a secret's not a secret if anybody knows about it. It was really about trying to keep the storyline as secret as possible, because I wanted the last moment of the season to be a real surprise.

Did TR ask to be released from his contract?
RHIMES: I absolutely am not going to talk about any private conversations I had with the actors. I feel like that invades their privacy.

Why haven't we seen very much of George this season? I understand that there are ebbs and flows on ensemble dramas but…
RHIMES: There are ebbs and flows. Every character this season has had a lot of ebbs and flows. And every season is shaped differently. With George, I really wanted you to not notice that he wasn't there for most of this episode. I don't think anybody noticed because of the way we laid it out this season. He's an incredibly talented actor. And, actually, he was really lovely and elegant about lying there in all that very painful makeup and prosthetics for much of the episode with no words. That moment where he grabs Meredith's hand is one of the most affecting moments of the episode, and it was without words.

There was criticism that the Denny hallucinations went on too long without an explanation. Looking back, do you regret not revealing Izzie's diagnosis sooner?
RHIMES: Do I regret it? No. As writers, we had a lot of fun figuring out how we were going to tell that story. I don't regret anything we've done. Every season is a learning process for me. This is my first television show. Granted, I've done five seasons now, but it's still my first television show. As we head into season 6 everything is still a learning experience for me. It's been a great, crazy experiment that has happened fairly publicly, but, for me, it's been my learning process.

There was a period there where the show was being relentless mocked, especially where the "ghost sex" was concerned. Did you ever take it personally?
RHIMES: You're the first person to tell me that, because I, of course, don't read a lot of press. One thing we've gotten used to is being in the public eye and we learned to let everything roll off our backs. We knew where we were going; we had a road map. The rest of the audience didn't know where we were going. We all thought it was really surprising that anybody thought there was a ghost on our show. We're a medical show. We thought it was surprising that anybody would look at it and go, "Gee, that's a ghost." So that was surprising to us. But, other than that, we took it with a grain of salt.
[From EW]
Doesn't Rhimes sound so haughty when she says she hasn't even read or heard criticism of the show? I heard Ausiello on NPR's Talk of The Nation yesterday in an episode about the season finales. A woman who called in to talk about Grey's complained about the fact that Izzie was having dream sex with her dead ex boyfriend and how weird it was. You would think that Rimes would have a clue so she could make adjustments where needed, but she sounds perfectly happy to be oblivious. She doesn't seem like the easiest person to work for and you have to wonder what's happening on set every day when you hear about so many feuds and problems with the cast. When asked what she would have done different, Rimes quipped "That would mean I have to admit that we made some mistakes, and I'm not going to do that."
For you Grey's fans, what did you think of last nights finale? Did you end up feeling gipped by the non-ending, or was it worth the ride?