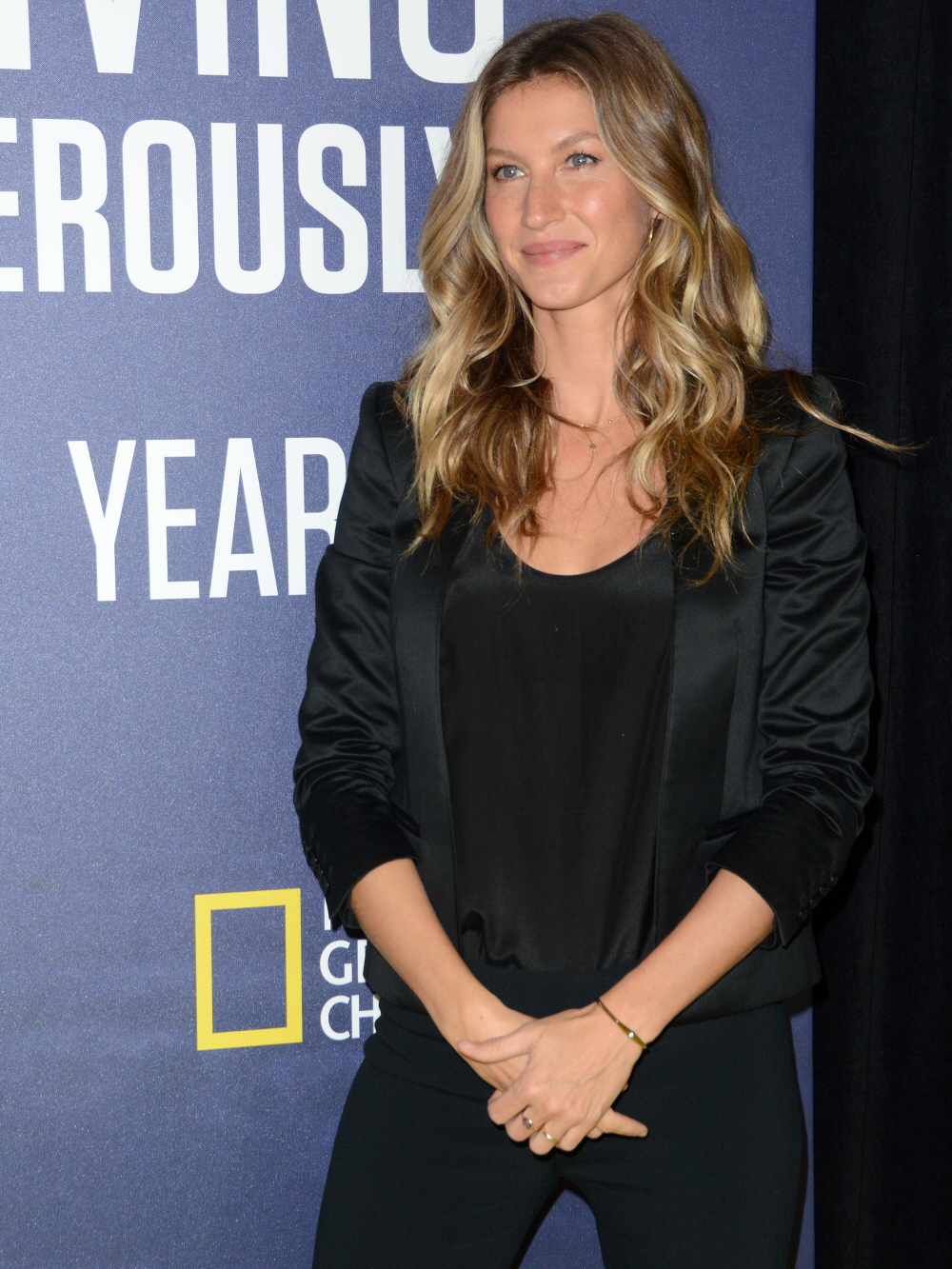 If you were to survey immigrants in America, I wonder if Thanksgiving would be the most popular American holiday? Or would it be Fourth of July? Both holidays are pretty great – one involves fireworks and cookouts and the other involves turkey and pecan pie. Yay, America! Let me have this, peeps. Let me have one moment where I can think "America is great because of Thanksgiving" and not think about what it's going to be like when President Trump is told he has to pardon two turkeys at this time next year. "We're not going to do that, those turkeys are rapists, they're illegal, they need to apologize bigly. No pardon. You're the pardon!" Where was I? Oh, yes. Immigrants and Thanksgiving. Gisele Bundchen is an immigrant and she sounds like she loves Thanksgiving, but she loves it mostly because she doesn't have to cook the turkey. I guess Tom's family cooks? Either that or they make their private chef cook on Thanksgiving. Some highlights from Gisele's People interview:
Her Thanksgiving plans: "I'm always home with my family, that's what Thanksgiving's about. We're going to have it together, and it's nice to have friends over, my sister-in-law, some friends, and the kids. It's going to be a nice cozy night."

She helps with the Thanksgiving cooking: "I help with the cooking, but I could spend the whole day doing it because it's so crazy. I help pick the stuff, because we have a garden. I help make nice salads and the kids participate, but I have no idea how to make a turkey. I have to be honest with you. I ask for help with that."

Gisele has an apiary? "Over the past few years, I have learned that bees are essential to the health of our ecosystem. I also learned they are sadly becoming more and more scarce. Our family decided to add a bee hive and harvest our own honey. It has been an incredible thing for our home. It is so intriguing to learn how hard the bees work to make the honey. I love that our kids are seeing and experiencing this first hand. We love to use the honey as a sweetener in some of our snacks."

She says Benjamin is an animal-lover: "It warms my heart to see how kind and gentle Benny treats all animals. He wouldn't hurt a fly. He thinks all animals are his friends. He has a lot of empathy and a strong love for nature. Vivi is very connected to nature too. She loves the garden and watching the strawberries grow so she can pick them."

She wants her kids to play outside, not watch TV: "The kids spend a lot of their time outside; they love it. It doesn't matter the weather, we are always finding things as a family to do in nature. Staying outside with no shoes or just connecting with nature are some of the most special memories I have with my kids. The kids play outside most days. I want them to use their imaginations as much as possible. I love that they get the opportunity to be creative and fantasize about different kinds of places and stories with their friends in our yard. We try to limit electronic time in our house, which at times can be challenging. I believe everything in moderation can work. My preference is for them to read, draw, play music or play outside instead of being in front of the TV."
I was going to say something snotty about how it's not really that difficult to cook a turkey, but if you're cooking a whole turkey, plus the entire Thanksgiving meal, it is tricky to get all the timing done correctly. While it's generally pretty easy to cook a simple, no-muss turkey, plenty of people screw it up (including me, so I'll shut my mouth about Gisele). As for Gisele having a beehive or apiary… I've become increasingly fascinated by beekeeping. You know why? Elementary, the modern Sherlock story set in New York. In Elementary, Sherlock keeps a beehive on the roof of his brownstone. He loves bees to a crazy degree, and there have been several bee-related stories. I love the idea of a beekeeping revival in America. MOAR BEES!
Photos courtesy of WENN, Getty, Fame/Flynet.