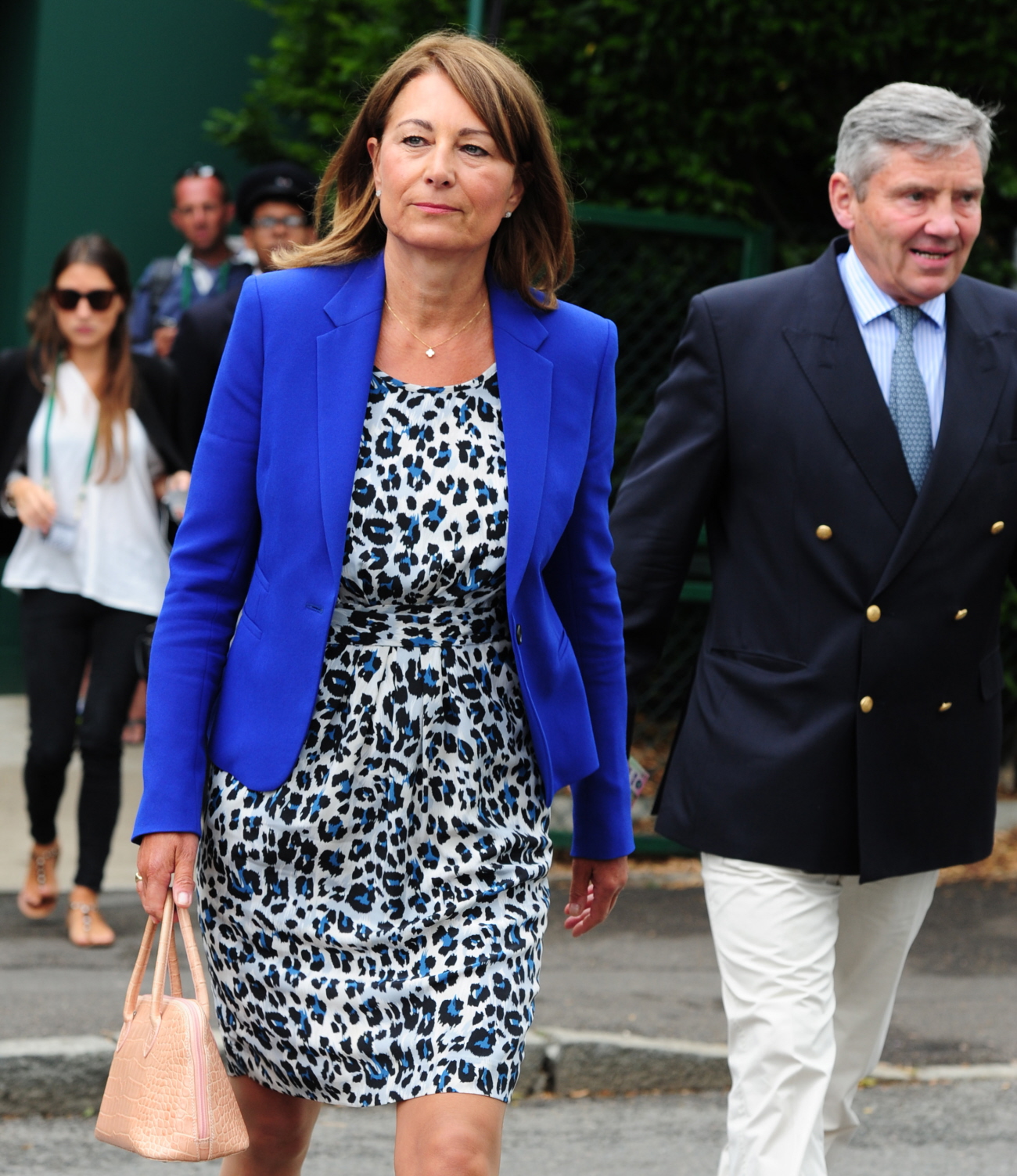 In this week's issue of People Magazine, there's a side-bar cover story all about Carole Middleton, the mother of the Duchess of Cambridge. The timing on this story is really, really odd. Even if you just take the story and the timing at face value, it's very much a "don't forget about the Middletons!" story, when there was really no reason to remind us. As we discussed on Wednesday, Part 1 of the story was all about how Carole is Kate's "secret weapon." Secret, not so much. Weapon? Why would Kate need a weapon again? In any case, Part 2 is even more bizarre and pointless. The headline? "Granny Power! Inside Carole Middleton's Unprecedented Bond with the Queen: 'There's Been No One Like Her'" No, seriously. Why are these stories happening? Some highlights:
Carole Middleton is a commoner "raising" the next-gen royals. People writes: "Carole Middleton, the daughter of a trucking company employee-turned-builder dad and a shop clerk mom, occupies an unprecedented position in raising the next generation of royals — namely, her two grandchildren: future king Prince George, 3, and his 18-month-old sister, Princess Charlotte."

Carole's work ethic. Ingrid Seward notes, "She has encouraged her children and supported them and been there for them, and set a good work ethic for them."

The Queen accepts the Middletons. A "regular observer" at Balmoral says: "I've never known a family drawn into the royal family like the Middletons." The same observer notes that the Queen invited the Middletons to stay at Balmoral, and that Carole had lunch with the Queen. Carole also got an invite to the Royal Ascot this year as guest of the Queen.

Carole has no delusions of grandeur. Another observer claims, "The Middleton parents really could be the people next door. They are lucky their daughter is going to be the future queen, but there are no delusions of grandeur. I think certainly Prince Philip appreciates that."

Ingrid Seward says the Queen is fine with the Middletons' involvement. "Because of the circumstances of William's childhood, the Queen has made a big effort to include the Middletons much more than she would have done otherwise. She is recognizing they have a big role in the lives of her family – and she is happy with that… [Carole] can afford time to devote to her grandchildren – which must be bliss for her. She'll be taking time to read to them, play with them and do all the things you want a granny to do."

Carole is unassuming, of course. Robert Lacey (royal historian) claims Carole "is openly surprised and enjoying her situation but without any suggestion of lording it over anybody. In terms of a non-royal, young and trendy granny there's been no one like her at all. In the past, [young Princess] Elizabeth had a Scottish nanny who was the daughter of a railway signalman and actually slept in her bedroom until she was a teenager. She would teach her the habit of unwrapping your presents carefully and then ironing [the wrapping paper] and putting it back in a drawer so you could use it again. That sort of contact with ordinary life came through the servants in that generation — and now it's coming through Carole."
We should perhaps take this beat by beat, because OMG. First of all, is Carole "raising" the next-gen royals, Charlotte and George? We could easily argue she IS raising them, but perhaps the better question is WHY is she raising them? Shouldn't Kate and William raise their own children? Second thing – Carole absolutely has an amazing work ethic and unbridled ambition, none of which is a bad thing. But she did not pass that along to her kids. Kate is lazy, needy and helpless without her mother. Pippa failed as a socialite/writer for years until she landed a Terribly Rich guy. And James has like four failed businesses under his belt already. Third beat: Carole has no "delusions of grandeur" and she's not "lording it over" anyone. Yes, I guess that's why People Magazine published a two-part exclusive about how she's so indispensable to her daughter, son-in-law and royal grandkids. Because it's not like she fancies herself the Queen-in-waiting or anything.
Photos courtesy of Getty, WENN.