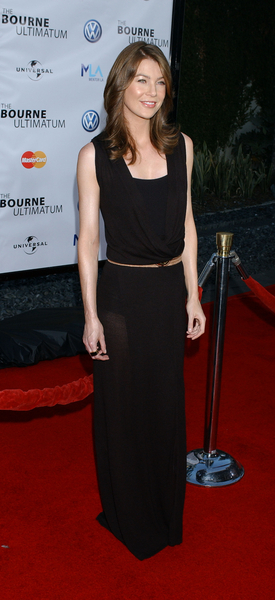 Ellen Pompeo, the star of Grey's Anatomy, is ripping on the media for giving so much attention to idiots like Paris Hilton and Lindsay Lohan. She points out that the extreme amount of publicity given for such bad behavior teaches young girls that that's how they should act, because that's the behavior that will get them positive attention.
"'I just think the media should take this country in a different direction,' the 37-year-old actress tells the new issue of Los Angeles Confidential Magazine, on newsstands Aug. 15.

"'We're so focused on the wrong things. We're teaching young girls that this is what they should be focusing on: rich and famous girls who are rich and famous for nothing.'

"In an apparent reference to coverage of Paris Hilton and her ilk, Pompeo says: 'What are we doing to this younger generation? It's not very responsible.'"
[From the Washington Post]
She also chides the media for its speculation about her weight. Not to do exactly what she's complaining about, but she does seem unnaturally small. Apparently it's hard to tell if you look at pictures of just her, but it's pretty obvious when you see her photographed next to normal-sized people.
"Pompeo, who plays Dr. Meredith Grey on ABC's 'Grey's Anatomy,' also calls the media 'irresponsible' for ongoing speculation that she has an eating disorder.

"'I just worry about the girls who look up to me – I don't want them to think I starve myself or don't eat, and that to be like me that's what they have to do,' explains the actress, who says she is naturally slender."
I really don't buy the "naturally slender" line. But that's probably because, if that's the case, I am insanely jealous, so I'd rather believe she does really bad things to be so thin. In other news, Pompeo says that she and her fiancé, Chris Ivery, will set a wedding date at some point, but haven't yet. They've been together almost four years.
"'I swear we're going to get married at sometime,' she says. 'We're just trying to fit it all in. It won't be a big ceremony – we want one thing to ourselves.'

"Does she see children in her future?

"'I do,' she says. 'With the show, I just don't know if it's entirely fair to myself and to everybody else right now. We'll see what happens.'"
[From the AP]
While her thoughts on the empty socialites aren't exactly unique, she's right. Giving them too much attention encourages a negative cycle. They're just like little kids. If you give them praise for doing something bad, they'll keep doing it. Any attention we give them for their crotch-flashing, nipping-baring ways will just encourage them to continue acting like morons. Though I'm pretty sure Paris Hilton, Nicole Richie, and Britney Spears will act like morons no matter what, the rest of us can at least do something better with our time. Like steam about how unnaturally thin Ellen Pompeo is.
Picture note by JayBird: Here's Ellen at the 2006 ABC Upfront Presentation and at the Garden State Premiere. Header image is at the Bourne Ultimatum Los Angeles Premiere on 7/25/2007. Images thanks to PR Photos.