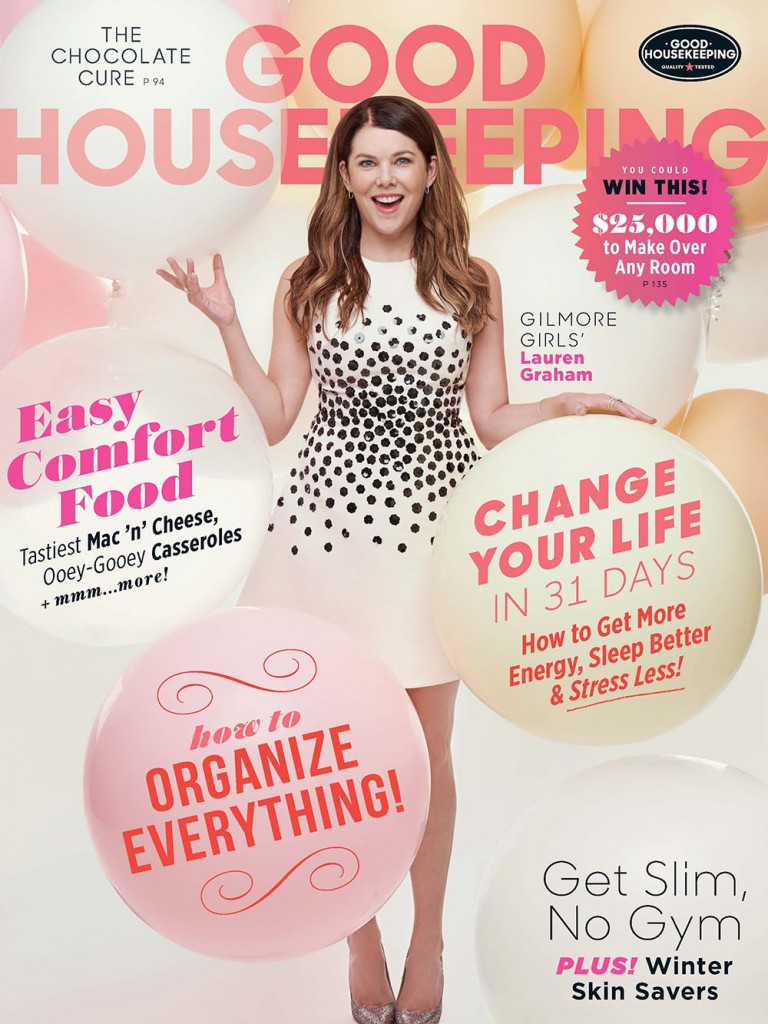 After recently revisiting one of her most iconic roles, that of Lorelai Gilmore on the Netflix reboot of Gilmore Girls, Lauren Graham is taking being America's surrogate mom to the next, perhaps obvious level. The actress and author is the cover girl for the January issue of Good Housekeeping, which hits the streets on December 13 – and hits the reception area of your doctor's office a few months after that, if you can wait that long.
Lauren, who I can't believe is 49, is promoting her new memoir, Talking as Fast as I Can: From Gilmore Girls to Gilmore Girls (and Everything in Between). She shares lots of behind the scenes stories from the set of the show, so if you've got a GG fan in your life, this could be the perfect stocking stuffer. She's also working as fast as she can in the process of writing her second novel, a follow-up to 2014's Someday, Someday, Maybe: A Novel, and also producing a screenplay.
In the magazine, Lauren shared her "7 Biggest Life Lessons," and they are ones I think we all could use in our lives too – I know I sure could. Of particular note is Life Lesson #4, "The best pairings come naturally," the proof of which comes from her relationship with her 51-year-old beau, Peter Krause, who played her brother on Parenthood from 2010-2015. She also talked about playing Lorelai from GG and Sarah from Parenthood, some sage advice she received from a beloved Hollywood idol and her inspiration for writing. Check out some highlights from the interview:
On playing two similarly unconventional single moms: "There are things that I'm good at and there are things that are just not for me. I'm not gonna play a cop, I'm not gonna play a doctor…and that's OK. I'd rather be in [roles] that are really verbal and smart and funny. As Diane Keaton said to me, 'Funny doesn't age.'"

On which character she relates to more: "I relate more to Lorelai Gilmore, probably. I mean, I speak quickly more in attitude and just in athleticism of what that work is and was for me, as an actor, that's a place I feel really comfortable and exhilarated, so, in that way I guess I relate a little more to that world and that language."

On her relationship with Peter Krause: "We couldn't stop talking. Not about ourselves, but about the world and books and family. Once we got together, there was no game play. It was like, You like me, and I like you. It gave me an understanding of life: This is how things happen, and it's completely random."

On her surprising hidden talent: "I really like to entertain. None of my characters ever cook, so I would think it's surprising that I actually really like to."

On her inspiration to become an author: "One day in my trailer in Parenthood I looked up and I had the afternoon, and it just kind of occurred as a way to be creative and but not have to be part of any other structure. It was kind of a revelation that I could just do something on my own and the fact that it has now given me other work is like icing. I just did it for fun."
Lauren went on to say of her relationship, "It's not a big, loud life. We have a lot of neighbors, people come by, we're with Peter's son a lot and we keep it small." She also confessed that she likes to spend her spare time doing very un-celebrity-like things, admitting, "This is deeply dorky, but I really like to organize…I've taken the 'Life-Changing Magic of Tidying Up' book and really gone too far!"
Full disclosure, I never watched Gilmore Girls (sorry) and I never watched Parenthood (again, sorry) – but I do watch This is Us, which is kind of like Parenthood 2.0, so does that count for anything? I did enjoy Lauren in Bad Santa though, and she seems like a put-together kind of woman. I totally want to hang out with her, providing she'd help me tidy up my hot mess of a house.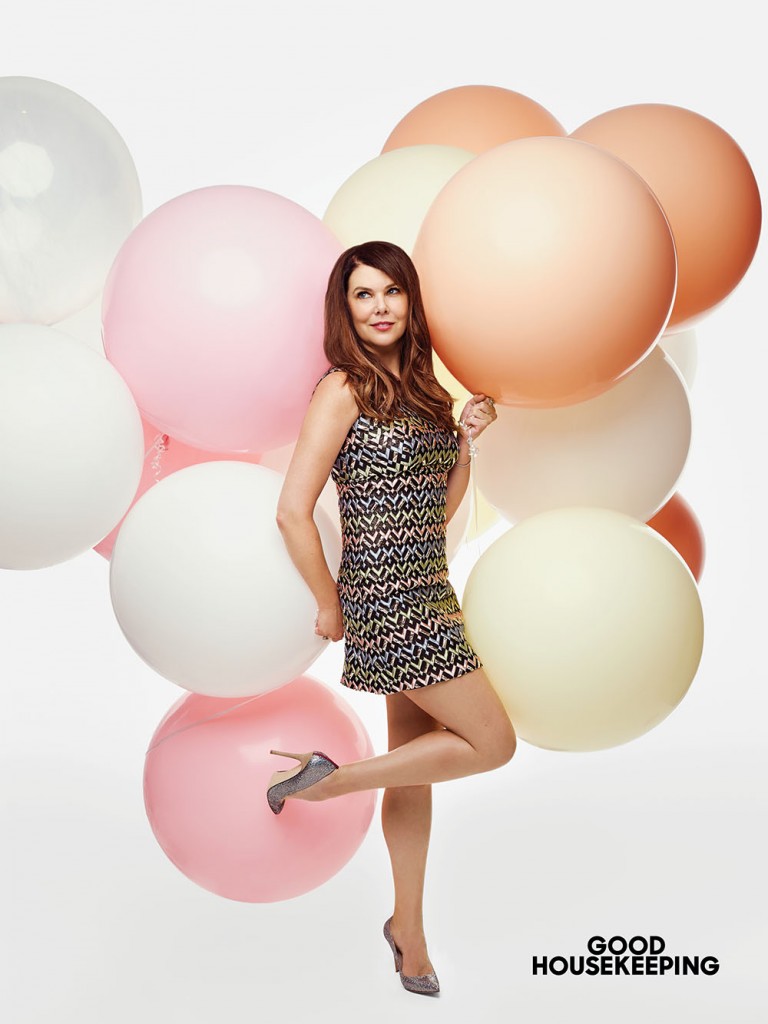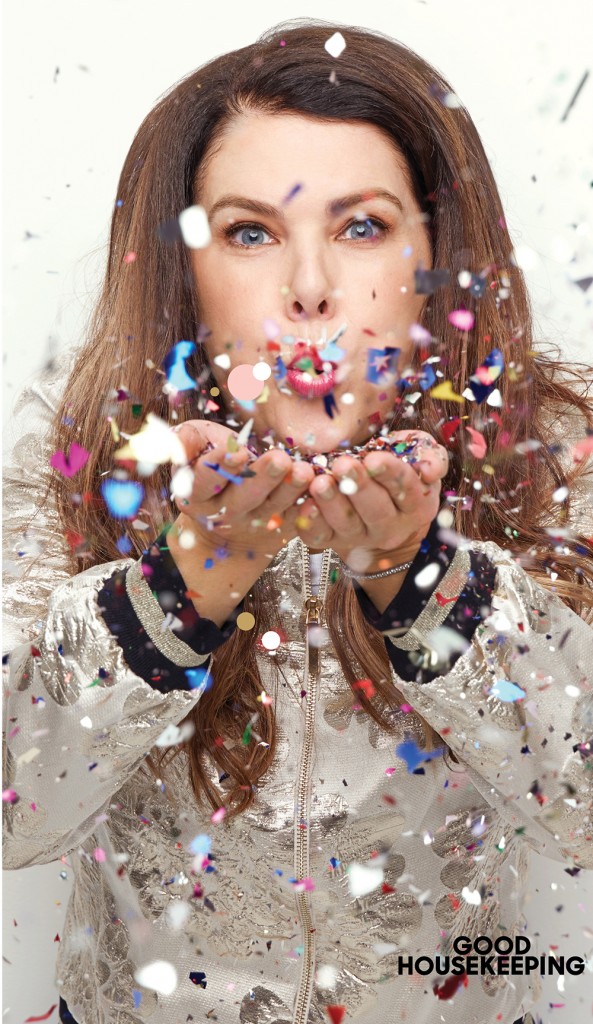 Photo credit: Good Housekeeping/Brian Bowen Smith, WENN.com, Getty Images