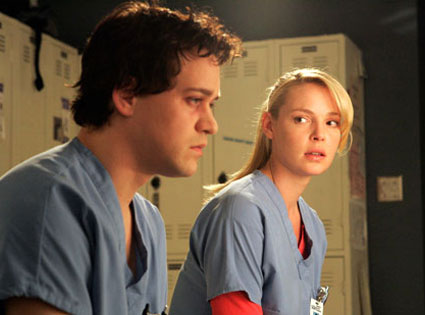 Katherine Heigl, who made a lot of people very pissed of last year by pulling her name from the list of Emmy nominees after deeming the "material" on Grey's Anatomy not award-worthy, is up for another Emmy. This time the nomination comes after her character may or may not have died after undergoing surgery for a brain tumor.
Ladies and gentlemen, Katherine Heigl has just declared game on!

After a firestorm of controversy erupted around her decision to remove herself from Emmy consideration last go-'round, the Grey's Anatomy heroine has reentered the gold derby this year, sources confirm to me exclusively.

Natch, cynics will snark that the 2007 Best Supporting Actress winner is back in the race because of the tensions that allegedly sprung up between her and series creator Shonda Rhimes after she took herself out of the running. (The movie starlet, you'll recall, said at the time that she didn't have material with which she could compete.) But I think — and I think you'll agree — it's likelier that even she knows that, whether viewers loved or loathed the Izzie's-got-a-brain-tumor story, she played the frak out of it. She's already earned one high profile endorsement…

"I think she did beautiful work," Rhimes raved Thursday immediately following the season finale. "I think she always does beautiful work."
[from Entertainment Weekly]
Katherine Heigl just keeps burning bridges. She was poised to be the next big thing with movies like Knocked Up and 27 Dresses, but she is generally regarded as a diva and no one wants to work with an entitled co-star. She's now starring with Gerard Butler in The Ugly Truth, but I can't see her getting much farther in her career with thatr attitude.
Congrats to her on the Emmy nod, but no one is going to be able to talk about this without bringing up her de-nomination last year. What do you think? Does she deserve an Emmy nomination? Or does she deserve to get snubbed?