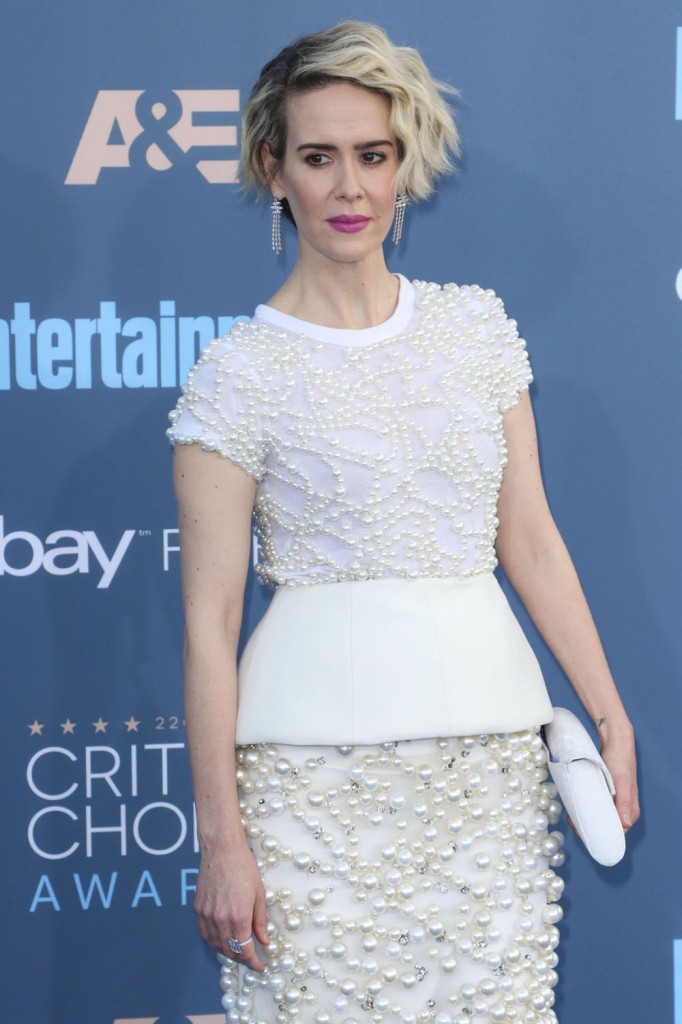 The People vs. OJ Simpson really cleaned up at last night's Critics Choice Awards, hosted by T.J. Miller for the second year in a row (why?). People vs. OJ won for Best Movie Made for Television or Limited Series, with Sarah Paulson getting the award for Best Actress in a Movie Made for TV, and her costars Courtney B. Vance and Sterling K Brown winning Best Actor and Supporting Actor in the category. Like Sterling K Brown, who won his category right before her, Paulson said Ryan Murphy's name a bunch of times during her acceptance speech, all his actors seem to love that guy, and thanked him for changing her life. She also thanked all the actors she worked with and kept it short saying "I love you, thank you bye." It was cute!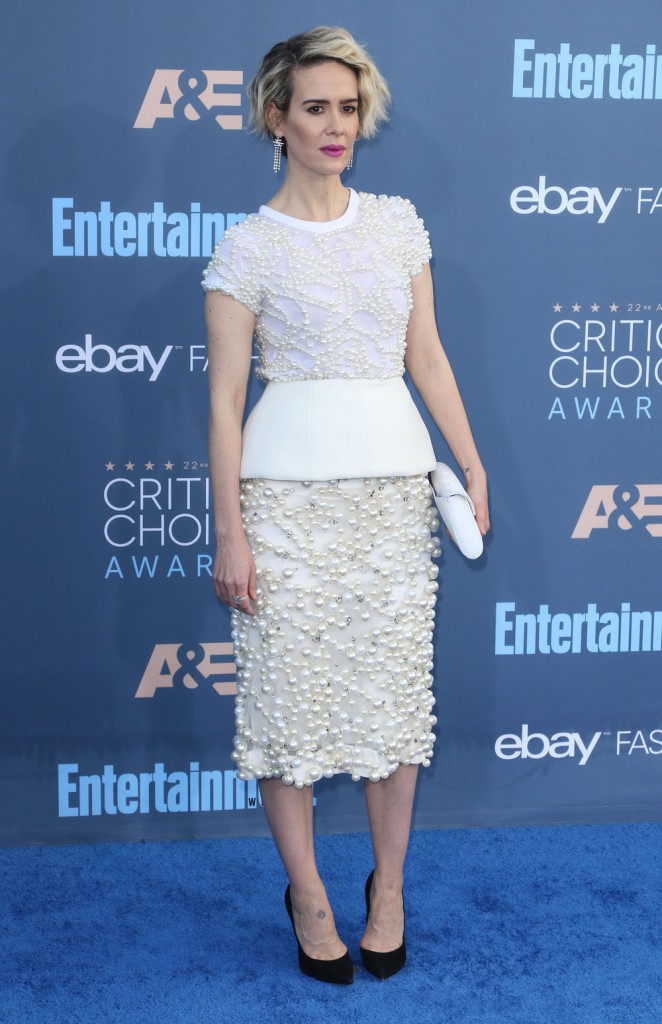 As for Paulson's fashion, she was in this white Vera Wang ensemble featuring large pearl-like embellishments and a peplum. On anyone else, I would hate this but Paulson really pulls it off. There's something clever about it in that the pearls are twice as big on the skirt and they have the same pattern. Plus I appreciate that she chose an opaque/lined version of the skirt. The Fashion Court has the runway version of this look and the skirt was originally see-through, which would have added a layer of tackiness this doesn't need. Also, as an aside I'm thinking of getting my hair cut short like this. See also: Rachel Evan Wood.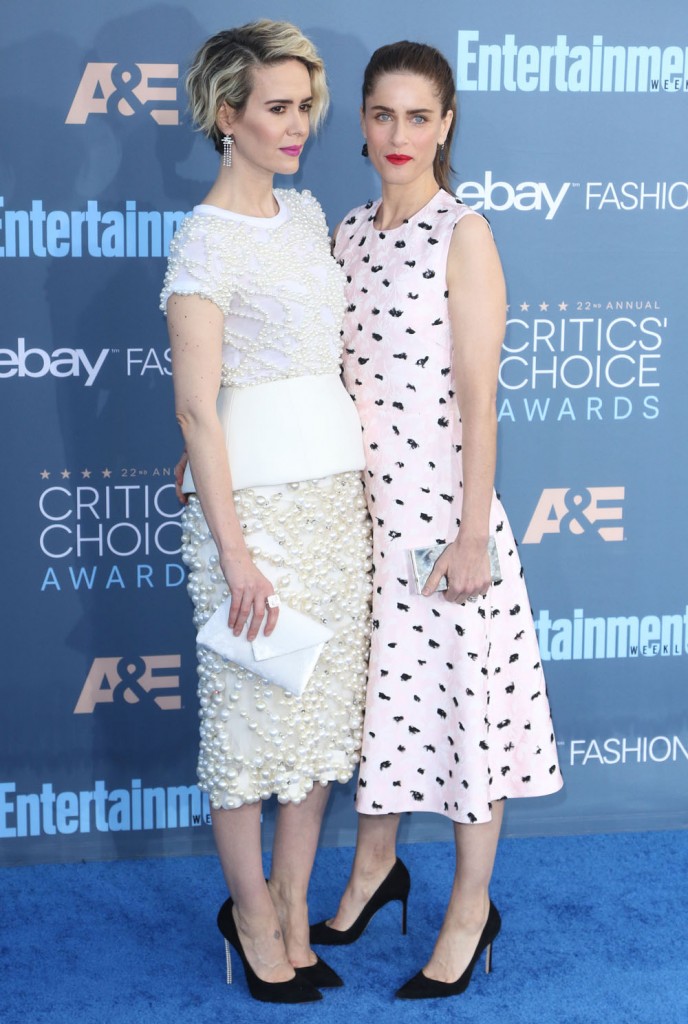 I think Amanda Peet was Paulson's plus one, or they at least posed together on the red carpet and then sat near each other. I like how they coordinate without looking matchy. Paulson's partner Holland Taylor was in NY, they were tweeting to each other.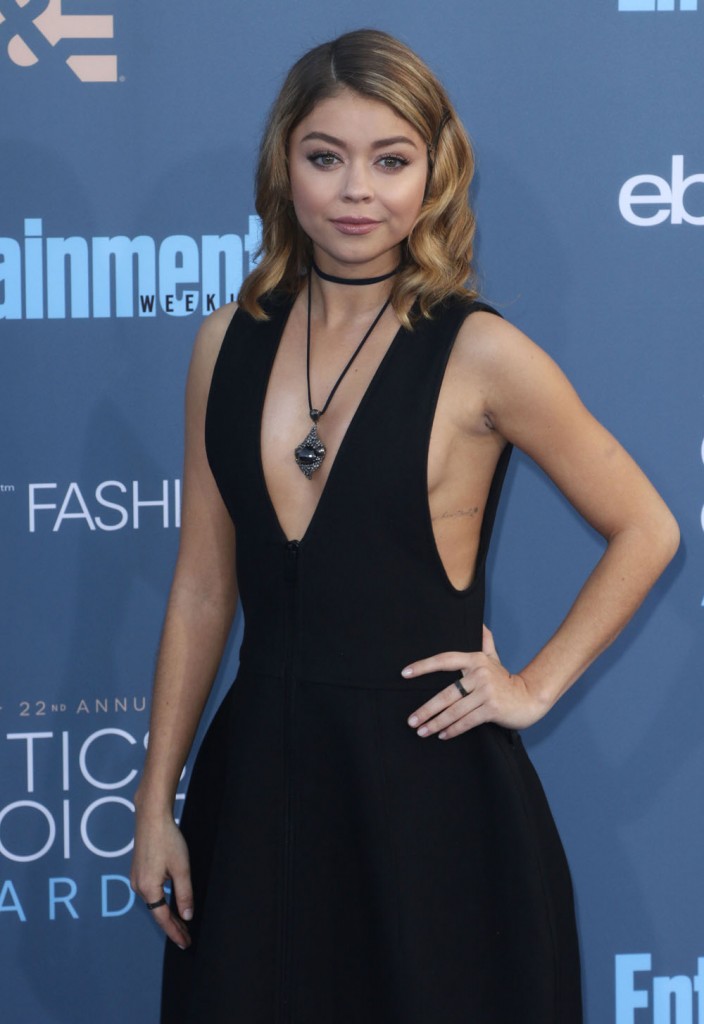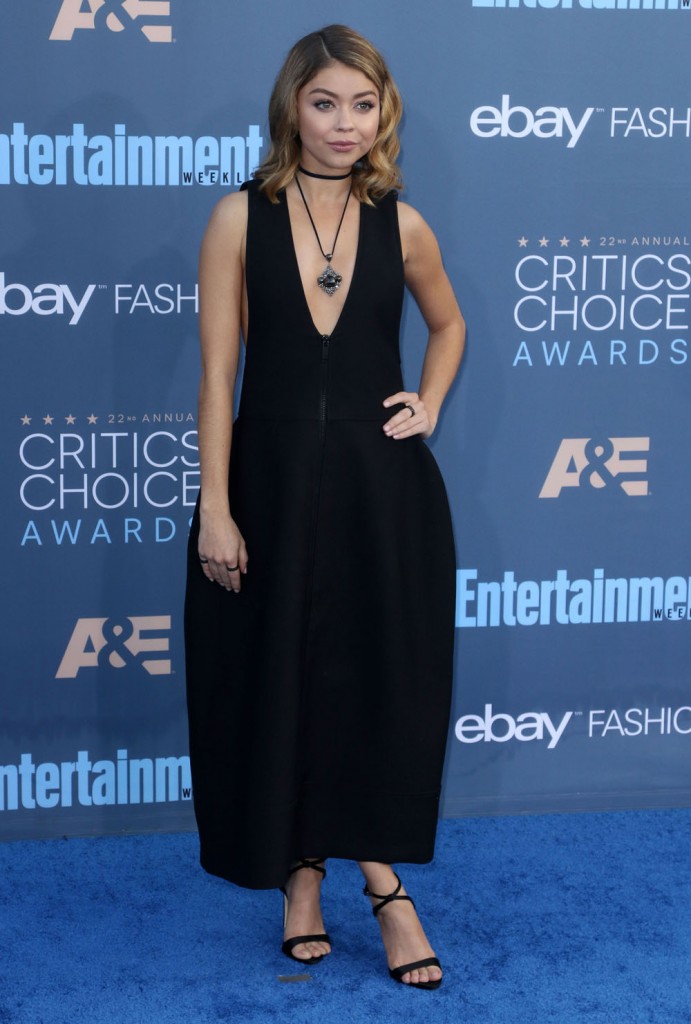 Sarah Hyland was also in Vera Wang, in this very deep black v-neck gown with a large zipper at the bodice and a bell skirt. I'm not fond of this cut of the bodice and wish this trend would die out already. At least she went goth with the accessories but overall I'm not feeling this. Modern Family was nominated in three categories but didn't win anything this year.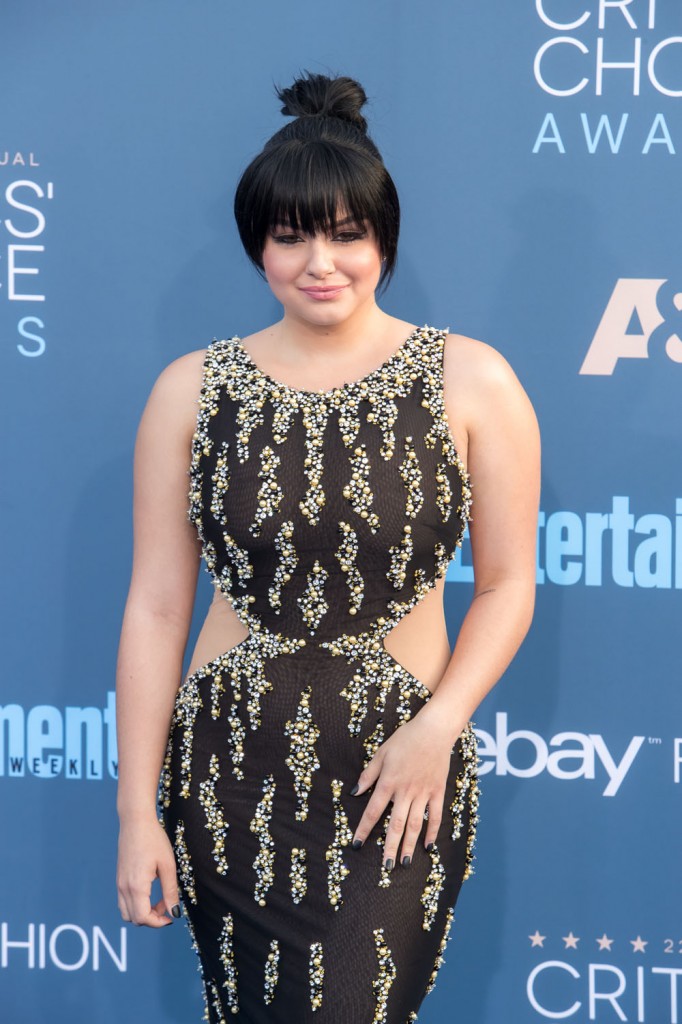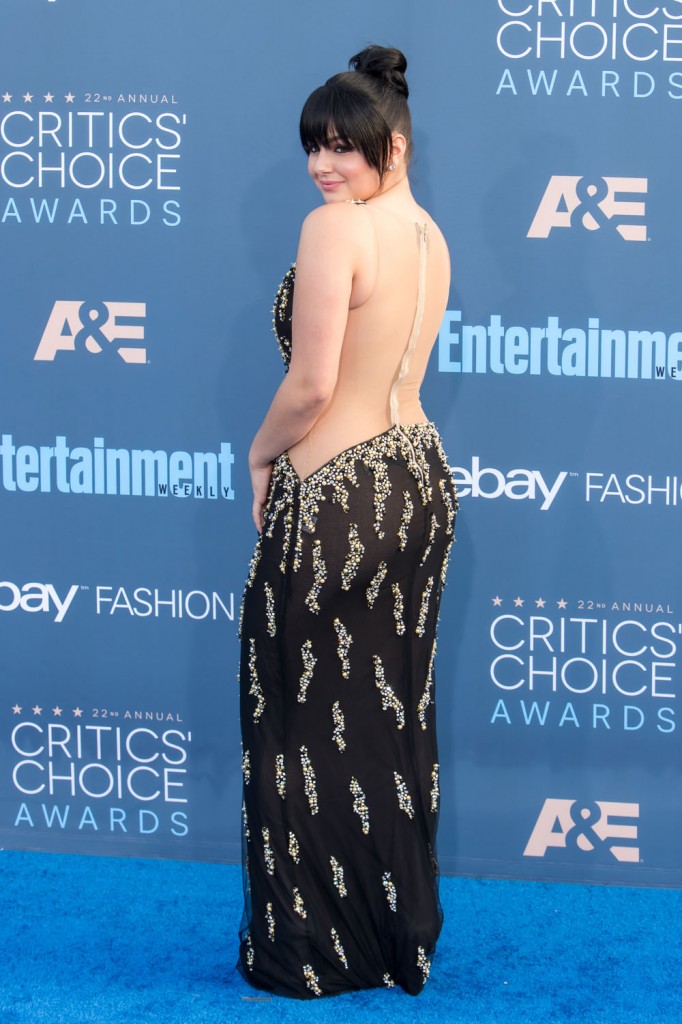 Sarah's costar Ariel Winter wore Uel Camilo and I'm including a few shots of the gown in the gallery so you can appreciate just how ice skater fug it is. It's got side cutouts, a very low back with a nude mesh overlay and circular sequins and pearls in little squiggly clusters. Her styling seems to go perfectly with the look, I'll put it that way. At least her fringe is clip-in and she doesn't have to live with that look. That's more than I can say for Jessica Biel.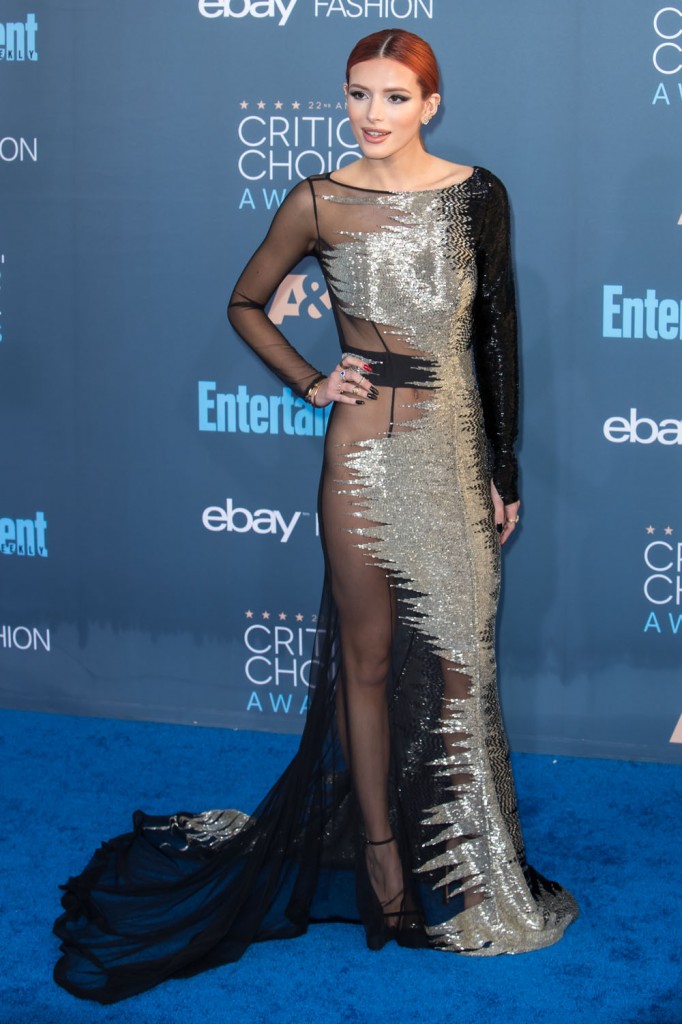 Bella Thorne was in Steven Khalil, in a gown which was half sheer and half silver and black sequins with little spikes creeping to the side. I actually really like this gown, and it looked great on stage. Yes it's revealing and showy but it covers enough, it's unique and interesting and she looks great in it. Her styling is toned down enough to show off the dress too. Overall this is a win.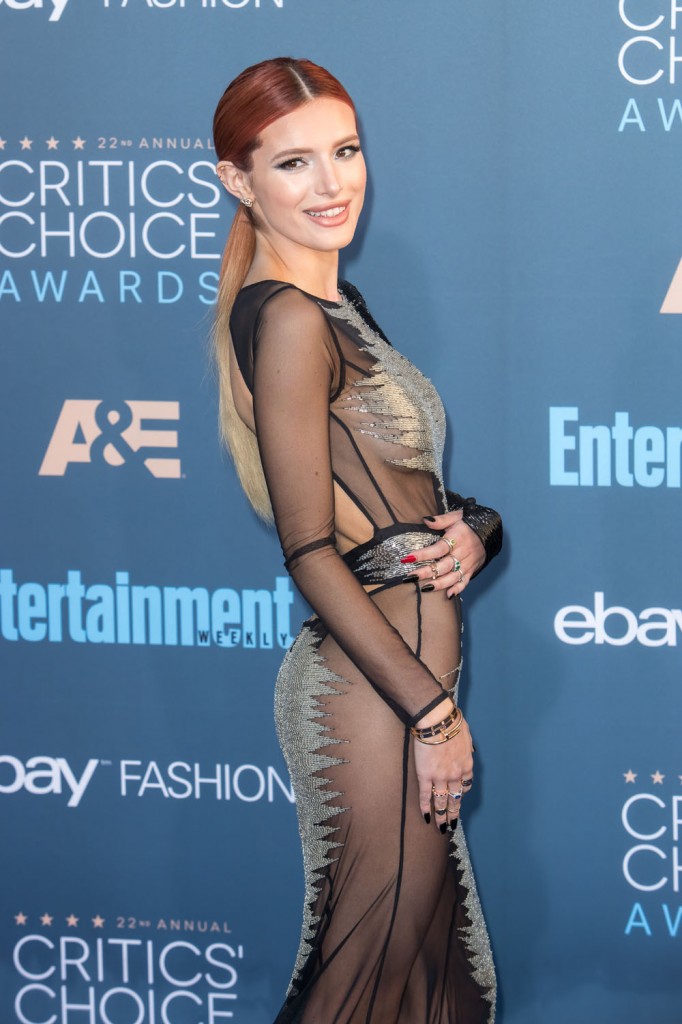 Photos credit: FameFlynet and WENN