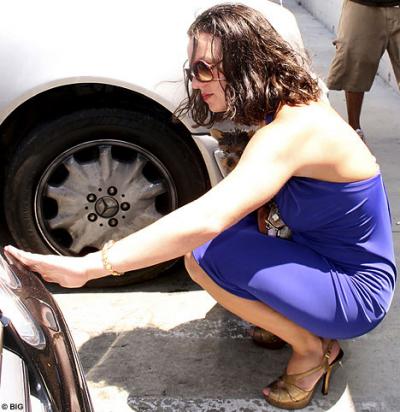 Britney Spears, pillar of the community, was videotaped in a minor parking lot fender bender on Monday. Even though she was surrounded by photographers who captured the whole thing, do you think she had the sense to leave a note with her information, as required by law? Nope. How in the world could she think she'd get away with that? If I were someone with some money and half a brain, I'd go out of my way not to expose myself to lawsuits. But I guess that's the point: she doesn't even have half a brain. Britney was on her way to the drugstore when she hit the silver Mercedes. She's videotaped getting out of her car and dramatically inspecting it, then waltzing away to shop. She does not even glance in the direction of the car she hit.
"But the tale of the tape made it clear to the owner of the parked car just who it was who scraped up her silver Mercedes-Benz.Kim Robard-Rifkin, 59, told the entertainment Web site CelebTV.com on Wednesday that nobody from Spears' camp had contacted her about the damaged car.

"'It's sad because I was really hoping she'd step up and be a mensch [Yiddish that roughly translates to "a good person."], be a human being,' Robard-Rifkin said. 'It was simply like my car didn't matter to her, my inconvenience didn't matter to her.'

"A video on CelebTV.com, taken Monday, shows the 25-year-old pop star (with a puppy on her lap) attempting to park her black convertible and hitting the adjacent car. Robard-Rifkin, a registered nurse, said she was 'sort of amused and sort of shocked' when she learned it was Spears who hit her car, and figured she would hear from the embattled entertainer.

"'There were obviously a lot of paparazzi there and what kind of person wouldn't realize that this (would) be on TV and she had to be responsible and contact me,' she said. 'I'm not asking for money. I'm not asking for a new car. … I simply want my car fixed, the same as I would fix somebody's car if I had done that.'

"Robard-Rifkin filed a police report on Thursday."
[From the Washington Post]
I have no idea why, but for some reason I've been pulling for Britney Spears. But she's just so self-centered, which is different from being ignorant. If she were so dumb as to not check out either car and go shopping, I guess that'd be one thing. But she makes this big show out of inspecting every inch of her car, looking so concerned. There's just no way she could think she'd get away with it. She was probably thinking it'd get her more publicity. I know she's recently hired a new manager, when is she going to hire some PR people? The woman needs a whole team of advisers to follow her around all the time and tell her what to do. "No, don't eat those old paint chips by the side of the road Britney." "Don't leave the dog alone with your lion." Things like that.
Here's the video of Britney hitting the Mercedes, and her extreme concern about her own car. Thanks to FlynetOnline:
Picture via DListed.