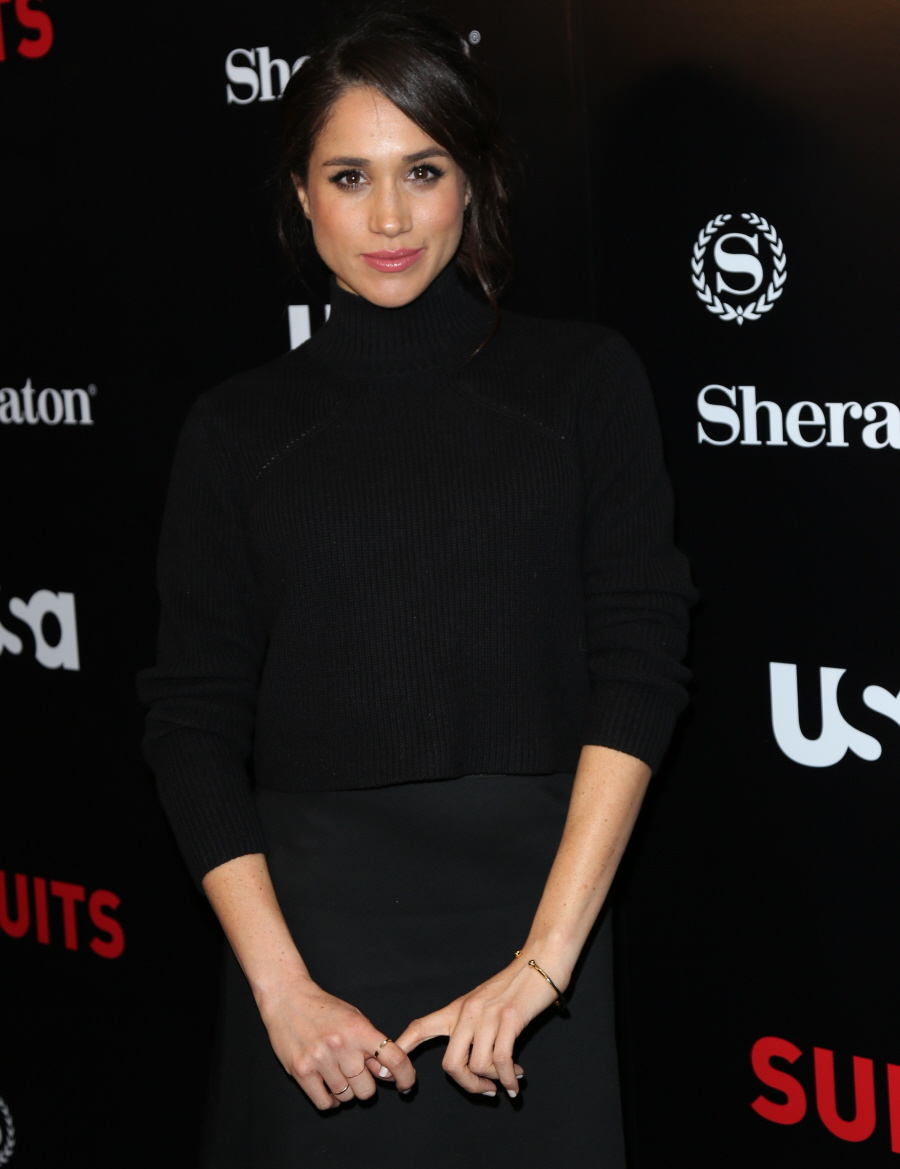 As Corey discussed yesterday, rich girl Troian Bellisario married Patrick J. Adams over the weekend. Adams is perhaps best known for his co-lead role in Suits. Suits is the current cable hit (?) show which also stars Meghan Markle, who happens to be Prince Harry's girlfriend. Adams shows up in Meghan's Instagram sometimes, and it would make perfect sense if the two costars are friends or pretty friendly. Friendly enough for Adams to extend a wedding invitation to Meghan? Sure. But Meghan didn't go to his wedding. And Us Weekly says it's because she didn't want to pull focus from the happy couple.
There was a galaxy of stars in attendance when Suits star Patrick J. Adams married Pretty Little Liars' Troian Bellisario on Saturday, December 10, but one celebrity was conspicuously absent — the groom's costar Meghan Markle. The 35-year-old, who plays Adams' fiancée on the USA Network hit, was spotted heading to a yoga class in Toronto on Saturday as the couple tied the knot in a rustic outdoor ceremony in California in front of 200 family members and friends including Suits' Sarah Rafferty, Pretty Little Liars' Keegan Allen, Star Trek's Chris Pine and Zachary Quinto and Scandal's Katie Lowes and husband Adam Shapiro.

A source tells Us Weekly that Prince Harry's girlfriend was invited to the three-day celebration but decided not to attend the wedding in order to avoid overshadowing the newlyweds. Markle, who was recently reunited with her royal beau when he visited her in Toronto, spoke to Adams about the wedding and "they both kind of agreed that maybe her coming would attract too much (of the wrong kind of) attention," the source tells Us. "They both thought it sucked."

A source close to the newlyweds, meanwhile, says, "Meghan had no plans to attend the wedding, and that conversation never happened."
My first reaction when reading this story was "well, she certainly thinks highly of herself, doesn't she?" But the thing is, she's not wrong (if this story is correct). When I first saw that Patrick Adams had gotten married, I thought, "Huh, I wonder if Meghan Markle was there?" So of course it would have been part of the discussion about the wedding, and of course if Meghan had attended, she probably would have had to answer a lot of pointed questions from her friends and colleagues, which would have been awkward. But if the person is a really good friend, don't you show up to their faux-hippie wedding to a rich girl?
Also: people are making comparisons to the Duchess of Cambridge, because one of Kate's go-to excuses when she doesn't attend friends' weddings is that she too does not want to pull focus from the happy couples. In truth, I think Kate doesn't do weddings anymore because A) she loathes most of Will's friends and B) she's literally too lazy to make a personal, social appearance at a wedding.
Meanwhile, Meghan wrote an essay for Elle UK about what it's like to be mixed race, in and out of the industry. It's an interesting, thoughtful read – go here.
Photos courtesy of WENN.