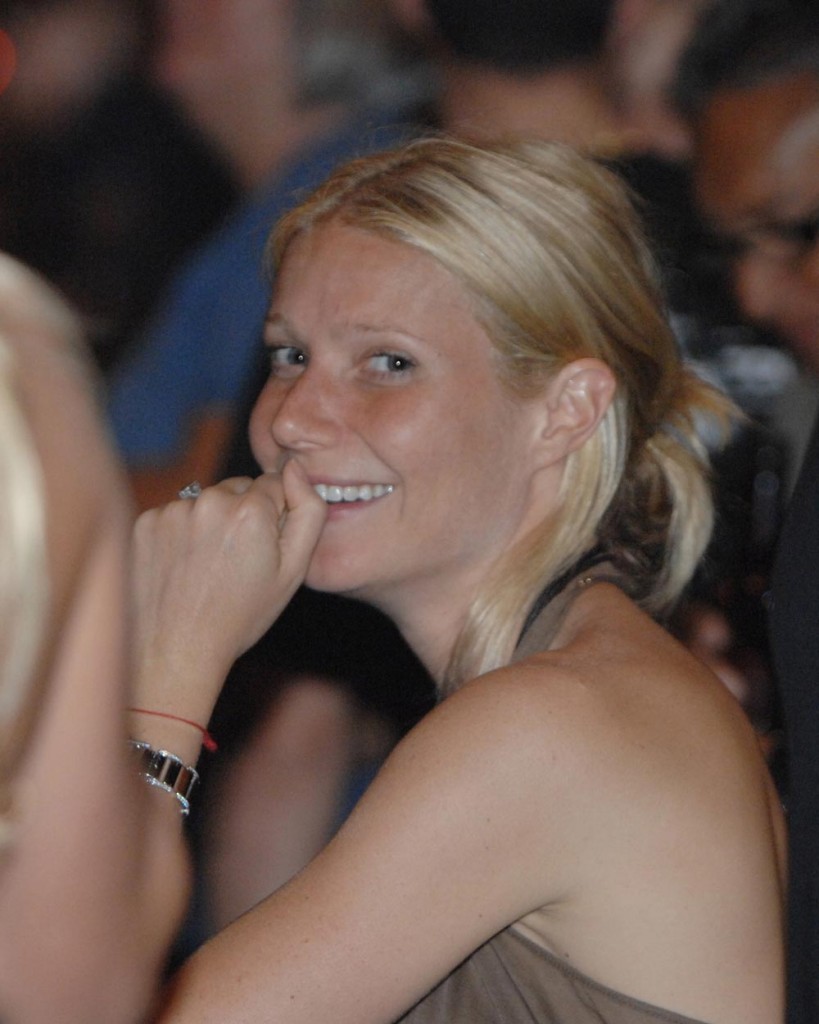 Oh, it's been a while since we had some juicy Gooptastic sanctimony! Hurray! So, here's the Goop gossip: Gwyneth Paltrow wants to end her modeling contract with Estee Lauder because she needs to focus on – get this – her Goop brand. We've reported before on Gwyneth's dreams of becoming some sort of goopy version of Martha Stewart and/or Oprah Winfrey, with her own line of linens, cookbooks, lifestyle items like… candles, maybe? But now The Daily Mail is reporting that Gwyneth is no longer interested in cashing Estee Lauder's million dollar checks, because she find the hours spent being "the face" of a cosmetics brand to be too grueling. And when I say "hours", I mean literally hours in any given month Gwyneth has to spend doing something Estee Lauder-related.
That's not all! It seems that after some rumors that husband Chris Martin didn't care for Goop (the website and newsletter, not his wife), he's now fully behind Gwyneth's Goop-brand dreams. A source told The Daily Mail, "Chris is a respected and canny businessman in his own right and he urged her to cut some of her corporate ties in order to focus on her strengths." Her strengths? Like… going to parties and acting snotty? Is that going to be part of the Goop brand? Gwyneth has another reason for stepping out of her Estee Lauder contract – she doesn't want to still be representing a cosmetics brand "into her fifties" says a source. Gwyneth thinks women in their fifties representing cosmetics is "just pathetic." Oh, Goop!
Actress Gwyneth Paltrow is set to end her lucrative contract with cosmetics giant Estee Lauder so she can focus on her own lifestyle brand Goop.com.

The £1million-a-year deal has been the jewel in Gwyneth's sponsorship crown since she replaced Elizabeth Hurley as the younger, fresher face of Estee Lauder in 2005.

'But now she wants to expand her personal influence to become an Oprah Winfrey-like lifestyle guru via her website,' says a source. 'She wants to become a brand as herself and she would have been limited if she was tied down to this cosmetics deal. Ending it was a priority for her.'

Gwyneth's husband, Coldplay singer Chris Martin, 32, is said to be keen on the idea and has been encouraging his 36-year-old wife to make the break.

'Chris is a respected and canny businessman in his own right and he urged her to cut some of her corporate ties in order to focus on her strengths,' says the source.

'Gwyneth doesn't want to be one of those women who rely on a make-up contract well into their 50s to stay in the public eye. To her, that's just pathetic.'

Goop is set to be a burgeoning business empire, with Gwyneth planning to release a lifestyle book annually, based on the healthy eating, make-up and styling articles she has posted on its website – including the controversial claim that shampoo causes cancer and harms children.

'Gwyneth will take her lifestyle advice to another medium when she launches a cookbook next year based on long-held family recipes,' adds my source.

'She's already partnered with trainer Tracy Anderson on exercise videos and a sports club in New York and she has many other irons in the fire, including a follow-up series to her TV culinary tour of Spain with her close friend, celebrity chef Mario Batali, which was shown on the American PBS network.'

But Gwyneth's spokesman said: 'It's a bit soon to discuss her renegotiations with Estee Lauder but her intention would not be to end her relationship with them to concentrate on Goop.'
[From The Daily Mail]
Here's the thing about Martha Stewart and Oprah Winfrey… they know what the hell they're doing. Those women have been at this empire-building game for a long time, and they've got the scars to prove it. Here's another thing Martha and Oprah have on Gwyneth: they are a million times more likable than The Goop. With Oprah, her flaws as a woman, her struggles with her weight, her own history of abuse, makes her the flawed icon women love to embrace, because women think "she won't judge me". Martha, on the other hand, is an anal-retentive perfectionist who manages to teach "lifestyle" stuff without making women feel like crap for not already knowing how to make the perfect meringue.
Both Oprah and Martha represent – in varying degrees, in different ways – the Benevolent Teacher. Oprah's message to women is "I'll help live your dreams." Martha's message seems to be "I want everybody to be able to bake a cake, because it's so much fun." Gwyneth's message seems to be "You're fat and your clothes are ugly, maybe I can help you if you're rich enough." Better stick with Estee Lauder, Goopy.
Here's Gwyneth in the front row at her husband Chris Martin's show with Coldplay in West Palm Beach, Florida on 5/15/09. Credit: INFPhoto.com