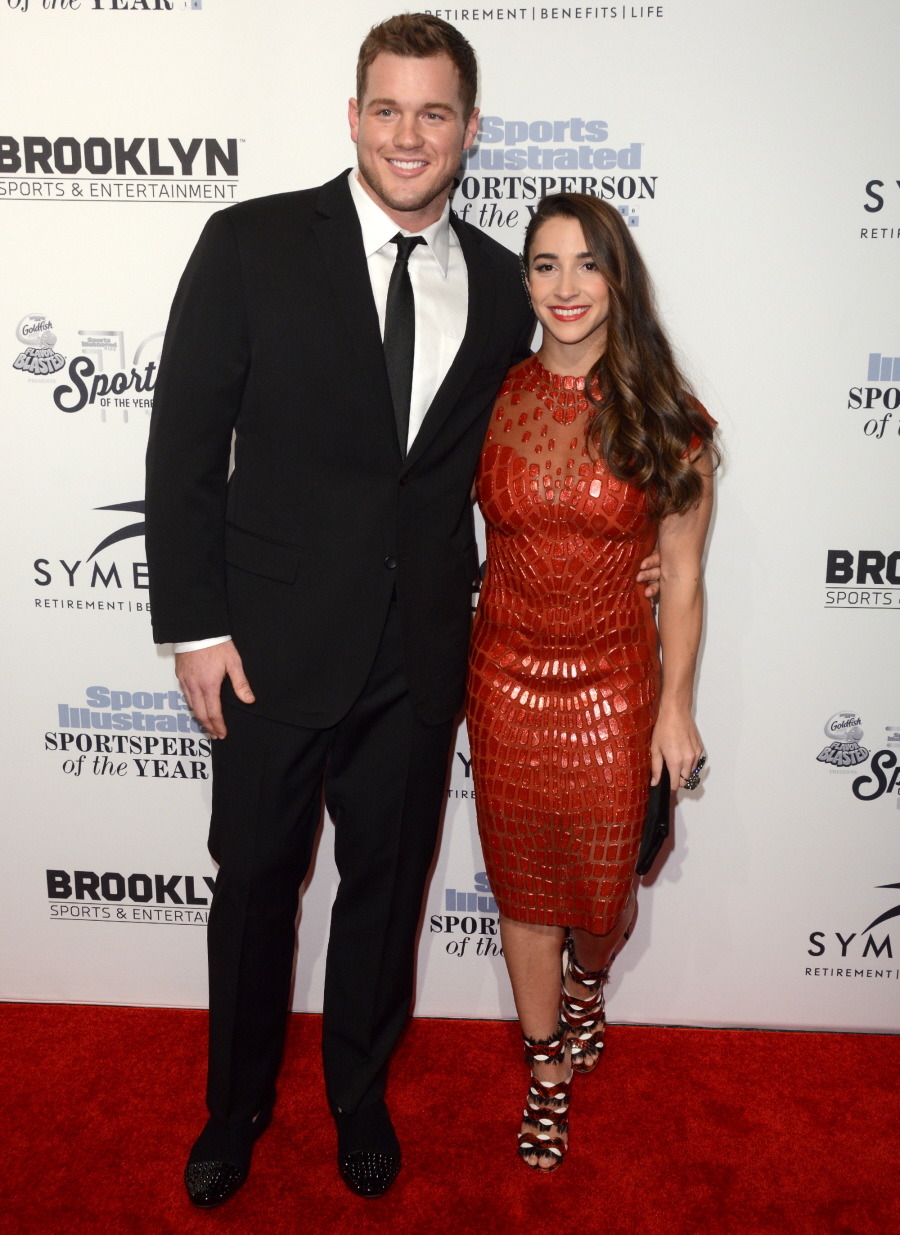 I became a little bit obsessed with Aly Raisman during the Olympics this year. I was just so proud of her, and I loved her personal story – her nice, involved parents, her humble middle class life in Needham, Massachusetts, her single-minded focus on gymnastics. She seems so driven, but not in an uncomfortable child-star sort of way. Probably because Aly is 22 years old now. Anyway, following the Olympics (where she won three more medals, following her three medals in London), Aly got asked on a date on a live online Q&A. The guy asking was 24-year-old Raiders tight end Colton Underwood. Apparently, they did meet up after she accepted his date invitation on her Twitter, and they've been secretly dating for months. They made their red-carpet debut Monday night at the Sports Illustrated Sportsperson of the Year ceremony.
Five months after agreeing to go on a date with tight end Colton Underwood, Olympic gymnast Aly Raisman has let the cat out of the bag and revealed they are officially a couple! The two walked the red carpet on Monday night at the Sports Illustrated Sportsperson of the Year Ceremony 2016 at Barclays Center of Brooklyn, New York. The 22-year-old tells PEOPLE exclusively that the couple "kept it quiet for a while" but they have been dating since the VMAs in August after Underwood, 24, asked Raisman out over social media and she accepted.

"We happened to both be in Denver at the same time," she says. "I was there for less than 12 hours, he was flying in for just a few days. it just ended up working perfectly."

The couple looked "really happy together" inside the ceremony, a source tells PEOPLE. "He had his arm around her throughout the dinner and they laughed a lot."

Raisman tells PEOPLE that Underwood, a free agent, drove 90 minutes back and forth to meet her for their second and third dates. She has met Underwood's family and will be seeing them again for the holidays. The Olympian says she's looking forward to the new year, hinting at future projects that she deems as "surreal."

"I'm just looking forward to 2017," she says. "I think it's going to be an exciting year for everyone."
I think this is so cute – the gymnast and the football player. The Olympian and the tight end. He's so huge and she's so tiny. They don't really "match" physically, but he seemed to have a crush on her and he went out of his way to make it work. It's a sweet story and I hope there's no drama.
👋👋👋 @Aly_Raisman @Colt3FIVE @SInow #SISportsperson pic.twitter.com/5HmqMgPbeZ

— Barclays Center (@barclayscenter) December 13, 2016
Photos courtesy of Getty, WENN.