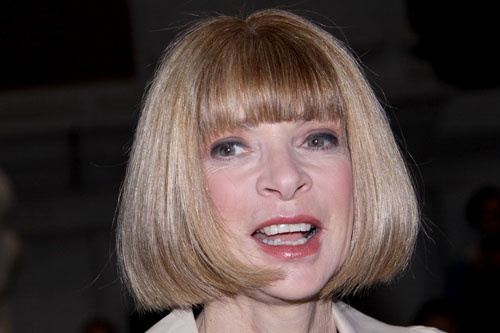 Vogue editor Anna Wintour was a guest on "60 Minutes" on Sunday. In a clip posted to the web, Wintor describes how she got talkshow queen Oprah to lose weight ahead of her appearance on the October, 1998 cover. Vogue has been under fire for failing to represent women of color, particularly during Wintour's reign, and Oprah's appearance on the cover was noteworthy.
Wintour told Mike Wallace that she merely suggested to Oprah that she lose some pounds in order to feel more "comfortable" for the photoshoot, and that Oprah readily got on board. From the way she words this it sounds like Oprah probably went on another one of those unhealthy liquid diets to lose weight fast. Wintour also said she encountered very overweight people during a rare trip to Minnesota, and described "most of the people" as "little houses." That's harsh:
Vogue editor-in-chief Anna Wintour had quite the request for Oprah Winfrey.

Wintour had told the talk show host to drop 20 pounds to be on the cover of the fashion magazine back in 1998, the editor revealed during an unaired segment from her 60 Minutes interview on Sunday.

"It was a very gentle suggestion," she said, laughing. "I went to Chicago to visit Oprah, and I suggested that it might be an idea that she lose a little bit of weight."

She added: "I said simply that you might feel more comfortable. She was a trooper!"

Winfrey, 55, must have listened to the fashion legend. She was featured on the cover from more than 10 years ago with the tagline: "Oprah! A Major Movie, An Amazing Makeover."

"She totally welcomed the idea, and she went on a very stringent diet," Wintour said. "And it was one of our most successful covers ever."

In the 60 Minutes interview, Wintour, 59, also defended the use of Photoshop to make people "look their best."

"That's one of the things that makes me rather angry, that I don't understand," she said. "That if you look wonderful, does that make you less important? Less powerful? Less serious?"

Although Vogue typically only covers stick-thin models within its pages, she said her magazine maintains an awareness of obesity.

"I'd just been on a trip to Minnesota, where I can only kindly describe most of the people I saw as little houses," Wintour said. "There's such an epidemic of obesity in the United States, and for some reason, everybody focuses on anorexia."

Wintour, who commissioned a feature on the topic complete with illustrations, said that it was an important issue.

"We need to spend money time and education on teaching people to eat, exercise and take care of themselves in a healthier way," she said. "It [has gotten people] provoked, which is really the point."
[From US Weekly]
The media focuses on obesity too, it's not fair to say that it only focuses on anorexia. The issue is that fashion magazines like Vogue portray very thin adolescent-looking models, and Wintour is more exposed to criticism of that in her line of work. There's no simple answer to either issue, but calling people demeaning names like "little houses" isn't going to help us work toward promoting a healthier body idea. It's outrageous that she claims "most people" in Minnesota are obese. I guess we can't expect much more from her. Do you think she told Jennifer Hudson to lose weight before her 2007 cover too?
You can watch Wintour's entire "60 Minutes" interview on YouTube. The quotes in which she admitted she asked Oprah to lose weight and calls Minnesotans fat come from a section that was deleted from the segment. The part where she says she told Oprah to lose weight can be viewed on Video.AOL.com
Photo credit: WENN.com