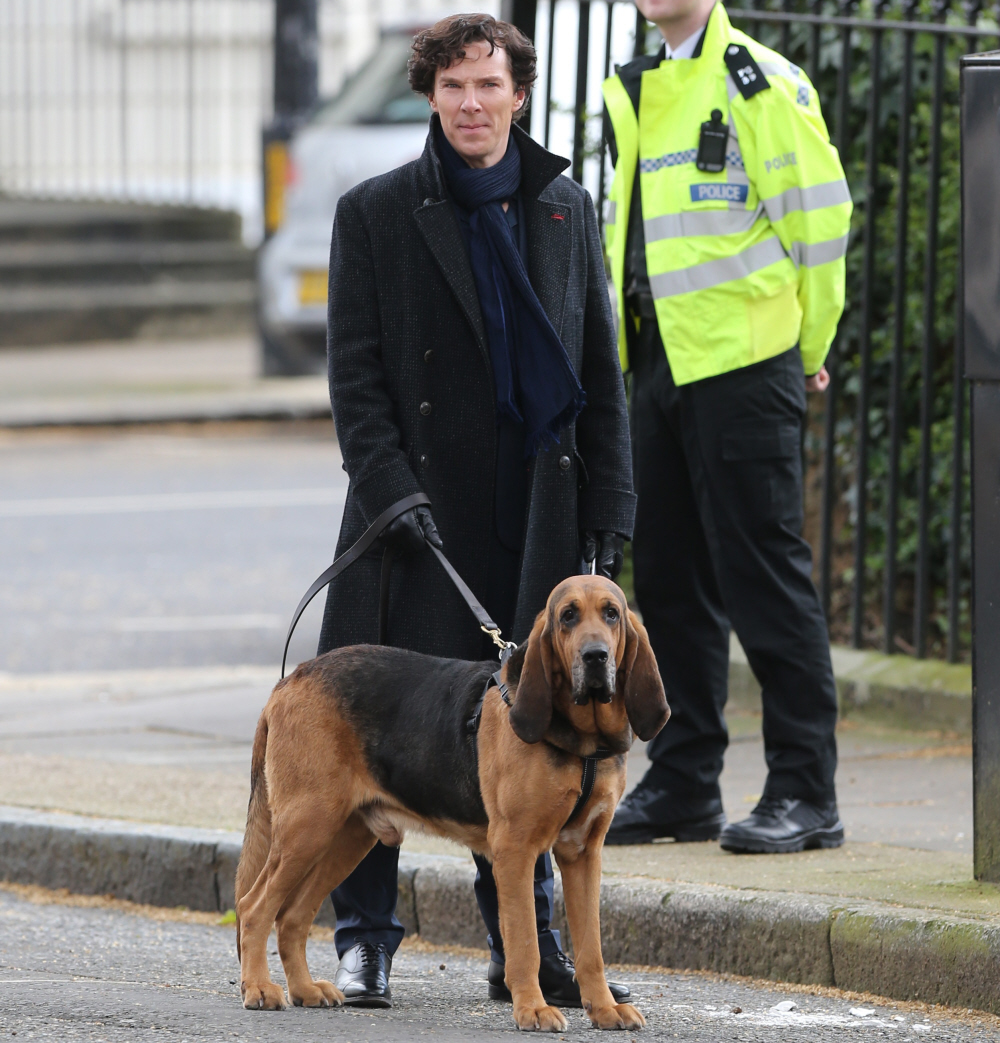 Benedict Cumberbatch is doing the minimum amount of promotion around Sherlock's Season 4 premiere. On Monday evening, he participated in a premiere event in London, and he basically sat down for maybe two interviews. It seems like the BBC sent out promotional fake-interviews with quotes from the stars, and many outlets are just going with the quotes the BBC has provided in lieu of actual interviews. Which is probably smart, in Benedict's case. As we saw during his Doctor Strange promotion, when Benedict is asked about babies or fatherhood or his wife, his interviews tend to go sideways. So enjoy these quotes from Benedict about what it was like working with a baby and a dog for this new season.
On Watson becoming a father: "There are a lot of new things going on, for example there's a baby! So parenting responsibilities have kicked in for the super sleuths! Child care is never easy, but it gets even more complicated when crime's involved. I think Sherlock feels very protective toward them as a family, but he's not a natural or a figure of authority when it comes to a newborn. I hope my skills and interaction with my own are a little bit more engaged than his are! He's seemingly indifferent, which is comic at times but it's all underpinned with a deep love, and he's a guardian angel really."

Working with babies: "The babies have been pretty amazing, I'm a father and I know how difficult it is to get anything in tune with a baby's schedule. It keeps you in the moment and it stops you being precious about your work. I love those elements that make it more difficult."

Working with the bloodhound: "He was very sweet, but was a bit afraid of being in the center of town, afraid of too many people and not great on hard surfaces. We were in [London's] Borough Market, with lots of people around, on concrete and tarmac. Cut to Amanda literally pulling a bloodhound around London who was supposed to pull her around London. That was fun."

Sherlock's need for perfection: "Oddly, I think Sherlock's temperament is more shaped by the fact that he is human and trying to be superhuman. The amount of stuff that we call polite civilization is a huge distraction to this man who has to think on an unparalleled level of complexities. It's not really that the world is stupid it's just that for him to be clever he has to really drown out a lot of noise and what he permanently gets surprised by, and what I think is his real weakness, is sometimes not seeing what's right in front of him…. He's not unhuman, he is human and he is fallible."
You know what I think is interesting? Whenever Benedict gets questions about babies or fatherhood, he always brings it around to how fatherhood affects his work. How baby Kit has affected his work, how working with a baby affects his work, and more. He always frames his answers that way, even in these quotes which were probably vetted by like a dozen people at the BBC. He just seems like a workaholic who accidentally chanced upon fatherhood, and being an alien-lizard, he decided to study the process professionally.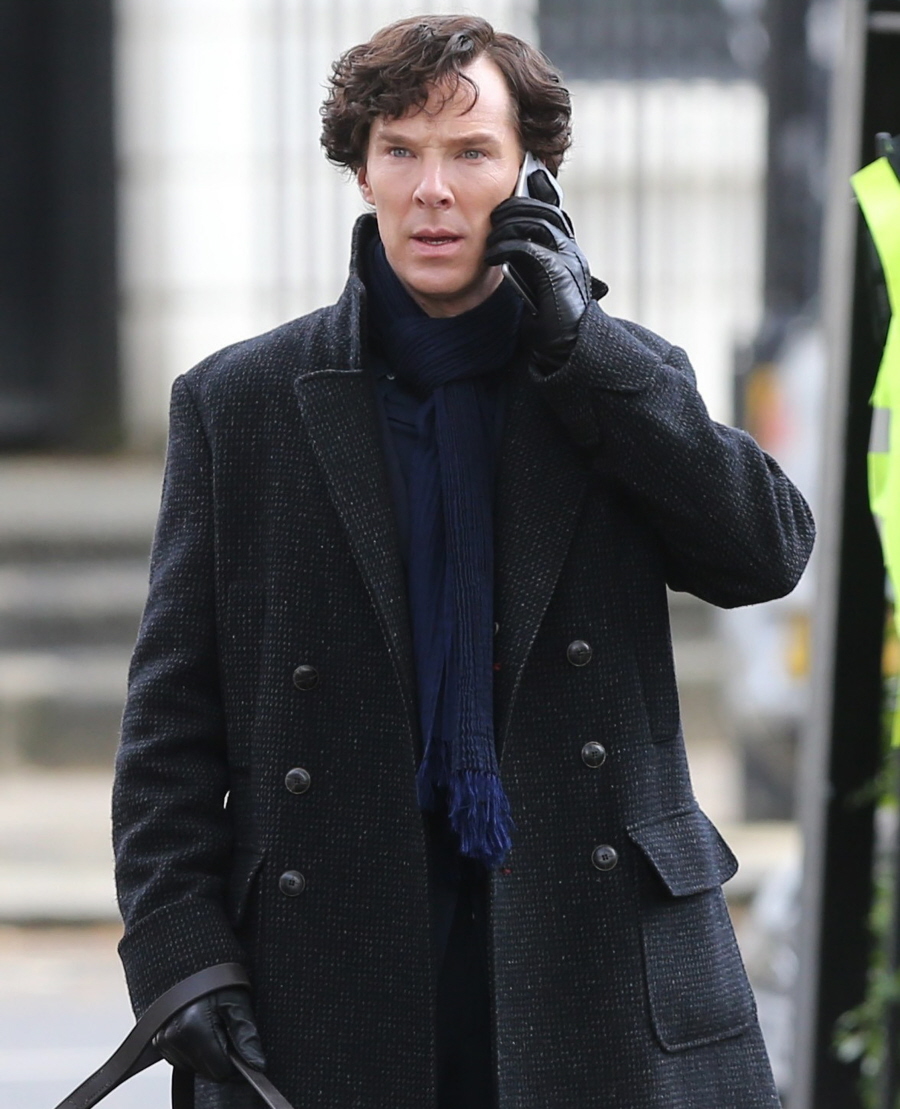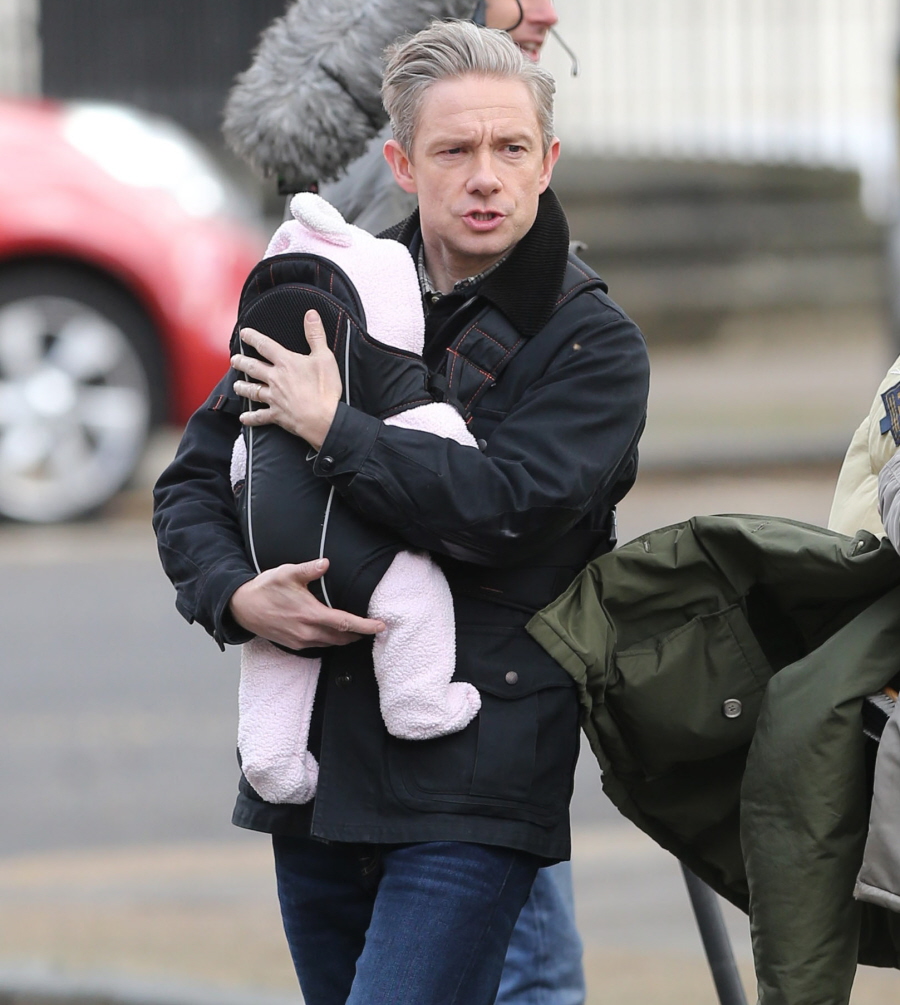 Photos courtesy of Fame/Flynet and WENN.