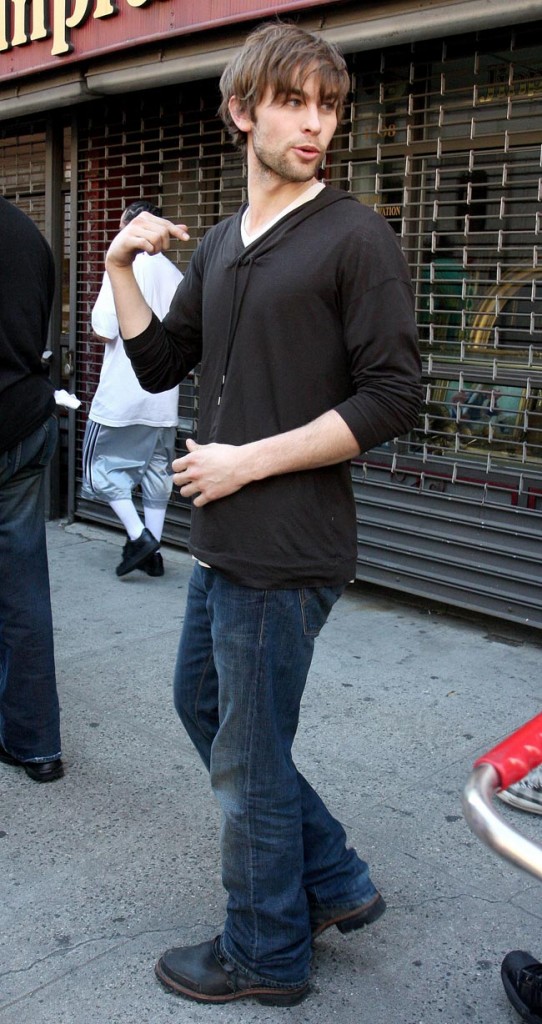 Gossip Girl's Chace Crawford has been announced as the star of the upcoming big screen musical remake of Footloose. High School Musical star Zac Efron was originally offered the role, but turned it down for fear of being typecast as the teen heart-throb sing and dance guy:
Gossip Girl hottie Chace Crawford will be kicking off his Sunday shoes in the remake of Footloose, stepping into the void left behind when Zac Efron dropped out.

Crawford, 23, will play Ren McCormack, the rebellious dancing high schooler who launched the career of a then 25-year-old Kevin Bacon, Paramount Pictures has announced.

In a recent PEOPLE poll, readers were into the idea, but Crawford still trailed front-runner Derek Hough as a replacement for Efron (followed by David Cook and Bow Wow).

High School Musical star Efron told EW.com he passed on the role because he didn't want to be type-cast as the musical guy and was searching instead for "the unknown."

Footloose, to be directed by High School Musical's Kenny Ortega, is set to begin shooting in March 2010
[From People]
This movie was out before I was even a tween and I don't have strong feelings about a remake either way. It was a fun film from what I remember and if they do it right it could be a crowd-pleasing hit. A lot of people are fed up with re-makes, though, and think that Hollywood really needs to come up with some new ideas instead of falling back on films that were past favorites.
Now there's talk that the re-do might get all the more annoying with Miley Cyrus playing the female lead opposite Crawford. She certainly has enough fans that would flock to see it:
Miley Cyrus is the latest hot young thing being considered for the leading lady role in the remake of the song-and-dance extravaganza, E! News has exclusively learned.

"They've expressed interest in Miley for the part," a source close to the tween queen said.
A source close to the production further added that Cyrus "is definitely in the mix."

As it stands, that mix currently includes Hayden Panettiere, Amanda Bynes and Dancing With the Stars pro Julianne Hough, all of whom have auditioned in recent weeks for the part of Ariel Moore, the independent-minded daughter of a preacher man, originated in the 1984 classic by Lori Singer.

One starlet who hasn't auditioned for the role: That'd be Cyrus. Presumably because her singing, dancing, and audience-pulling prowess has already been proven.

While Cyrus' reps had no comment on the potential casting coup, it may be a bit premature for her to sign on the dotted line just yet. The film has a release date of June 18, 2010, and Cyrus' schedule is already booked full through the end of summer.
[From E! Online]
E! notes that Miley is next working on the film The Last Song, based on an unpublished book by Nicholas Sparks. It starts filming in less than a month. Despite how busy she is, I bet Miley can squeeze in enough time for Footloose if she's offered the role. She's only 16 and seems a little young to play opposite 23 year-old Crawford, but her character is supposed to be a high school student and she's just the right age. If anything Crawford is a little old. Kevin Bacon was 26 when he starred in the original film, though.
Chace Crawford is shown on NY set of his film Twelve with 50 Cent on 4/27/09. Miley Cyrus is shown shopping with her sister, Brandi, on 5/19/09. Credit: WENN.com