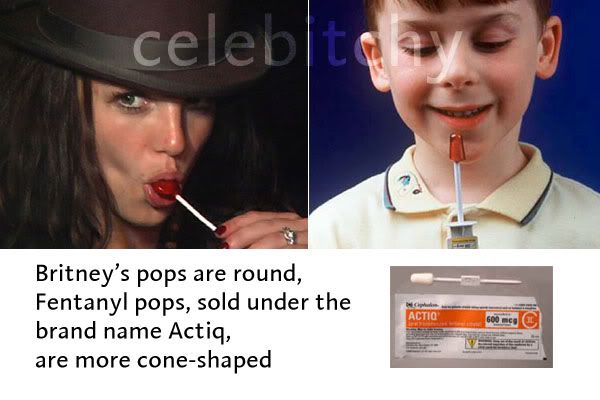 There's a report in this week's Enquirer that claims that those lollipops Britney Spears is constantly sucking on are really medicinal candy meant for pediatric cancer sufferers and contain the powerful opiate Fentanyl, which is several times stronger than morphine.
I wouldn't put it past her, but I found pictures of Fentanyl lollipops and they're easily recognizable because they're long and cone-shaped, while the lollipops Spears is sucking on are round and look like Chupa Chups. The Enquirer claims the Fentanyl lollipops look like Britney's, but Google image searches show otherwise. It's possible there are illegal versions which are round like Britney's.
Here's the relevant excerpt from The Enquirer. She's also visiting a "detox doc," is afraid of losing her boys to K-Fed as we've already heard, and her mom has supposedly hired a private investigator to watch her:
And in a worldwide exclusive, an insider tells The ENQUIRER that she's used drug-laced "lollipops" for the past three years.

"Britney carries the 'pops' in her purse," revealed a source.

"It's an inside joke that when Britney says: 'I'm craving candy right now. I need a lollipop,' what she's really saying is: 'I need to get high.'"

Britney was introduced to the "drug lollipops: while on her "ONYX" tour in Europe in 2004, said her friend. In Amsterdam, she visited legal marijuana cafes where the lollipops were sold.

After the tour, Britney found a place to buy marijuana "pops" in Santa Monica, said the source. But the insider claims she soon graduated from marijuana-laced lollipops to pops laced with a morphine-like drug that's an even more potent narcotic.

"The morphine-laced pops are round and look like gumballs," said the source. "Britney was photographed with them in New York right before her breakdown. Sometimes she'd pass out after sucking a morphine pop. She mixed it with alcohol and could barely stand up and ended up throwing up.

"Now it is as if she uses the pops as a substitute for pain pills or Vicodin."

While the insider says Britney treats the lollipops like candy, they're potentially lethal.

Approved by the FDA in 1998 to treat severe pain in cancer patients, they contain the powerful narcotic painkiller fentanyl citrate. It's highly addictive and 80 times more potent than morphine. The narcotic lollipop has been linked to 127 deaths. Of those, 47 have been associated with addiction, overdose, or misuse.

Britney's mother Lynne first heard of her daughter's use of the drug-laced lollipops when Britney detailed her drug history before being admitted to rehab, according to an insider.

"Until then, Lynne never even knew drug lollipops existed," said the source.

Spurred by the discovery, Lynne has joined forces with her ex-husband Jamie – hiring a private detective to keep an eye on Britney, says the source.
[From The National Enquirer via The Bosh]
This sounds like typical Britney, but again the pops she's sucking don't look like the ones I was able to find online. It's possible people are creating round Fentanyl pops for illegal distribution, but Google searches for "round Fentanyl lollipops" and variations of those keywords mostly return articles about Britney's rumored addiction to them. There are no other references to round Fentanyl pops that I could find. I would suspect these things don't come in a round shape and that's a way of distinguishing them to lessen accidents where kids that don't need them mistake them for regular candy.
Is this something that's available illegally as a round lollipop and have you heard of it? It's all news to me. If they're already available, I would assume that people would just get access to the real things rather than going through the trouble of creating new round versions. There is a problem with the powerful narcotic lollipops being sold off-label, and the US Department of Justice details at least one case of the drug being sold illegally.
According to the NY Times, the pops were approved for use in 1997 and come in a foil pack that is impossible for children under 4 to open.
Britney Spears is shown licking a lollipop and looking suspiciously like that guy from Clockwork Orange while exiting Winston's nightclub on 8/8/07. Thanks to SplashNews for these pics.