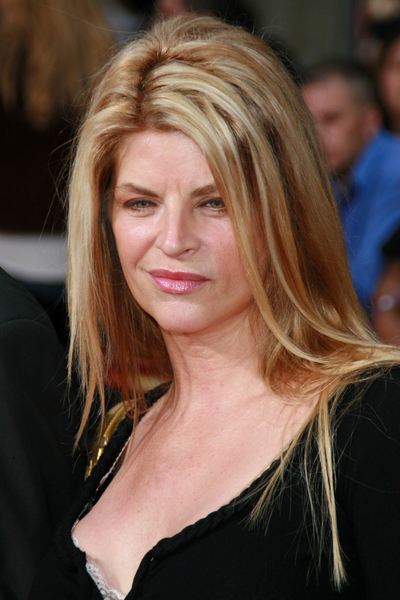 Kirstie Alley is on the Twitter warpath. Alley, a Scientologist, is rallying against the Mother's Act, which just passed the House of Representatives. The Act is meant to provide screening, diagnosis, and follow-up services for pregnant and new mothers for postpartum depression. However, because depression is often treated with psychiatric drugs and/or psychiatric therapy sessions, the Scientologists are all over this one. And predictably, they're flaming mad, and hiding under one of their intentionally innocuously named organizations, the Citizens Commission on Human Rights. Sounds so vague you'd never think it was just another Scientology organization, would you?
Alley is Twittering about all the bad things she believes will happen if the Mother's Act is passed. This includes things like FORCING women and babies to take psychiatric drugs and squirting Prozac in babies' eyes. Yes, she really said that. Here are a couple of her Twitters since this morning.
I have to get you all info on THE MOTHER'S ACT. this is this lousy BILL that would give BIG BROTHER the right to force you to drug ur kids

AND MANDATE that when you are pregnant, YOU MUST take drugs if a Dr. tells you to. THIS is BIG BROTHER at his finest. More on this soon moms

I am organizing a MILLION MOM MARCH to protest this BILL. It just keeps rearing it's head. BACKED 100% by BIG PHARMA. MOMS UNITE!!

@Kathy_in_Fla I want to tell you all about this. It is not really tweet format. I am furious that mothers and BABIES could be force drugged

BABIES HAVING PROZAC squirted in there eyes at birth to prevent depression later on. HELLO 1984.. I will keep you informed. It is brutal!

@SandieMN My opinion is that TAKING MEDICAL DRUGS is an option, not a MANDATE by anyone.Especially GOVERNMENTS…

@scarrieann I am serious. PROZAC in babies eyes! And this is not a FUTURE scene, it is done right now every day.

@XEROUZA Yes this is true. I will get you all the data.Can you imagine? Being forced to be drugged and having our baby drugged?

The goal is to PRE-SCREEN pregnant mothers for depression. If they fit the bill, it is mandated 'TREATMENT" which is DRUGS.and for her BABY

It is called GENETIC PROFILING and it will be in full force if THE MOTHER'S ACT gets passed. I beg U to help stop this..I will get U info
[From Kirstie Alley's Twitter]
The words "force" and "drugged" are all over the place, along with lots of references to Big Pharma and Big Brother. Here's the thing: there are other, non-Scientology groups (including pro-life groups)that are against this bill. Most of their arguments have to do with special interests, pharmacy lobbyists, and lack of following the informed consent laws. They claim the point of this bill isn't to look out for mothers, it's to create more business for Pfizer et al. And there are feminists groups that are absolutely for it, hoping that it will protect women by increasing treatment for postpartum depression.
But there is nothing in the language of the billthat stipulates mandatory drugging of women or babies. There's a lot of legalese and a lot of vague language, and it's safe to assume much of it would be interpreted by courts over time. But writing about squirting Prozac in babies' eyes – which I can't find any mention of, anywhere – and mandatory drugging is irresponsible. Kirstie's trying to make it sound like she's all for choosing treatment, her issue is with having it forced on people. It's a leap to say there's anything in the bill that indicates force.
It talks about testing and making resources available. I'm not going to argue for or against the bill or the pharmaceutical industry. Nor would I ever presume to know how the bill would be enacted. But Kirstie is presuming to know that women and babies are going to be forced – even against their will – to take psychiatric drugs, taking away all their choices. That's a huge, irresponsible leap, and saying that it's in the bill is either a gross misunderstanding on her part or an all-out lie.