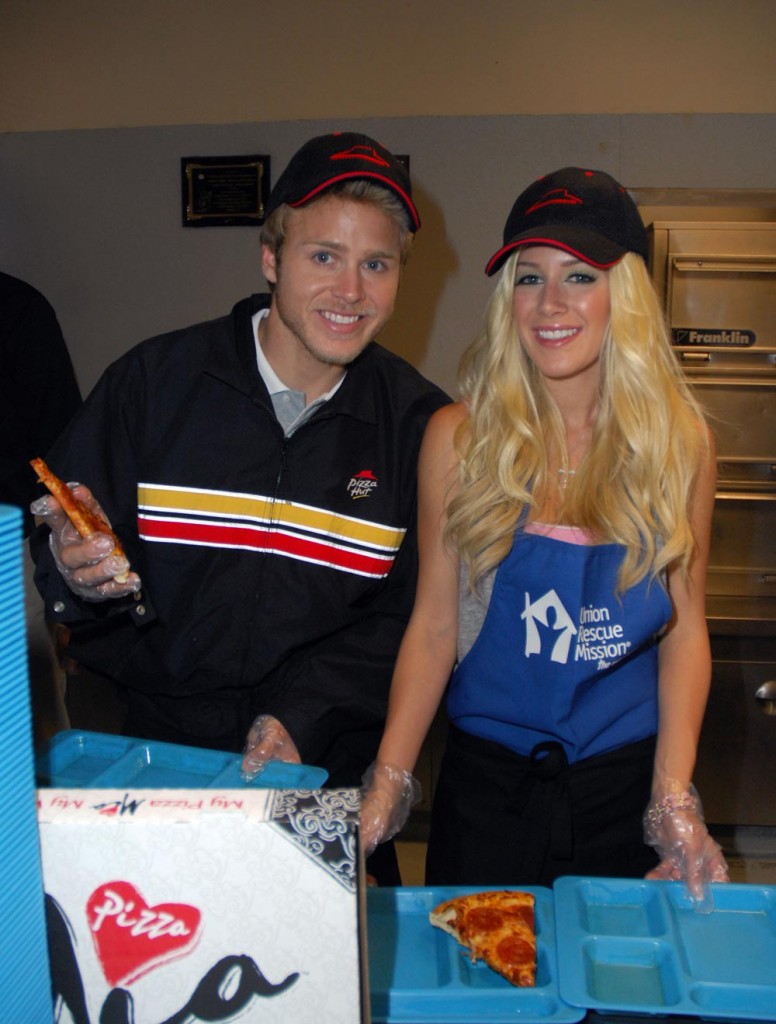 Bland publicity-seeking couple Heidi and Spencer donated 100 pizzas to the Union Rescue Mission, a homeless shelter in downtown Los Angeles, yesterday. They even served up the pizza themselves. It's touching that these two gun-loving blondes would take some time off from staring in the mirror and shooting home music videos to help others. There are only a couple of catches – it wasn't their idea, and the pizzas seem to have been comped by Pizza Hut. This came after Spencer volunteered on Twitter to give 100 pizzas to anyone that bought 100 copies of Heidi's latest "music single." Access Hollywood downloaded 100 copies on iTunes and told Spencer to donate the pizzas on their behalf to the homeless. Then Pizza Hut got involved and the likely result is that Spencer didn't have to shell out the less than $1k to make good on his promise, which didn't originally involve charity. Good for Pizza Hut for stepping up:
"When the team at AccessHollywood.com got wind of Spencer and Heidi's offer of free pizza for downloading Heidi's music, we thought we would take them up on their challenge, so our team downloaded Heidi's song, 'Overdosin" 100 times and gifted it to Access staff members," AccessHollywood.com Managing Editor Jeremy Blacklow explained. "True to his word, Spencer agreed to deliver 100 pizzas with Heidi to AccessHollywood.com today. Since there is no way our staff could possibly eat 100 pizzas, we decided to donate them to the Union Rescue Mission."

On Monday, Spencer told Access' own Billy Bush on "The Billy Bush Show" that he would make good on his promise despite a busy schedule that includes filming "The Hills" and getting ready to head South for the couple's new reality stint with NBC.

"I meant it," a food-service gloved Spencer told Access of his pledge as he delivered pies donated by Pizza Hut to the hungry. "[I] called into Billy's radio show and had to follow though with my end of the deal and I said, 'Where do you want the pizzas sent? Do you want them sent to Access Hollywood?' And of course amazing Billy Bush and Access Hollywood said, 'No, send them to the homeless, let's make this a good cause.' So here we are at the amazing Union Rescue Mission, which feeds, is currently feeding 3,700 mouths a day and more."

Spencer who worked on the lunch line during the meal service – alongside his new bride – said he felt good about bringing food to those who needed it most.

"They have whole families coming in here, little kids, moms, dads… It's not just homeless people, it's families that got laid off," Spencer said. "Thanks to Pizza Hut, America's cheesiest couple teamed [up with] the cheesiest pizza in the world, Pizza Hut, to bring these amazing people some delicious pizza."
[From OMG.Yahoo.com]
I bet the marketing folks at Pizza Hut came up with that line for Spencer: "Thanks to Pizza Hut, America's cheesiest couple teamed [up with] the cheesiest pizza in the world, Pizza Hut, to bring these amazing people some delicious pizza." I think Pizza Hut are the real benefactors here, but at least Heidi and Spencer showed up and brought awareness to a good cause, however they got there. Maybe these two will figure out that they get more press for doing good deeds than for all their PDA in front of the paparazzi.
You can learn more about the Union Rescue Mission on their website.
Pictures are from 5/19/09. Photo credit: Eddie Morales/Fame Pictures