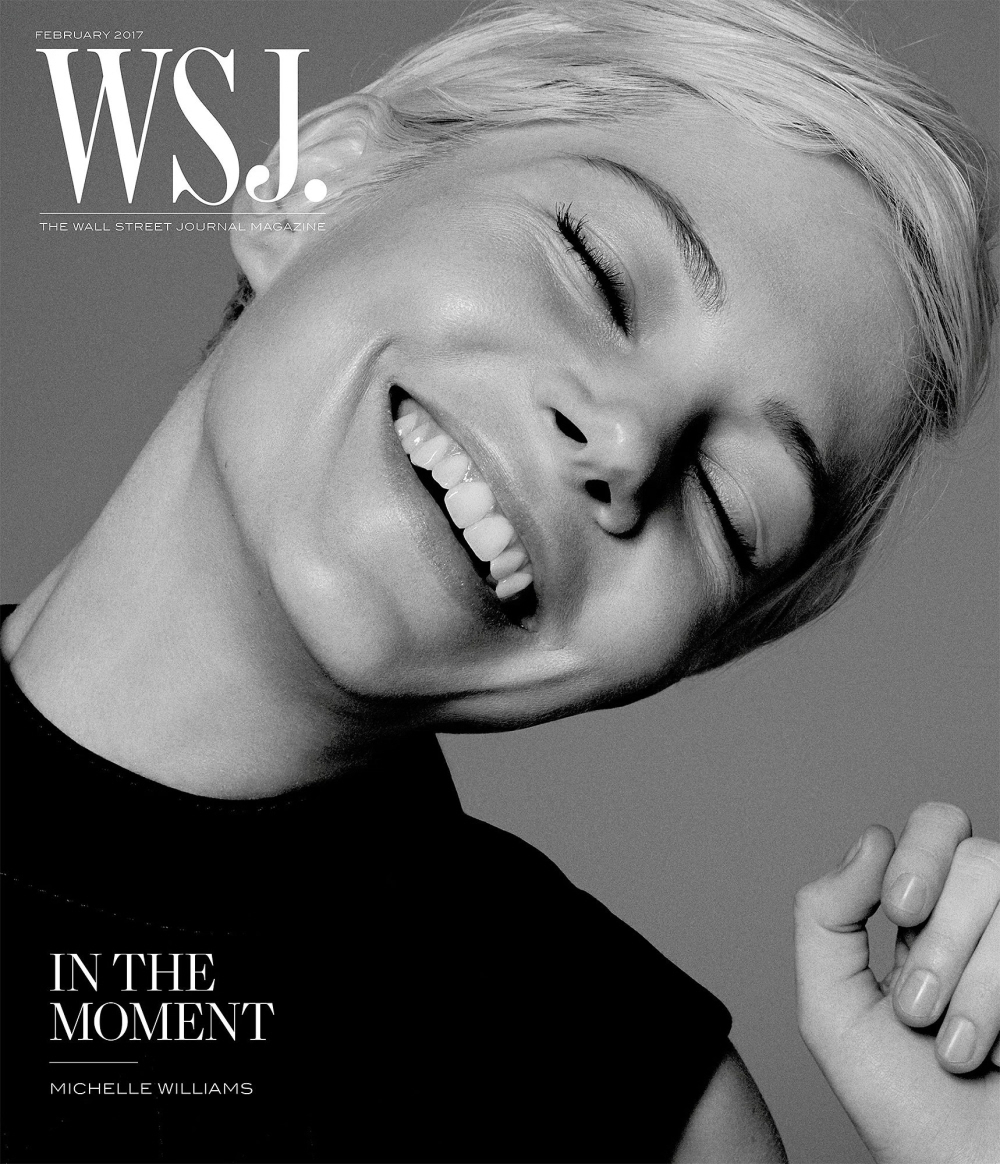 If Michelle Williams is talking about Heath Ledger, you know she's campaigning for an Oscar. I'm sorry, but it's so true. Part of me is sympathetic – she gets the questions and she answers them honestly. The other part of me thinks it's a little bit gross that she's constantly bringing out Heath's ghost to campaign for an Oscar though. Michelle covers the latest issue of the WSJ. Magazine to promote her smallish role in Manchester by the Sea. I believe that Viola Davis has a lock on the Best Supporting Actress Oscar, but Michelle is the one who could be Viola's biggest challenger (neither woman has won before, and some people might think Michelle is "due" just like Viola). I find that I don't hate the fact that Michelle is out there hustling and campaigning – I think, "good for her, be ambitious, play the game." I think that until she starts talking about Heath. Some highlights from WSJ.
Moving out of the Brooklyn home she shared with Heath: "At that time, I was inconsolable because I felt, 'How will he be able to find us?' This is where we lived, and he won't know where we are. And now I can't believe I thought that. Maybe that's what's making me cry is I feel sad for the person who thought he won't be able to locate [us]."

Romance at 36: "It's hard to romanticize romance when you're 36. When you've been a parent for 11 years and you've done it alone, you don't have romantic ideals, because you have a practical understanding that you can do it by yourself. The romantic idea of meeting your person and having a storybook family life that looks like the model you grew up with – that doesn't really exist for me."

Why she's never gotten married: "I've not gotten married because I have not had a person to whom I would — so I have not let my sense of conformity or duty override my instincts."

Her Manchester character's bravery: "If it happened to me, I wouldn't be so brave. Sometimes your mind drifts there, to the worst thing you can possibly imagine, and you say, 'How would I cope with the unimaginable?' I can't imagine going on."

Life as a single parent: "Sometimes it can feel alienating; at school functions, there's only two of us single mothers. Everyone else has a partner, so we buddy up."

Her career priorities: "I worry about the next job and when it's coming and will I be able to get it, but when you're looking at something, there's also the criteria of timing, the school calendar, the location, the duration, and just where we're at as a family." Williams says she sometimes finds projects that "balance up perfectly" – like starring in Cabaret close to home on Broadway – but that it's not the norm. "We haven't been on location in five years; I haven't taken jobs that put us on the road. Everyone told me to travel while [Matilda's] young, but they hit a certain age, and they want a life. So we're stuck – in a good place. There's a lot of constancy. She's in such a good place that I don't worry about the stability of our unit when I have to go back to work."
I kind of wonder if she wouldn't be able to find more consistent work in one place if she moved to LA? She's been in New York this whole time and while New York offers consistent work for some people – stage actors and certain New York-set TV shows – it feels like she would have a much better shot at consistent work AND stability in LA. Also… she would have shot on location for Manchester by the Sea, right? Does she not count that? Did she film it during one of Matilda's school breaks?
PS… is anyone else still mad about Michelle's Civil War Ghost cosplay at the Golden Globes?? I'm also still really mad about her white hair.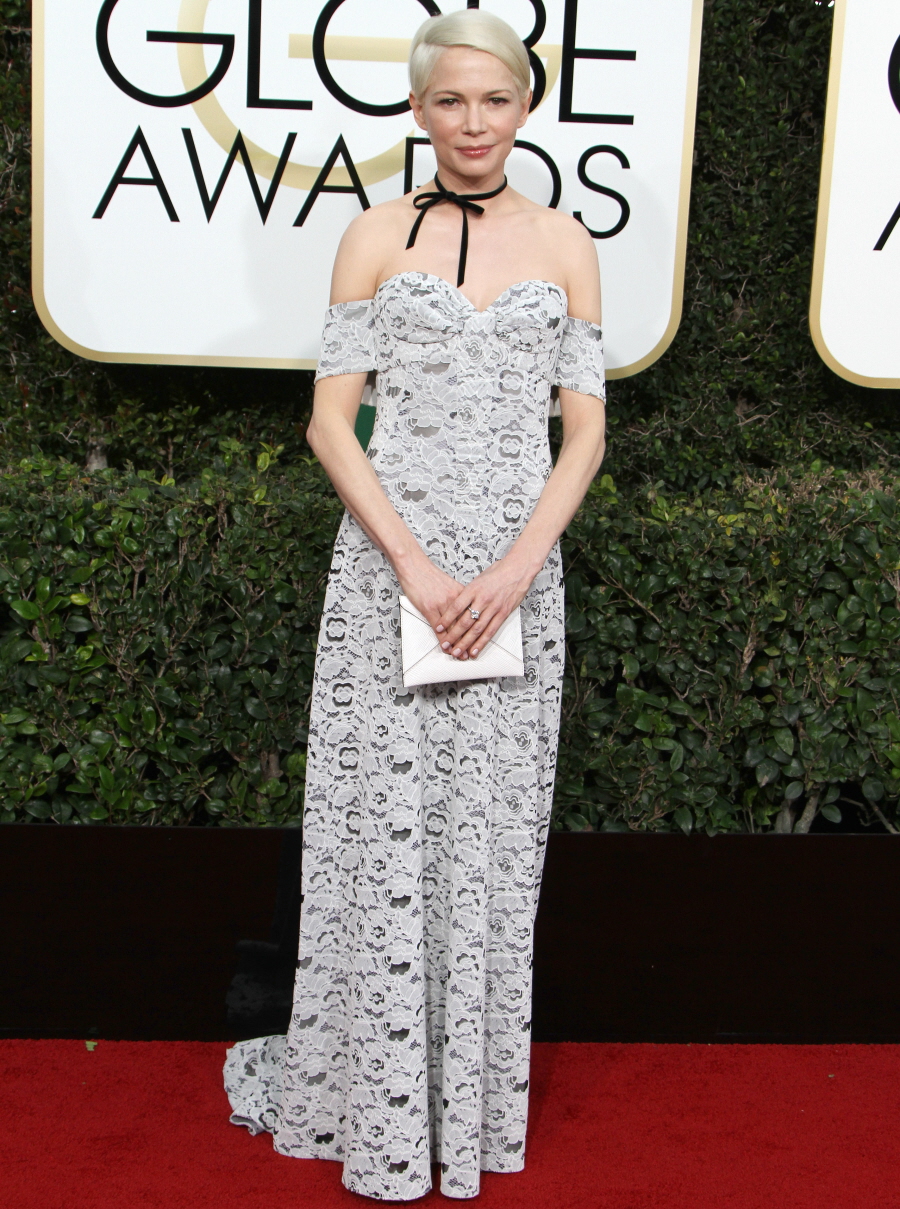 Photos courtesy of Fame/Flynet, cover courtesy of WSJ. Magazine.