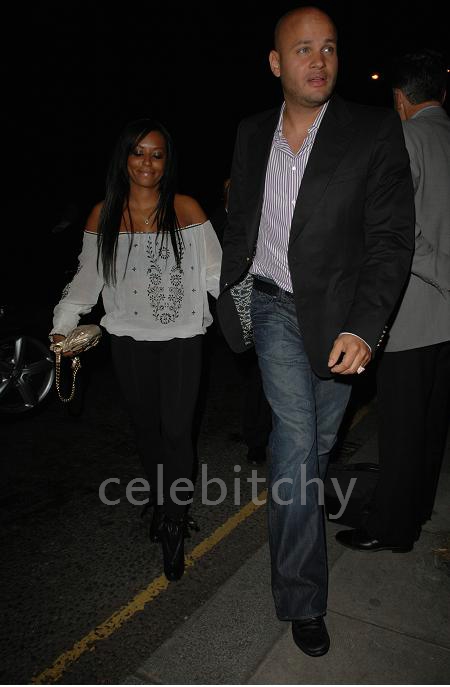 Here are some reasons not to like Stephen "Belafonte," Melanie Brown's new hidden husband. 1. He killed a duck. Not while hunting, or eating in a restaurant. The guy just went out a killed a duck with a brick. Now there's probably more to this story – or maybe not. Sociopaths kill for no reason and without conscious, and target animals. I'm not saying Stephen "I changed my name to make you think I'm the famous singer's son" Belafonte is a sociopath, I'm just saying they share some traits. That's also Celebitchy's new nickname for him, and I think it's a winner.
"Melanie Brown's new husband Stephen Belafonte owes a New Jersey court a $600 fine after he was allegedly found guilty of killing a duck.

"The film producer, 32, was found guilty of an animal control charge after he admitted of throwing a brick at a mallard outside his home in Point Pleasant, according to British newspaper The Sun.

"An Ocean County court spokeswoman said: 'A warrant has been issued over unpaid fines and costs relating to an animal control offence. He will be arrested if he returns to the area.'

"Belafonte, who wed the Spice Girl in secret in June (07), admitted attacking his ex-partner Nicole Contreras and was given a suspended jail sentence."
[From Ireland Online]
None of this is cool. Bludgeoning a duck? Not okay. Beating up the mother of your child? Not okay. There is absolutely no excuse for domestic violence. An argument with another human being is something I vaguely understand – the person can talk, move, etc. An argument with a duck doesn't compute. This guy isn't such a winner.
Scary Spice's mother, Andrea Brown, wasn't told about the wedding, just like the rest of the world. One would think a mother could be privy to such private information, but apparently that's not the case.
"Andrea Brown – who was kept in the dark over the wedding – described it as a 'big mistake', claiming that her daughter was on the rebound from her split with Eddie Murphy. But a friend of Mel's said she went into the relationship 'with her eyes open' and is well aware that her new hubby is 'no angel.'"
[From Digital Spy]
No angel is one thing. Psychopathic duck murderer is quite another. I may poke fun at Stephen "Belafonte" because I think he's a poseur, but this story truly makes me so sad. I love animals more than I love some people. It seems like when a couple gets this much bad press so early on, they generally don't make it. So let's see, "Belafonte" has a rap sheet, he beat up the mother of his child, he's been sued for unpaid child support ($254 a month), and he's a brick-toting duck killer. Now I imagine him wandering around ponds, waiting for the some poor feathered victim to take his rage out on. You suck, Stephen Standsbury. Oops. I mean "Belafonte."
Picture note by JayBird: Here's a Central Park mallard. Header image is Mel B and Stephen "Belafonte" leaving the Baglioni Hotel on June 29th. Images thanks to Splash Photos.