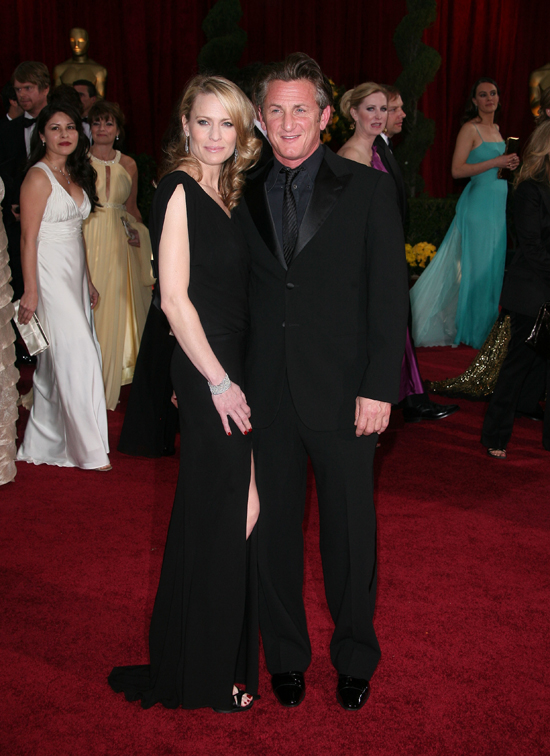 Sean Penn and Robin Wright Penn sure have one confusing relationship. I can't even begin to understand what must go on between the two of them. It seems likely that the pair have reconciled, as Sean has called off their divorce. Well, he's rescinded their divorce papers and filed a request to dismiss the couple's legal separation. Neither he nor Robin have made any kind of statement, nor have their people. But People magazine spoke with a lawyer who noted there's really no other conceivable reason to rescind divorce papers other than a reconciliation. And this is the second time – Penn did the same thing in April 2008 when the pair reconciled.
Are Sean Penn and Robin Wright Penn reconciling again?

The Oscar-winning actor filed a request Thursday to dismiss his legal separation case, Marin County, Calif., court records show.

"This appears to imply that they're reconciling again," says L.A. divorce lawyer Lynn Soodik, who is not involved with the case. "It's unlikely Sean Penn would request a dismissal for any other reason."

This is the second time the actor has rescinded divorce papers. Penn, 48, and Wright Penn, 43, started divorce proceedings in December 2007 after 11 years of marriage.

But they put the brakes on their divorce action four months later, in April 2008, when a court clerk dismissed the divorce petition at their request.

A lawyer for Sean Penn didn't immediately return a call for comment. Wright Penn has been at the Cannes Film Festival, where she's a member of the jury, since last week. She attended the amfAR Cinema Against AIDS benefit on May 21.
[From People]
Well, absence does make the heart grow fonder. Hmm, what other platitudes can I stick in here? Really, we don't know what goes on in the Penn's relationship. There was a lot of speculation that Sean had hooked up with Natalie Portman, though I can't help but hope better of her. For whatever reason these two keep stopping and starting over and over with each other. They also split up in the mid-nineties – Sean dated Jewel that time around. This situation has got to be confusing for their teenage kids. The back and forth can be worse than an actual divorce. Not knowing if your family is stable is sometimes harder to deal with than knowing it's unstable. If they're really getting back together, hopefully both Robin and Sean are going to put their all into their marriage and do what it takes to make it solid.
Here's are Sean and Robin at the Oscars in February. Images thanks to Fame Pictures .