This is a story that has a lot of feel good elements and I wanted to cover it because it made me nostalgic. Busy Philipps was cohosting Live with Kelly, which is nice to hear because Kelly has predominantly had male guest co-hosts to date and I didn't think they were even considering another woman. (I also question why the decision is taking so long and imagine it has something to do with Kelly's ego, but that's another topic.) Anyway Busy's ex boyfriend from college, Colin Hanks (whom you probably know is Tom Hanks' son), was the guest on the show. It's not clear whether producers planned to put Busy and Colin together on the show ahead of this, but they did know ahead of time that Colin and Busy dated for years in college. Both are married with have kids but are still friendly with each other and are friends with each other's spouses. They even go on vacation together with both of their families. On Live they talked about their relationship and even both said they were jerks for the way it ended.
Busy on her relationship with Colin
He was my college boyfriend. We went to Loyola Marymont University together in Los Angeles. We are very close friends now. His wife and I are very tight. He and my husband hang out. We go on vacation together. We dated for a long time actually. He's real excited that I'm here.

Busy on how her her husband had to dig up the photos of her with Colin
They were printed out photos [in boxes]. I didn't have time because of the SAG Awards to go through my photos and so I was on the plane yesterday and texted [him] to find the old photos of when Colin and I dated.

Kelly on how Mark shred her old photos with an ex
Do you know how different your husband is than my husband Mark? Our Marks are like night and day. My pictures were shredded. Mark, meeting me he was like 'What is this a picture of your past and your ex?' *makes shredding noise*

Kelly: why exactly did you break up? What did Busy do?
Busy: I was a jerk
Colin: I was too
Busy: We were young. We were babies. By the way it's our 20 year friendship anniversary. We met 20 years ago.

Kelly: When you all go on vacation together do you ever look at each other and go 'what could have been'?
Busy: No and we hang out a lot. I do have moments where I think like 'how cool that we knew each other at this formative moments in our lives.'
Colin: We got our first television show the same week. We got our first movies within the same week. We were able to go through these really special moments in young actors' lives together. Now we also get to do morning school drop off together.
Busy: Our kids are in the same school. We met when I was 18 and Colin was 19. It's very nice.
[From Live with Kelly via E! Online]
I just want to say what I don't think it's healthy that Kelly's husband, Mark Consuelos, is so jealous that he shredded her old photos. Maybe she's exaggerating but it doesn't sound like she is. Those are memories and all we had were printed photos from that time, I think that's awful. That said, it asking a lot of a spouse to be ok with hanging out with your ex frequently. That can be hard to take, but it sounds like it happened organically with Colin and Busy's spouses becoming friends and that they're all cool with each other. Sometimes people can do that. It says a lot about someone who can be platonic friends with an ex.
Look how cute they are!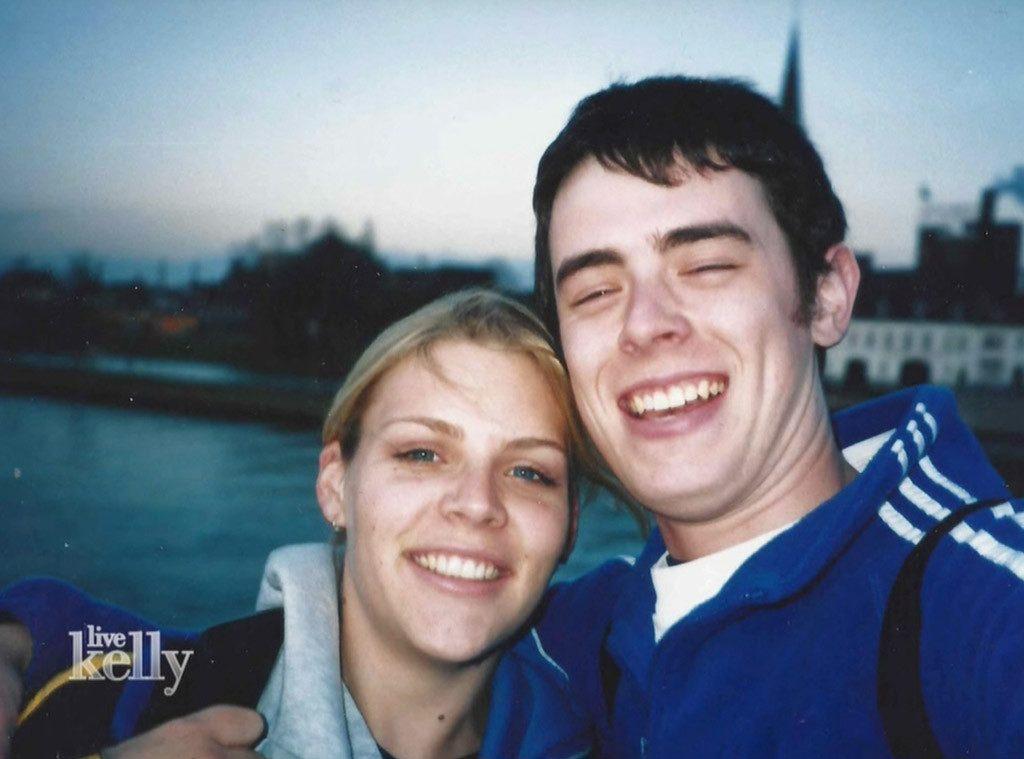 Here's the video. It's tiny here I can't figure out how to fix that but you can go full screen too.

photos credit: Getty, WENN and Fame