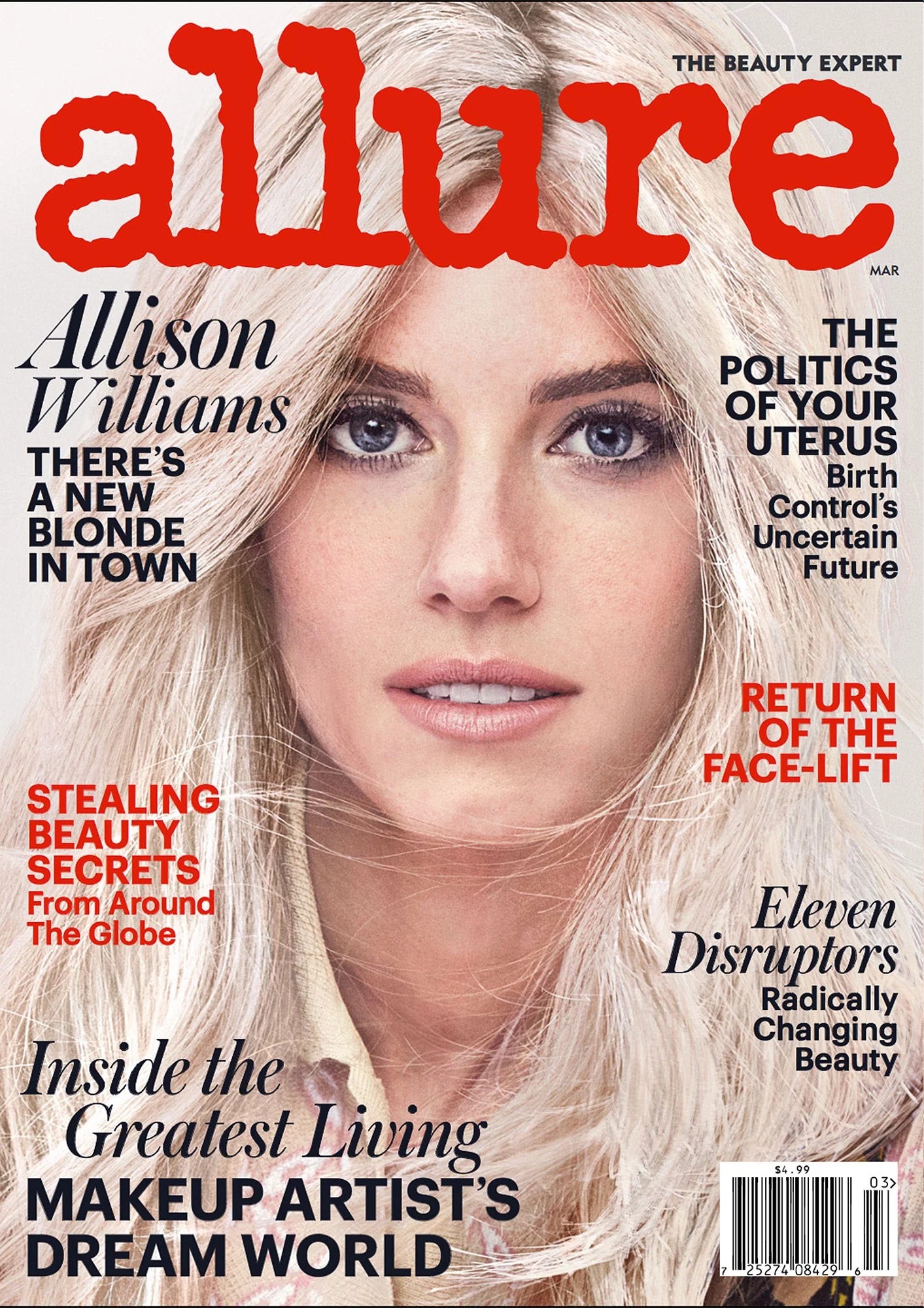 This is driving me up the wall. Allison Williams went DRAMATICALLY blonde for her cover shoot with Allure's March issue and I can't figure out who she looks like. She absolutely looks totally different. But she reminds me of someone and I can't put my finger on it. Someone from the 1970s, right? WHO IS IT?
Anyway, Allison usually annoys the hell out of me, so I wasn't looking forward to reading this Allure cover story. Once I finally put on my big-girl panties and read it though… it's not terrible. Granted, she's a twee, annoying hipster, but she's not the worst person in the world. She's just the kind of woman I don't "get." Like, she's a millennial Goop. She's painfully self-aware and humble-braggy, but I also sort of admire her for sticking with it and trying to become the next big thing. Maybe the blonde will help? You can read the full piece here. Some highlights:
Her wedding cake was Funfetti cake from a box: "You can't make Funfetti cake without the box… They tried to put homemade cream-cheese frosting on it. I told them they weren't allowed to make it more fancy. You can make it beautiful on the outside, but it has to be trashy on the inside."

Hipster coffee: "I drink dirtbag coffee."

Her parents insisted that she go to college before becoming an actress: "I was annoyed at it for, like, a second, but then I kind of leaned into the idea." The actors she talked to over the years agreed on one thing: college first. The thinking was, she says, that otherwise "you're not going to be a full person. And you need to become a person before you can be a person in front of other people."

She eats street-cart donuts, not artisanal donuts: "Anyway, I've had my doughnut today. I have a doughnut every morning. The same kind, from a street cart. Vanilla frosted with sprinkles on one half, weirdly. How hard is it to sprinkle the whole thing?" She eats street-cart doughnuts, but her assistant picks them up for her. "It's relatable, right? Everyone has an assistant who brings a doughnut to them in the morning?"

Her phone case: "It's a mirror with Belle stickers on the back. I'm an adult; it's fine."

Her role in Get Out, Jordan Peele's racially charged, politically savvy horror film. "My first thought was, This is going to be very loud, this movie. It's going to make a lot of noise…. The day Philando Castile was killed, I said to Jordan, 'I wish this could come out now.' And he said, 'Well, it's depressing to say this, but it will still be relevant in February.' I remember having this kind of full-body shudder, like, Uggghhhh."

How she "reads": "I love [Girls character] Marnie, but I don't feel like I need to play her a million times. I wake up every morning thinking I need to be edgier. I read very one-note. Teacher's pet, Goody Two-shoes. I'd hate to be annoying. Who wants to see movies with someone annoying in them? But it's hard for me to paint myself as anything but whatever it is I come across as—which is pretty together. It's not that I'm hiding stories about being drunk on Sunset Boulevard or something. It's just genuinely how I'm wired, and it's why I was right to play Marnie—because I do want to do everything right and in the best way possible. And abandoning perfectionism was a real struggle that I had to go through when I realized it's not possible. But I'm a big note-writer, a big gift-giver. It's how I'm wired, and it's so boring and annoying."

She doesn't want to be interesting: "I don't want to be any more interesting than I am. I love the life that I get to live, which is one of real independence and privacy and autonomy. And I get to experience the city in a way that—if I may name-drop for a second—someone like Katy Perry, who's a really good friend, doesn't get to. She doesn't get to do what we just did. That's not a universe she can experience anymore."

Her blonde hair: "I think if I'd used my middle name professionally—Howell Williams—I'd have a totally different career. I'd be an indie darling. I'd be fighting with Greta Gerwig for parts. I'd have gone blonde earlier."
Hipsters can go either way – they're either obsessed with having everything be one-of-a-kind or vintage or artisanal or small-batch, or they're the kind of hipsters who like to play at being normal. Look at me, I drink dirtbag coffee and my assistant picks up a street-cart donut for me, how quaint. Obviously, Allison is the latter. But even in her painful self-awareness, she does get some sh-t right. If she was Howell Williams and a blonde, her career would be completely different. Also: "I don't want to be any more interesting than I am." Oh, honey. You're not interesting.
Photos courtesy of Allure.