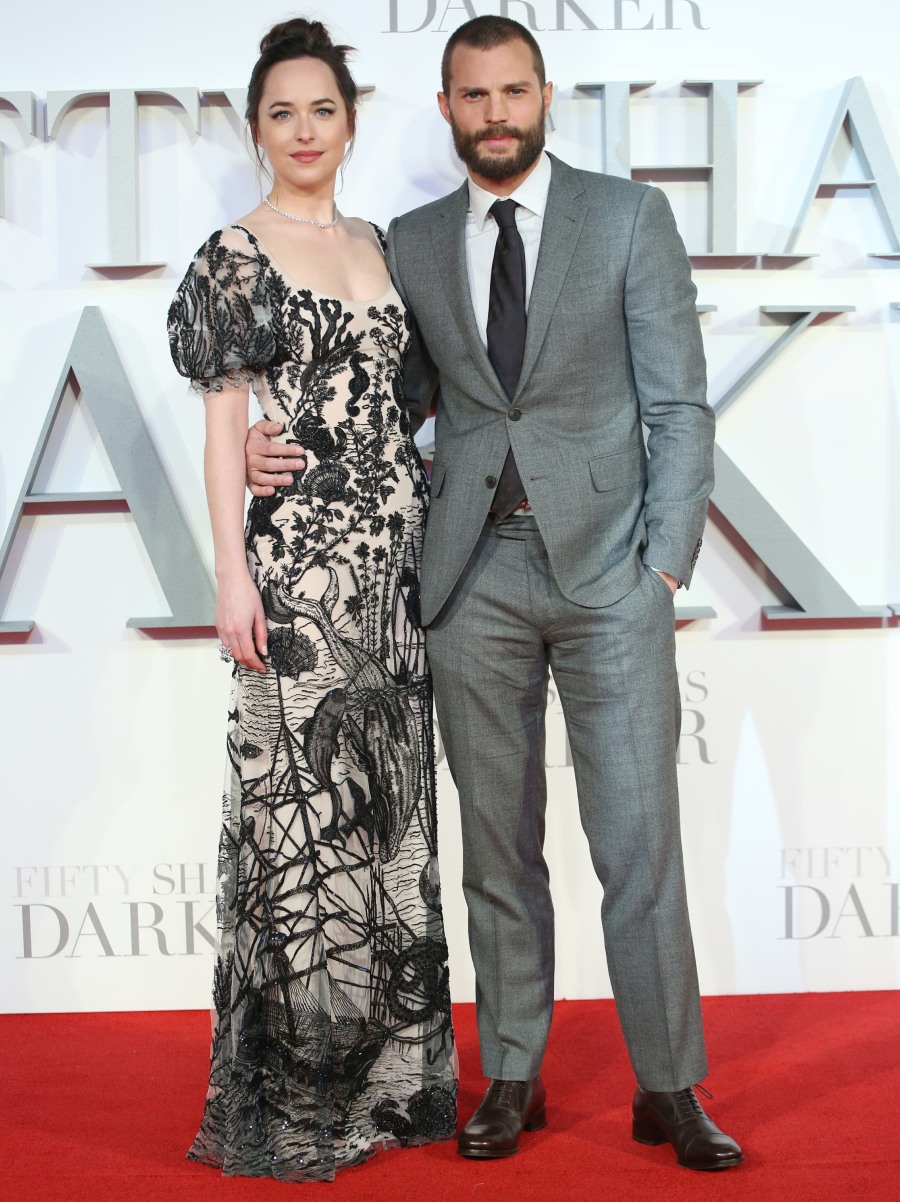 Here are some photos of Dakota Johnson and Jamie Dornan at the London premiere of Fifty Shades Darker last night. Minus one major fashion fail at the Madrid premiere a few nights ago, I've been enjoying Dakota's fashion during their promotional tour. I feel like she might have saved the best look for London, and I love that she chose a very interesting Alexander McQueen gown for the London premiere. That's just as it should be! While this McQueen isn't perfect and Dakota's styling seems a little bit too casual, overall I really like this. She looks beautiful. Jamie looks like… Jamie. He can be so sexy sometimes, but never on a red carpet.
As for the film, a lot of reviews came in over the past few days and… well, it's not looking good. From what I remember, critics hated the first movie too, which is as it should be. The first movie was awful and Dakota and Jamie have ZERO chemistry. But to be fair to the first movie, it had an art-house director who was determined to make the Ana character have agency, humor and heart (qualities which were lacking in the book). Fifty Shades Darker just seems like a boring rom-com with some moderately kinky sh-t between two people who don't have any chemistry.
Right now, the movie sits at 8% on Rotten Tomatoes (ouch). The Independent's review of the film claimed that Christian "is duller as a personality at the end of the film than at the beginning" and that most of the dialogue "could equally well belong in the drippiest, most conventional romantic drama." There are many references to the film's "utter blandness." USA Today boldly claims that FSD "somehow manages to be worse than the stupefyingly bad Fifty Shades of Grey." Newsday gives it "zero stars" (out of four, I think?) and they called it a "cinematic travesty" which is "utterly ridiculous." Of course, the Newsday critic also insinuates that Ana is only banging Christian because he's rich, which… having read the books, I think is unfair. Ana doesn't bang Christian because he's rich. She bangs him because she's a complete idiot.
What else? Please read this Variety review – I laughed the entire way through it, especially when the critic suggested that all it takes for Ana to get back with Christian is one mediocre dinner and then he goes down on her (SOLD). Anyway, I'm sure this will make a bajillion dollars. Bless them.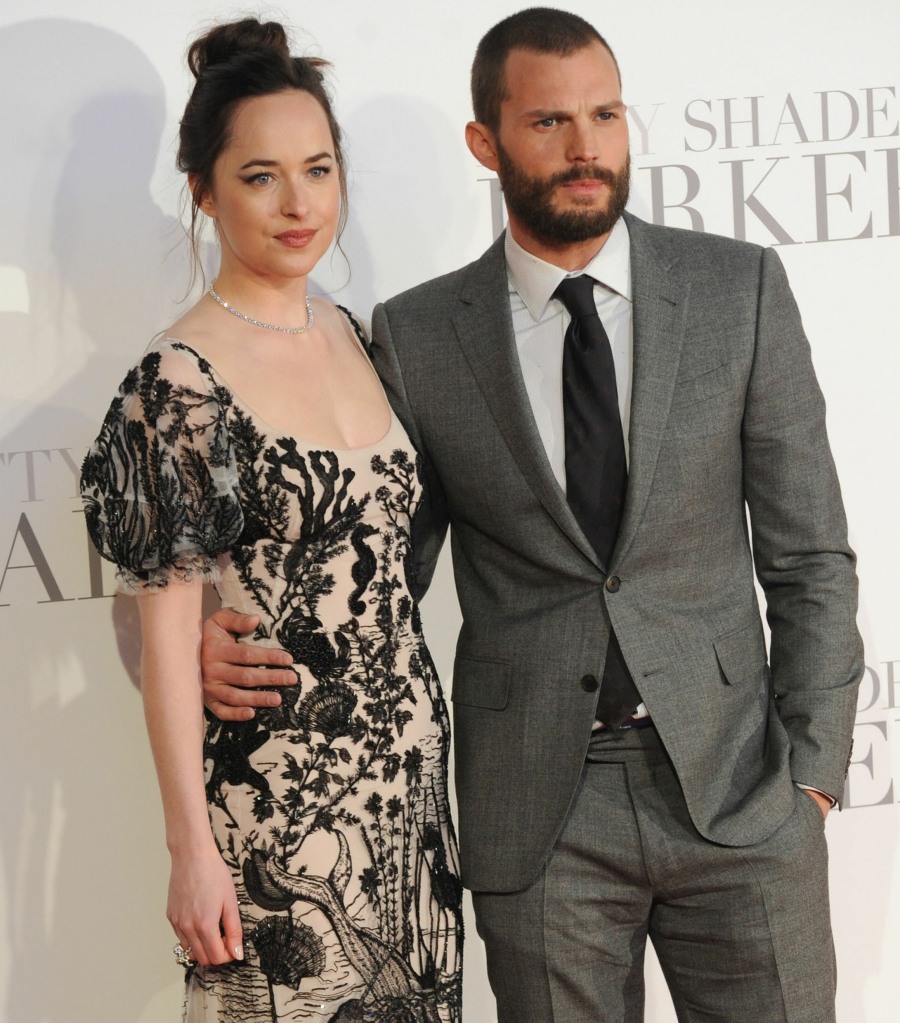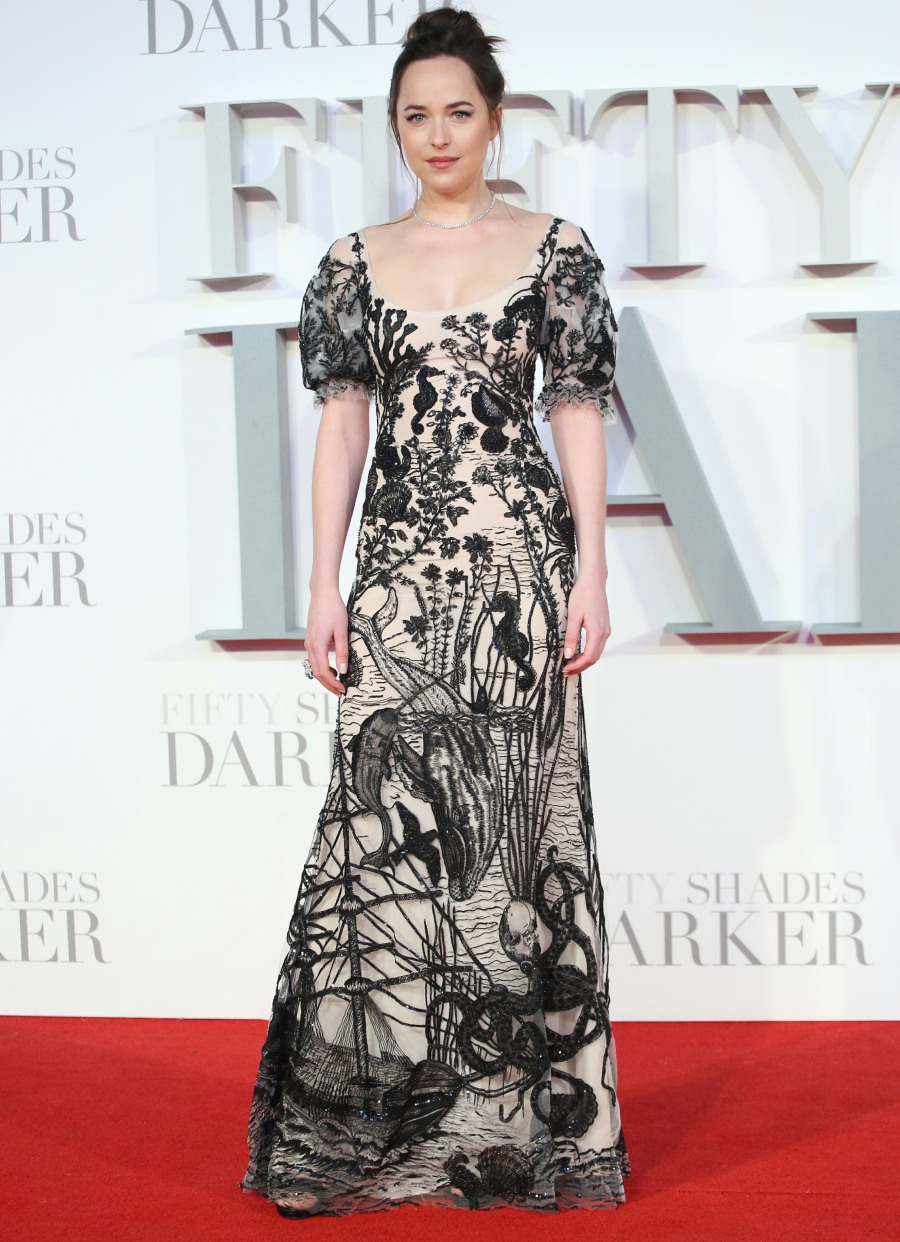 Photos courtesy of Fame/Flynet and WENN.