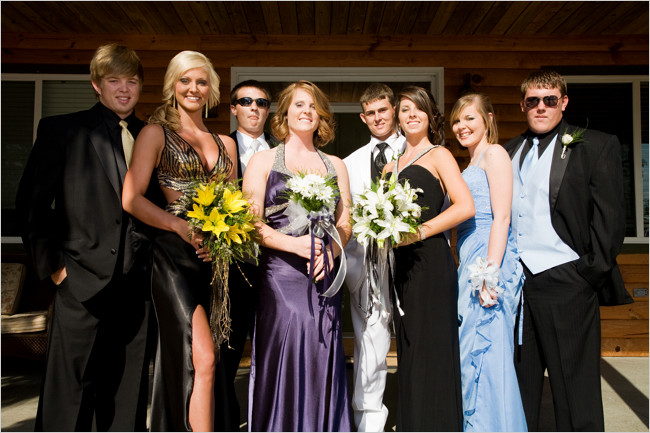 I know we usually cover gossip, entertainment and fashion, but this story upset me so much that I wanted to talk about it. It's also something I was unaware of until I just read about it. There are still segregated high school proms in the US South to this day, with white students and black students attending different formal balls. I thought segregation in school was outlawed 55 years ago with Brown vs. Board of Education, but apparently some people think that law doesn't apply to their community. Parents have organized a separate "white prom" in Montgomery County, Georgia at which black students aren't welcome. They're held outside of school and since the school isn't involved it technically may not violate anti-segregation laws. These type of segregated proms are also known to be held in Mississippi, with the issue to be covered in an upcoming HBO special to air in July:
About now, high-school seniors everywhere slip into a glorious sort of limbo. Waiting out the final weeks of the school year, they begin rightfully to revel in the shared thrill of moving on. It is no different in south-central Georgia's Montgomery County, made up of a few small towns set between fields of wire grass and sweet onion. The music is turned up. Homework languishes. The future looms large. But for the 54 students in the class of 2009 at Montgomery County High School, so, too, does the past. On May 1 — a balmy Friday evening — the white students held their senior prom. And the following night — a balmy Saturday — the black students had theirs.

The white students' prom was held on May 1 at a community center in nearby Vidalia; the black students had theirs at the same place the following night.

Racially segregated proms have been held in Montgomery County — where about two-thirds of the population is white — almost every year since its schools were integrated in 1971. Such proms are, by many accounts, longstanding traditions in towns across the rural South, though in recent years a number of communities have successfully pushed for change. When the actor Morgan Freeman offered to pay for last year's first-of-its-kind integrated prom at Charleston High School in Mississippi, his home state, the idea was quickly embraced by students — and rejected by a group of white parents, who held a competing "private" prom. (The effort is the subject of a documentary, "Prom Night in Mississippi," which will be shown on HBO in July.) The senior proms held by Montgomery County High School students — referred to by many students as "the black-folks prom" and "the white-folks prom" — are organized outside school through student committees with the help of parents. All students are welcome at the black prom, though generally few if any white students show up. The white prom, students say, remains governed by a largely unspoken set of rules about who may come. Black members of the student council say they have asked school administrators about holding a single school-sponsored prom, but that, along with efforts to collaborate with white prom planners, has failed. According to Timothy Wiggs, the outgoing student council president and one of 21 black students graduating this year, "We just never get anywhere with it." Principal Luke Smith says the school has no plans to sponsor a prom, noting that when it did so in 1995, attendance was poor.

Students of both races say that interracial friendships are common at Montgomery County High School. Black and white students also date one another, though often out of sight of judgmental parents. "Most of the students do want to have a prom together," says Terra Fountain, a white 18-year-old who graduated from Montgomery County High School last year and is now living with her black boyfriend. "But it's the white parents who say no. … They're like, if you're going with the black people, I'm not going to pay for it."

"It's awkward," acknowledges JonPaul Edge, a senior who is white. "I have as many black friends as I do white friends. We do everything else together. We hang out. We play sports together. We go to class together. I don't think anybody at our school is racist." Trying to explain the continued existence of segregated proms, Edge falls back on the same reasoning offered by a number of white students and their parents. "It's how it's always been," he says. "It's just a tradition."
[From The NY Times]
Am I naive and/or uninformed? I had no idea that anything like this was happening still in America. It really upsets and surprises me, and my mouth was hanging open reading this story.
Friends of Justice points out that this type of segregation and discrimination is not uncommon in the south and that there are even separate Mardi Gras parades held in a town in Louisiana. My father is a retired guy who reads the newspaper cover to cover every day and he said that he's heard of this before. A Facebook friend, Lauren, also says she read about this last year during the prom season.
Do we need a law that it's illegal to hold parties for the express intention of ensuring that only one race or nationality attends? Is that overstepping the bounds of government or just making sure that racism isn't allowed in any form? This would of course not apply to parties that celebrate a certain culture or background without the purpose of excluding others.
At least the NY Times, Morgan Freeman and HBO are bringing awareness to this issue. Maybe the people who perpetuate this racism will be shamed into ending this outdated practice with this year's proms.