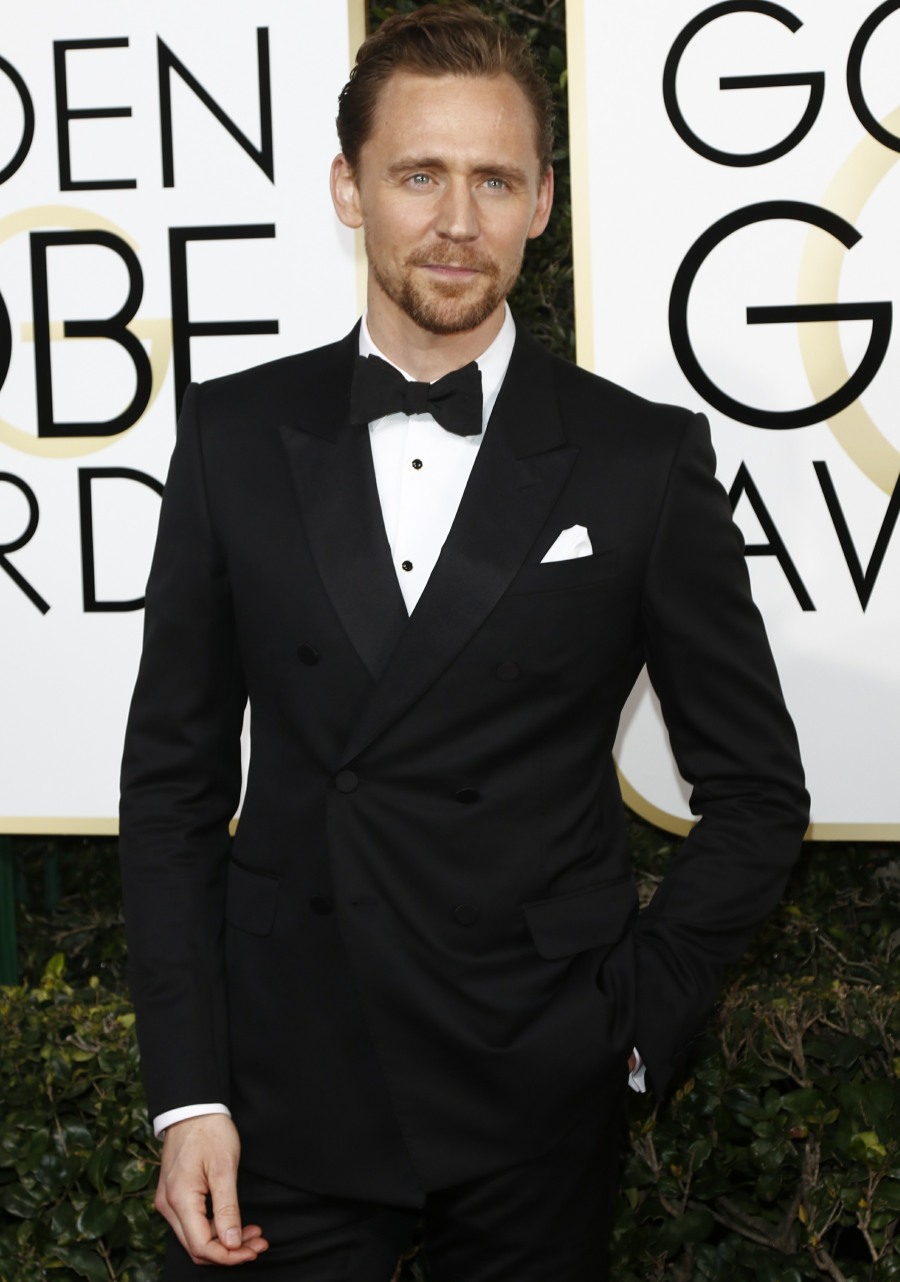 A year ago, Tom Hollander was on the Jonathan Ross Show to promote The Night Manager, and he told a story about filming in Mallorca, Spain. The cast had a rare day off, so they went to the beach and long story short, Hollander got stung by a jellyfish. Hollander claimed that Tom Hiddleston saw that he was in trouble, and immediately came to his rescue by peeing all over the jellyfish sting. Which, as it turns out, doesn't actually help a jellyfish sting and might make it worse. Anyway, Tom Hiddleston appears on a pretaped episode of The Graham Norton Show tonight (if you're in the UK) and Norton asked him about the jellyfish story. Hiddles confirmed that it happened:
That's one way to get closer with your co-star! Tom Hiddleston appeared on Thursday's Graham Norton Show, where he opened up about the time he… um.. peed on his Night Manager co-star over a jellyfish sting.

"Tom got stung by a jellyfish and he shouted across the beach, 'I say old sport could you come and pee on me?' And I engagingly obliged," the 36-year-old actor shared, confirming the story.

However, Hiddleston later learned that his noble — gross — effort may have all been for naught.

"I've since read up on it and I don't think it works," he explained. "It's an old wives' tale."
How English is it to say "I say old sport could you come and pee on me?" Imagine David Niven saying it. Imagine Laurence Olivier saying it. It's almost Shakespearean. Anyway, Hollander claimed that Tom peed on him without being asked, and now Hiddleston says that he was specifically asked. Who is lying??
Meanwhile, there's other stuff from the Graham Norton interview. Like… Tom Hiddleston's Eton nickname was Piddle. Makes sense.
Hiddleston also opened up about his time at Eton, and explained that he was given a bizarre nickname.

"Very soon after I arrived I got the nickname 'Piddle' and the boys made up the rhyme, 'Hiddle Piddle did a widdle in the middle of the night'," he said. "My closest friends still call me 'Pid' but it's affectionate now."

Hiddleston was at Eton with actor Eddie Redmayne but, as he admitted to Norton, the pair were not quite in the same league when it came to landing the major parts. Speaking about the time he and Redmayne were cast in a school production of A Passage to India, Hiddleston said: "I was in A Passage to India with Eddie Redmayne, who played the female lead. I on the other hand, played the front leg of the elephant he rode."
His Eton friends call him "Pid"? This is not something to admit on television! I mean, we all have awkward or weird nicknames, but being called Piddle doesn't sound affectionate at all. Now all I can think about is how I should have been writing Piddlebanging this whole time. PIDDLES. TOMMY PIDDLES. Someone named Tommy Piddles will never be James Bond, I'm just saying.
Oh, God. Graham has a really full couch this week. Ricky Gervais & Tom Hiddleston on the same couch? I wonder if Gervais told him to his face to stop being a wanker.
On the #GrahamNorton this week… Daniel Radcliffe, Joshua McGuire, Tom Hiddleston, Ruth Wilson, Ricky Gervais and music from Tinie Tempah pic.twitter.com/KkAfPu1F2o

— PA Images (@PAImages) February 16, 2017
Photos courtesy of WENN, PCN.