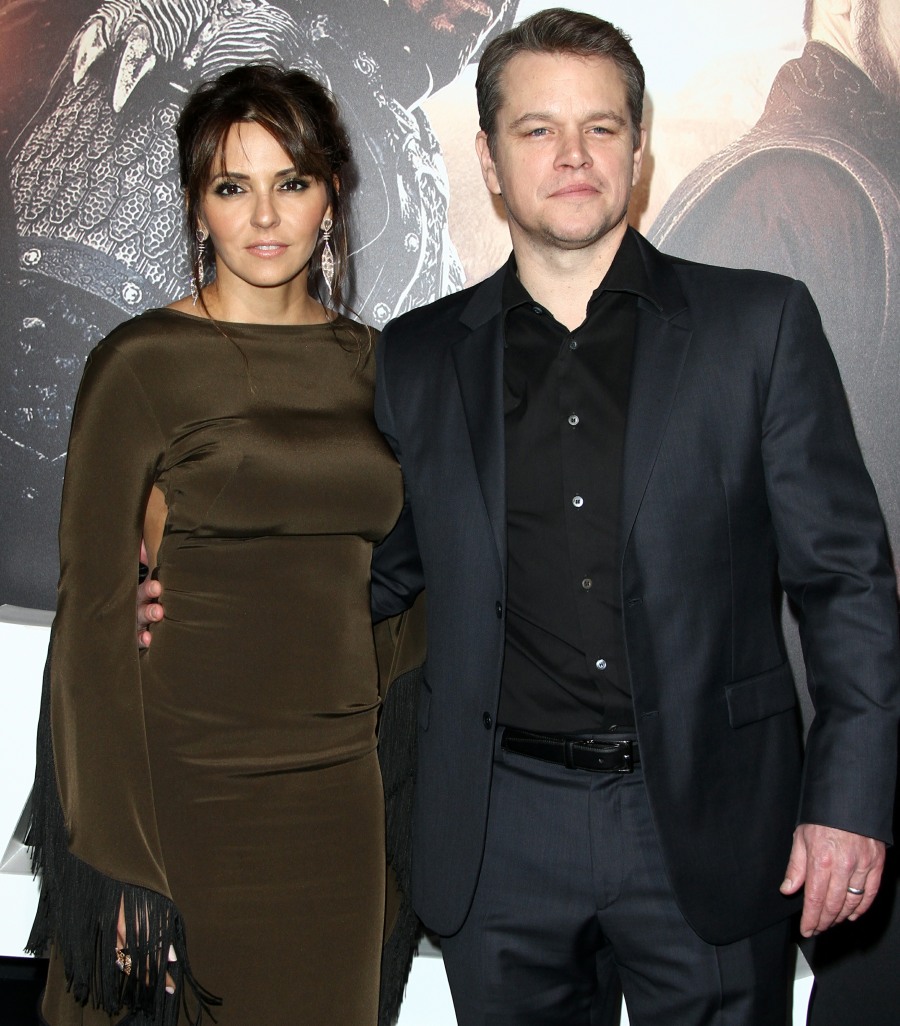 Matt Damon's white savior film The Great Wall is out today. These are some premiere photos from this week which I didn't get around to posting earlier. The Great Wall was filmed in China, with a primarily Chinese cast and crew, and it was financed by Chinese backers. It could have been interesting from a this-is-how-the-sausage-gets-made perspective, because Hollywood is eager to sell to China and everyone wants more East-West cooperation and financing in filmmaking. Unfortunately, The Great Wall is facing some difficulties here in America because oh right, it's another film about a white guy saving non-white people. Matt Damon is the lead of a film in which he "saves" China from monsters. He saves China by building a wall.
Constance Wu had a lot to say about this last year, and whenever Matt has been asked about the white-savior issue in interviews, he sounds utterly tone-deaf. He purposefully conflated the "white savior" issue with the conversation about "whitewashing," and called both "fake news clickbait." Because I guess he loves Trumpisms. New York Mag actually did a compilation of all the times Matty D completely bungled the larger conversation about white-saviorism – go here to read. So is it any wonder that Asian Twitter – it's like Black Twitter, only Asian – decided to create their own hashtag to "thank" Matt Damon for saving them? Asian Twitter went IN. It was glorious.
Matt Damon and Scarlett Johansson are my favorite Asian couple. #ThankYouMattDamon

— Andrew Nguyen (@andrewnguyening) February 16, 2017
Forget Mulan, Matt Damon is the only one who could save China #thankyoumattdamon

— Lily Luo (@LilyLuo930) February 16, 2017
Matt Damon taught me how to use chopsticks. #thankyoumattdamon

— Jenny Yang 👲👲👲 (@jennyyangtv) February 16, 2017
Casting choices were tough but we've found our star for the Frederick Douglas Biopic #ThankYouMattDamon

— Victor Steele (@BlackHannibal) February 16, 2017
Diversity is what the charming white guy tells you it is. #ThankYouMattDamon

— Shawn Taylor (@reallovepunk) February 16, 2017
I'm glad everyone has caught on to this ludicrous film where a white guy saves all of China. Oh yeah, and builds a wall 💁 #ThankYouMattDamon

— Candace Howze (@CandaceHowze) February 17, 2017
Putting the Asian in Caucasian #ThankYouMattDamon

— Paul Tanner (@Paul_Tanner_) February 17, 2017
You've saved us so many times. #ThankYouMattDamon pic.twitter.com/3Jo1ZBSGAV

— SJPaul (@JeakPaul) February 16, 2017
#thankyoumattdamon for explaining what diversity is in hollywood pic.twitter.com/wTb7znyYV4

— bushy brows (@Pantoran) February 16, 2017
#ThankYouMattDamon for having the courage to play a controversial white guy rescuing Asians in their own land. Love, Tom Cruise pic.twitter.com/U0X2FziKGd

— BrooklynDad_Defiant! (@mmpadellan) February 16, 2017
Photos courtesy of Fame/Flynet and WENN.