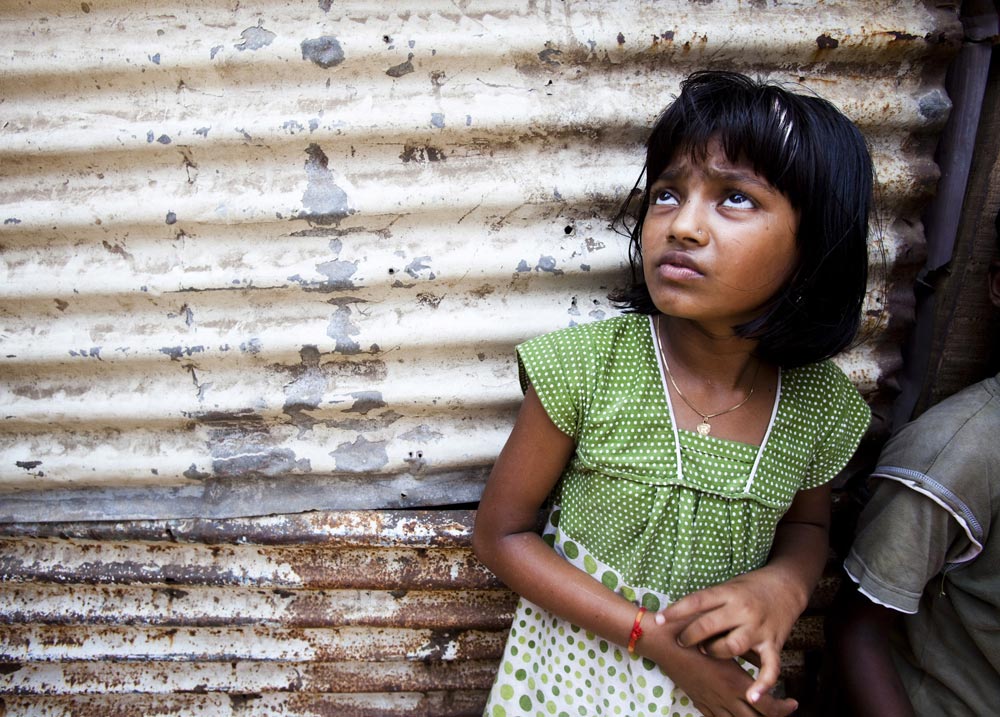 After the destruction of the slum homes of Slumdog Millionaire child stars Rubina Ali and Azharuddin Mohammed Ismail in the past two weeks, many are starting to ask serious questions to a number of people. First, the Indian local and federal governments' positions on slum destruction is being questioned. Secondly, the people involved with running the Jai Ho Trust (the trust set up by Slumdog Millionaire's producers) are being questioned about why it's taking so long to get these families an apartment, or at least some place stable to live. To make matters worse, Rubina Ali was recently hospitalized for a viral infection. After she was released, she went to her uncle's home – the uncle that allegedly tried to sell her. Now more details are coming out about the trustees plans for these child actors – including a yearly stipend of $3000. Per family.
The search for new homes for two impoverished child stars from the hit movie "Slumdog Millionaire" has intensified, as one child fell sick days after city authorities demolished the shanty where she lived, family members said.

Nine-year-old Rubina Ali came down with a fever Friday and spent a few hours in a local hospital, they said.

"I'm fine now, but I feel tired," Rubina said Saturday as she lay in bed, resting at her uncle's house.

Rubina's block was razed Wednesday to make way for a planned pedestrian overpass at a commuter train station in Mumbai. Last week, co-star Azharuddin Mohammed Ismail's home was demolished, part of a pre-monsoon slum clearance drive.

Rubina and her parents have been staying with relatives. Azhar, 10, and his family have tied tarpaulins and blankets around a thin wood frame for shelter in the Garib Nagar – "city of the poor" – slum where both families live.

After the runaway success of their film, "Slumdog" director Danny Boyle and producer Christian Colson set up the Jai Ho trust to ensure the children receive proper homes, a decent education and a nest egg when they finish high school. They have also donated $747,500 to a charity to help slum children in Mumbai.

The filmmakers have agreed to raise the amount of money they will spend on new apartments for each family from $30,000 to $50,000, a Jai Ho trustee and Rubina's father, Rafiq Qureshi, both told The Associated Press on Saturday.

Family members had worried that $30,000 would not be enough to secure decent housing in Mumbai's pricey real estate market. In addition, the filmmakers have agreed to give each family a stipend of $130 a month and a lump sum of $3,000 a year to support the children while they are in school, the trustee and Qureshi said.

That is substantially more than any of their neighbors in Garib Nagar make, where many bring home $4 a day as auto rickshaw drivers and maids.

"We are trying our best to finalize things as soon as possible," Jai Ho trustee Nirja Mattoo said Saturday. She said representatives of the trust took Azhar's family to look at a few nearby apartments earlier this week.

City authorities have also promised the children and some of their neighbors new homes. The state's top politician, Chief Minister Ashok Chavan, told the Mumbai Mirror that he would expedite the process now that national elections are over.

"The elections delayed the process, but very soon we will allot them flats," he was quoted as saying.

Slum demolitions are common in India's cramped cities, and government promises to resettle slum-dwellers often come to nothing. Even when slum-dwellers are given housing, it is often in poor-quality buildings on the outskirts of cities, far from jobs.
[From The Huffington Post]
So, basically, it seems like everyone from the Jai Ho trustees to the Indian officials are too busy giving quotes to various media outlets to actually rent a couple of apartments for these kids. It's all a bunch of "we're going to do this" and "no, I said I was going to do that" and meanwhile, five months have passed and these kids are worse off than they were before. And here's a note to the Jai Ho trustees – a $130 monthly stipend and a $3000 yearly lump sum payment may seem generous to people who live in slums, but it really isn't that much. Even for India, where stuff is still really cheap. Everything is getting more expensive (inflation, taxes, importation) now that there's an actual Indian middle class who are consistent consumers. Somebody, please, man up and help these kids. It's past time.
Rubina Ali is shown watching with her family as her home is destroyed and later at the hospital, where she had to wait in the hall to be seen. She is shown being comforted by her aunt. Credit: BARM/Fame Pictures