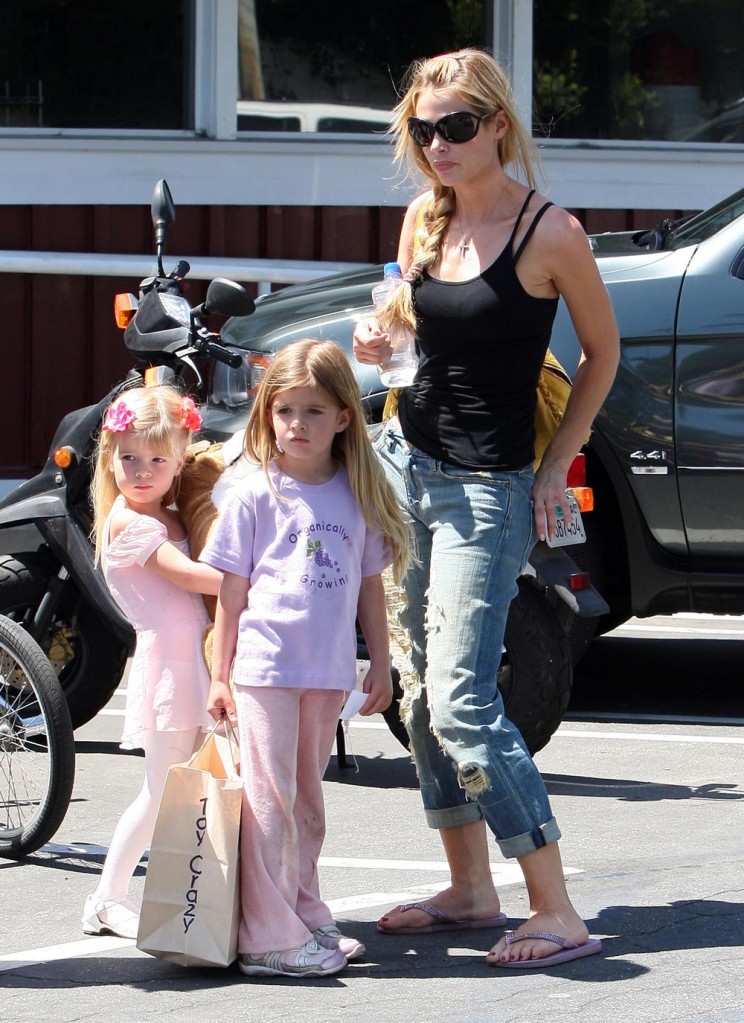 I realize there are a lot of people out there who don't really care for Denise Richards, but I kind of like the crazy bitch. Yes, she's immature, she handled her divorce from Charlie Sheen badly, and she may be a homewrecker, but in her defense, Charlie is just as immature and nasty, and it takes two to tango in any given homewrecking situation. I don't think Denise is God's gift or anything, but I do think she got a raw deal for a few years in the press. While it's still up in the air as to whether Denise, her girls, her crazy, obscene girlfriends and her awesome dad will come back for another season of It's Complicated (reports are mingled, but Denise gave an interview to E!, so it's probably happening), Denise is getting some other stuff in her life together. Namely, her relationship with Charlie and his wife Brooke.
Denise went to dinner with her ex-husband and his wife, Brooke. And they didn't kill each other! Hurray! Who knows what really happened, but I doubt Charlie is happy that Denise ran out to E! (story via US Weekly) to give them the scoop on the dinner:
After their bitter breakup and contentious divorce, Denise Richards and Charlie Sheen seemed like they would never want to be in the same room together.

But that's exactly what they did.

"Believe it or not, we had dinner together with all of us," Richards — who has two daughters, Sam, 5, and Lola, 3, with her ex — tells E!'s The Daily 10. "So I love that… It's important for our daughters to see us get along and to be able to be in the same room."

She adds: "I think anytime you go through a divorce it's such a huge change in your life, and obviously my divorce was very public and it got very nasty… Charlie and I didn't want that — we didn't want all the conflict and this and that, and that's just was the situation was."

Their dinner even included 43-year-old Sheen's wife, Brooke Mueller, who gave birth to twin boys in March.

"Brooke and I have always gotten along, so obviously when we went through what we were all going through it was what it was. But I think she's great with my girls. They love her."

She adds that she and Sheen — who divorced in November 2006 after five years of marriage — have managed to put their troubles behind them.

"We've worked very hard to get it to this place, and I'm so grateful for it," the reality star says. "I think it's important for, you know… It's a lot less stress, it's a lot less money, that we get along."

How was she able to move past their long-standing feud?

"I don't have a choice but to get past it," she says. "You know, I don't read a lot of that stuff obviously — I'm not stupid. I know what's said in most of it, but it's just moving forward in my life and at that time when it was really bad in my life, I didn't think about that stuff. I had to think about, 'I'm a Mom, I have two daughters that depend on me.' So I put all that stuff aside and I kind of just live in a little bubble."

Richards, 38, continues: "I like things very calm and happy."
[From US Weekly]
What's interesting about her series It's Complicated is that Denise actually seems like a nice, average, single soccer mom. She's usually in sweats, she doesn't really seem to do that much when her daughters aren't around, and you can just tell how close she is to her family. I don't really think Denise is this totally crazy shrew, hellbent on destruction. I think she just took her divorce really badly, and it took a while for her to get back on track. I know, I can't help it, It's Complicated was one of my favorite series – it's better than that friggin' Keeping Up with the Kardashians any day of the week. Come back, Denise!
Denise Richards is shown out with her daughters on 4/17/09. Credit: RIV/Fame Pictures