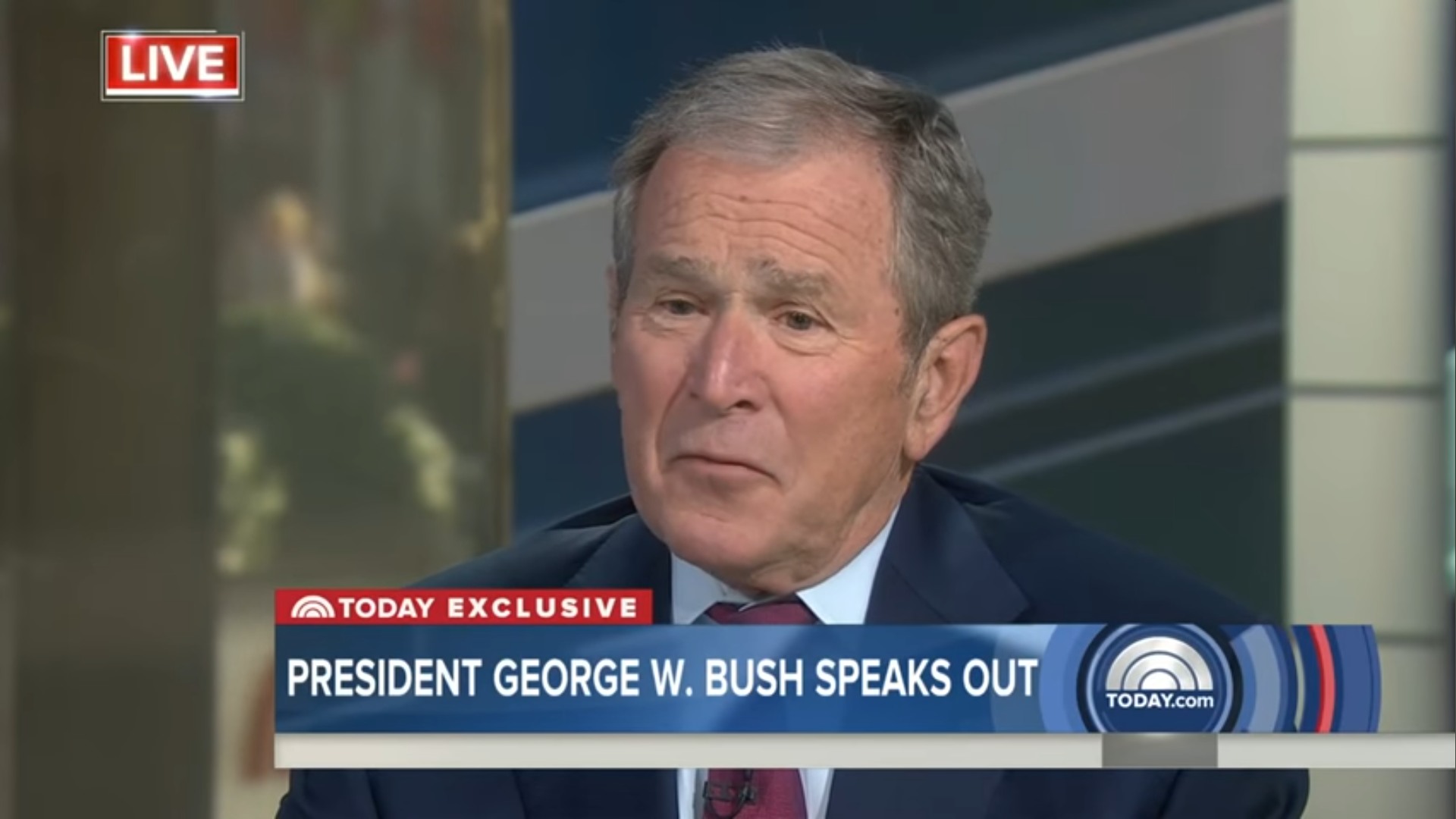 I disliked/hated George W. Bush when he was president. I thought he was an idiot. I thought he was dangerously incurious. I thought he was anti-woman, anti-LGBT, anti-union, anti-middle class and more. And while he was all of this things to varying degrees, I'm absolutely shocked by how often I find myself wishing for the good ol' days of the Bush presidency, given our current situation with an ill-tempered, baby-fisted despot. As Bush loyalists – or "Bushies" as they were once called – come out of the woodwork to decry Donald Trump's policies, executive orders and more, I find myself yearning for the days of the barely competent Bush administration, as opposed to the completely incompetent Trump administration. The devil you know and all of that.
Anyway, George W. Bush must have had a gut feeling that his legacy was being reassessed, because he went on the Today Show on Monday and answered all of Matt Lauer's pointed questions about Baby Fists. Bush was there to promote his art book – he's done a book of paintings of veterans – but before Bush got to talk about his book, Lauer grilled him. And it got interesting.
My favorite part if when Bush openly laughs/scoffs when Lauer brings up Trump's inaugural address, about "American carnage." But Bush also said words about many other things. Some highlights:
Whether Bush thinks the press is the enemy: "I consider the media to be indispensable to democracy … We need an independent media to hold people like me to account. Power can be very addictive, and it can be corrosive…. And it's important for the media to call to account people who abuse their power, whether it be here or elsewhere…. It's kind of hard to tell others to have an independent free press if we're not willing to have one ourselves."

Whether a special prosecutor should investigate Trump's ties to Russia: "First of all, I think we all need answers — whether or not the special prosecutor is the way to go or not, you're talking to the wrong guy." Bush stressed that he is not a lawyer, so he wouldn't weigh in on the best approach, but on the reports about Russia and the election, he did say, "I am sure, though, that that question needs to be answered."

On Trump's Muslim Ban: "I am for an immigration policy that is welcoming and upholds the law" and suggesting that the order's focus on Muslim-majority nations undermined "the bedrock of our freedom  —  a bedrock of our freedom is the right to worship freely."
It's also worth noting that Bush rarely said anything this pointed about President Obama when Obama was in office. Whenever Bush was asked about any specific Obama policy or proposal, Bush would always shrug it off and talk about how hard the job is and everybody's different. It says something that Bush was so open to talking specifics about Trump. That being said, A) I seriously doubt that Trump's Deplorables give a sh-t about what Bush has to say and B) establishment Republicans have given way to "Trump Republicans," which is to say that Dubya is a man without a party at this point. Do I think Dubya's words will make much of a difference either way? Probably not. But I'd be curious to learn who was being targeted in this interview. I feel like Bush was speaking to a specific demographic. Maybe the lingering Cold Warrior types in the Senate, like McCain, Lindsey Graham, and Richard Burr, whom Bush specifically name-checked.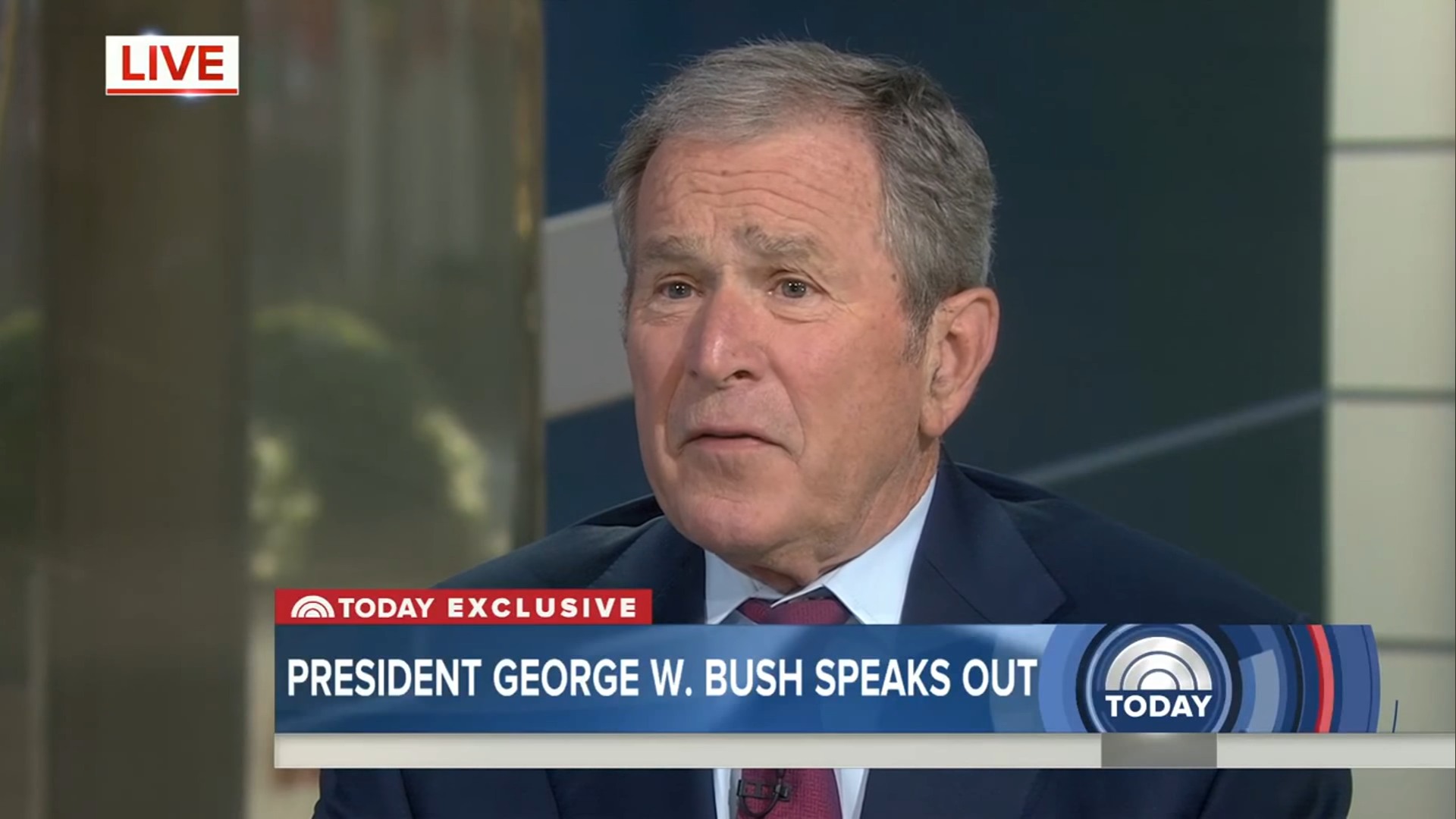 Screencaps courtesy of NBC News.