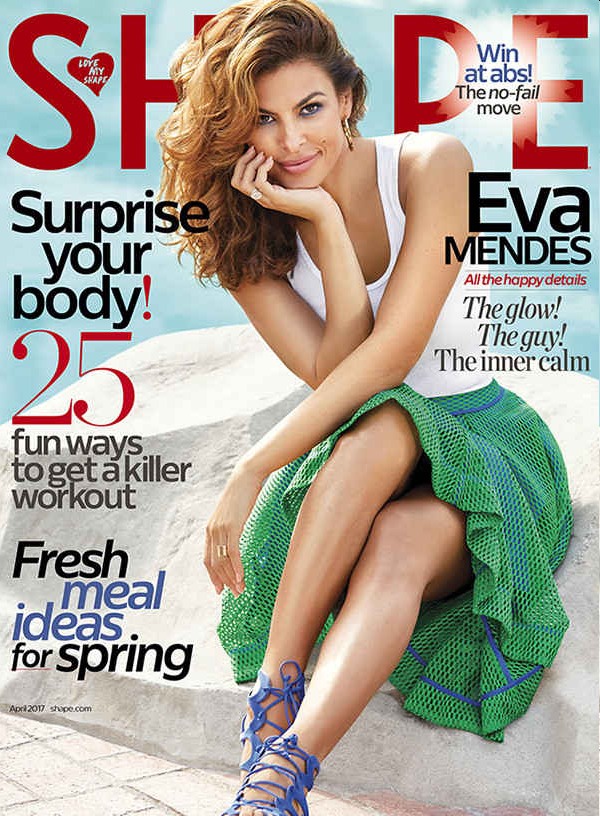 I genuinely missed seeing Eva Mendes on the awards show red carpets this year. Her man Ryan Gosling was nominated for Best Actor awards across the board, and he showed up to almost every major awards show. But Eva was never his date. And here's my humble opinion: I think if Eva had come out a few times and helped Ryan campaign a little bit, Ryan would have had a decent shot at winning more than just the Golden Globe. People were looking for a reason to NOT vote for Casey Affleck and Gosling could have presented them with an alternative. That being said, many have wondered if Eva's absence from the spotlight these days is not just be design, but by Gosling's preference. As in, he likes that he's with a woman who stays at home and takes care of their babies. But to hear Eva tell it in the April cover story of Shape Magazine, that's her choice and her preference too. You can read the full Shape piece here. Some highlights:
She'd rather be home: "What people don't know about me is that I love being home. Instead of hitting the red carpet, I'd rather be with our girls."

On getting back in shape post-pregnancy: "In some ways, it's been more challenging to get back in shape after my second daughter. Yet it's not as hard as I thought it would be, because I'm always running around with the kids. I never sit down – I'm on the move all day. And I don't keep junk food at home anymore, because I'm trying to set a good example. So there are no more Krispy Kremes for me to grab. But there is this app called Postmates that delivers whatever you want in minutes. It's almost as bad as having the food in your kitchen. Don't laugh, but they're on the way here right now!"

On finding the workout that works: "Working out allows me to spend time on myself. Knowing that I have an hour to dedicate to my wellness is a priority for me now…I love doing intervals, like running and sprinting, and I see great results with that versus the 30 or 45 minutes of steady cardio I used to do on the treadmill. Between intervals, I lift weights. Right now I'm sticking to light weights because I have a herniated disc in my lower back. I'm off-season right now, so I work out three days a week. But when I'm getting ready for an event or in the summer, it's five days a week. I don't exercise more than that though, because I see better results when my body has a rest period."

On her daily eats: "I usually start my day with eggs. I think they're like magic – you can do so much with them. I mostly keep it simple and have scrambled eggs and a piece of Ezekiel toast for breakfast … I grew up eating rice and beans, so I want some kind of grain in every meal. For lunch, I usually have salmon and rice or quinoa, and I try to include a salad. I'll eat the same thing for dinner. I'm a creature of habit in that way. I don't get bored with food. I try to think about it as fuel for my body. But what I am looking forward to is the time when dinner becomes a sit-down situation again. Right now I'm in survival mode with two babies, eating on the go."

On her beauty routine: "I wear makeup every day. Typically, it's minimal – a little eyeliner, lip liner and balm, and some concealer. It takes me about five minutes to apply it. But when I get ready for an event or a dinner, I do like to take my time putting my makeup on. To me, the process of getting ready can be really, really romantic. It takes me probably 45 minutes because I go very slow.
She did this interview to promote the Eva Mendes Collection at New York & Company, which is basically the only reason she leaves her house these days, or at least that's how it feels. Do you believe her when she says she'd rather be at home? Because that wasn't the case before she had babies, although I can see how motherhood has changed her. She seems different, she seems like she has less to "prove," you know? As for her ability to eat the same thing for lunch and dinner… I'm like that too, to a certain extent. I'll go through stages where I love a certain dish or meal for like five months and I eat it all the time and then I burn out on it.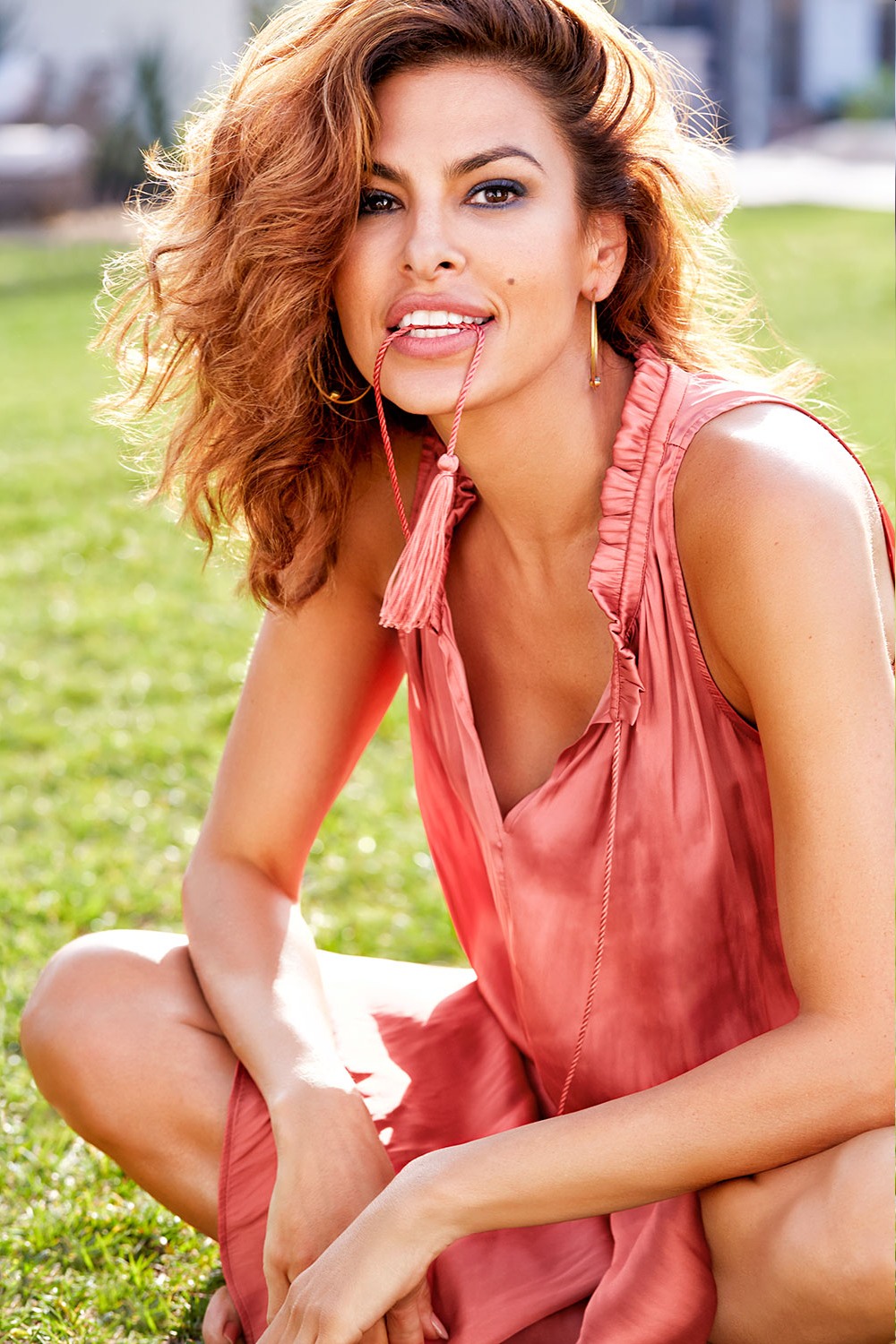 Photos courtesy of Arthur Belebeau/SHAPE Magazine.