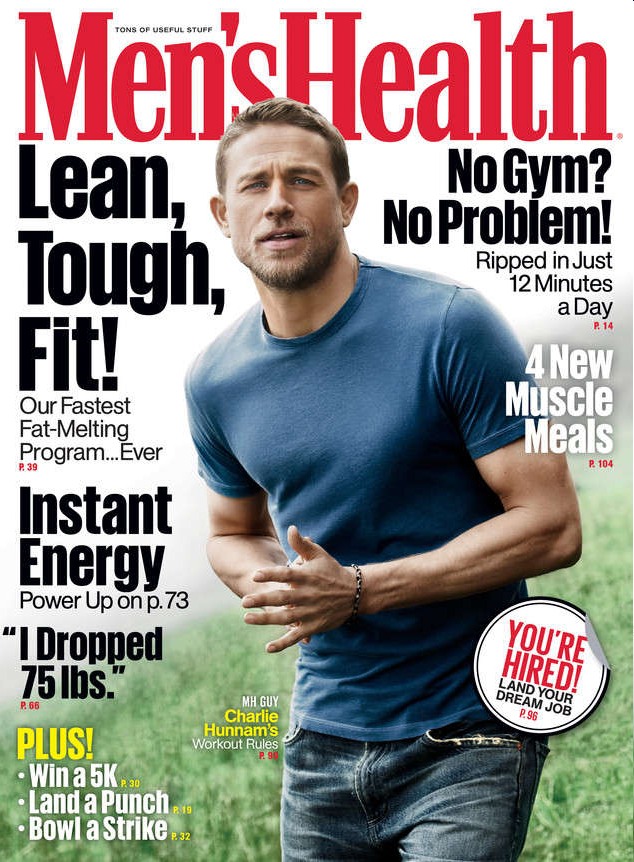 Charlie Hunnam is promoting The Lost City of Z and the long-gestating Guy Ritchie movie, King Arthur: Legend of the Sword. So that's why Hunnam covers the April issue of Men's Health, to promote those movies. Plus, Hunnam is constantly chatting with men's fitness-and-health magazines because he's something of a workout addict. He never says "addiction," but the guy seems to work out a hell of a lot. As it turns out, he also believes that having sex as often as possible is a good workout (which is true, sex is good exercise). Some highlights from Men's Health:
His high fitness level: "I try to do it all. I also try to make love as often as I can. That's an important part of fitness."

His fitness goals: "I'm interested in having a high fitness level across the board. Running, swimming, jumping rope, hiking, jiu-jitsu—I try to do it all. I also try to make love as often as I can. That's an important part of fitness. There's no reason you can't be active at 70. I want to run up mountains at that age."

Preparing for King Arthur: "[I] worked out like a motherf–ker." He packed on 20 pounds of muscle by strength training and spent hours learning sword fighting and boxing. The movie's five-minute final fight scene took five days to shoot, filming from 7 a.m. to 6 p.m. "It's not even as much the physical benefit of training; it's the mental. When you're training every day in a combat discipline, it just gives you that eye of the tiger. Then if someone acts aggressively toward you, I can run all the scenarios through my head—you know, like I'm going to step to the side and put an elbow through your face."

Losing weight for The Lost City of Z: Then he lost nearly 40 pounds in eight weeks playing his next role—Colonel Percy Fawcett, an obsessive British explorer, in The Lost City of Z. Hunnam eliminated dairy, carbs, and sugar. Then he went vegan. The shoot was in humid 100-degree weather off the grid in the Colombian jungle. Hunnam says the biggest hardship was the isolation. He talked to no one off the set, not even his girlfriend, for four months.

Why he didn't speak to his girlfriend: "People are all like, 'that's so Method of you.' Maybe it is, but I was worried about the emotional breadth of what I had to portray. I had to access that on a day-to-day basis, so I put myself in the position of living it. I felt the fear, the loneliness." '

He started smoking for Papillion: Hunnam puffed "like a madman" and sustained himself on coffee and nicotine for three months. "My body was a mess,. It's not easy to quit smoking." He's currently using e-cigarettes to transition off.

He stopped smoking weed: One vice he did quit was smoking weed. He would burn through an ounce a week, but stopped in his early 30s. "In those stupid ways that we identify with ourselves, I felt like I was a Rasta. I was sort of proud at my enormous ability to smoke pot and function. But I realized I didn't want to spend my life stoned."

He's not into fancy things or fame: "It was Socrates or one of those old bastards who said, 'Fame is the perfume of heroic deeds.' It means nothing"

Telling "cyberbullies" to stop dissing his girlfriend: "The way I grew up, if you want to talk sh-t, talk sh-t to someone's face and be prepared to fight." He sees social media dividing society, and he despairs. Sometimes after a shoot, he reenters the world disconnected and feeling low.

He reconnects to the world through exercise: "We are supposed to be very active animals. It's our DNA. Sweating is how I change my oil every day. I just feel happier, more positive, energized, and disciplined if I work out.. I train a lot every day because I'm f–king crazy."
Meh. I think he's probably a nice person in real life, but he seems rather exhausting, right? We can sigh and fantasize about Charlie Hunnam demanding to make love to us 24-7 for fitness reasons, but the reality is… he's a total gymrat and he absolutely puts his work far above everything and everyone else. And I actually feel a little bit sorry for his girlfriend. He goes MIA for months because he's so Method and… it doesn't sound like he even explained himself to her. It's gross.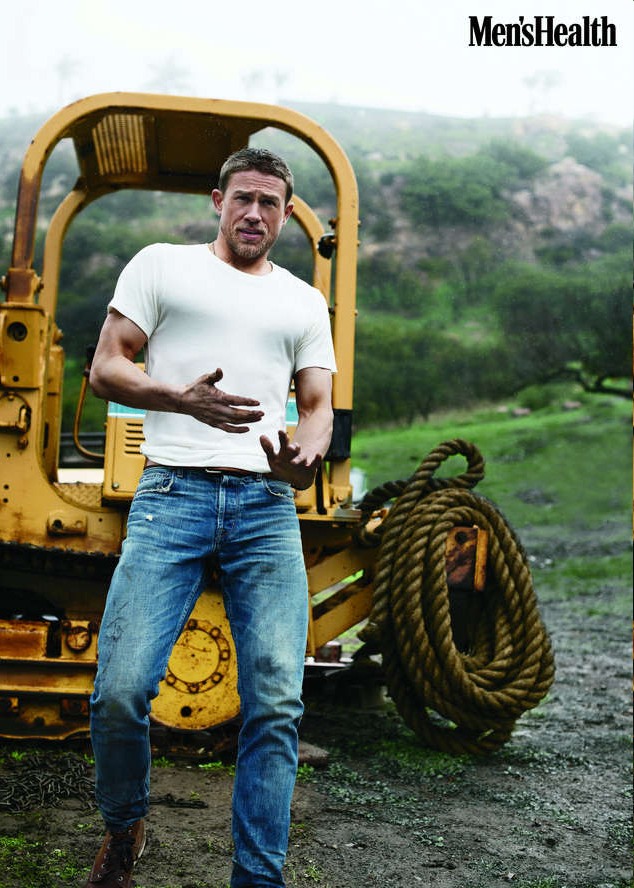 Photos courtesy of Men's Health.